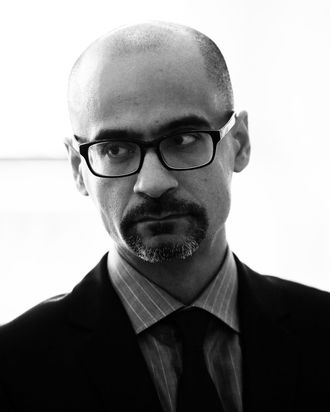 Junot Díaz.
Photo: Mark Wilson/Getty Images
The Pulitzer Prize board announced late last week that following a months-long investigation into the allegations of sexual misconduct against novelist Junot Díaz, they found no reason to remove him from their board, the New York Times reports.
In a statement, the Pulitzer board wrote that they had retained the Washington, D.C., law firm Williams & Connolly to conduct an "exhaustive review" of the claims against Díaz, and that after five months, "the review did not find evidence warranting removal of Professor Díaz from the Board."
They added that "after full discussion and consideration by the members, Professor Díaz will be welcomed to resume his full duties as a Board member and to fulfill his term, which expires in April of 2019."
Díaz stepped down as chairman of the board back in May, after writer Zinzi Clemmons publicly confronted him at a literary festival in Australia, and accused him of forcibly kissing her and harassing her. Several other women came forward with claims of misconduct against Díaz as well, including author Alisa Valdez, who wrote about his "misogynistic abuse" in a blog post, and author Carmen Maria Machado, who tweeted about how he "went off" on her when she asked him about his protagonists' unhealthy relationship with women during a book tour Q&A.
Initially, Díaz said in a statement that he took responsibility for the allegations against him, making reference to his own experience with sexual assault, which he had written about for The New Yorker in April. "We must continue to teach all men about consent and boundaries," he said.
By July, however, his tone had changed, and he disavowed his earlier statement, telling the Boston Globe, "I've written a lot of crap in my life. One does when one's a writer. But, definitely, that statement is the worst thing I've written, the worst thing I've put my name to. Boy, I wish I'd had the presence of mind to rewrite the damn thing."
"I'm speechless," tweeted novelist Monica Byrne on Friday, following the Pulitzer announcement. After Clemmons first confronted Díaz, Byrne said she had experienced a "verbal sexual assault" by him in 2014, and that she had "never experienced such virulent misogyny in my adult life."
"This is the same Pulitzer Board that just awarded a prize for #metoo coverage," tweeted Byrne. "I just don't know what to say."