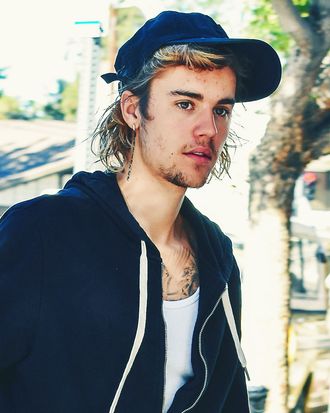 Justin Bieber.
Photo: BG015/Bauer-Griffin/GC Images
Eighteen years ago, a philosopher-poet told us a story about a girl named Lucky:
She's so lucky, she's a star
But she cry, cry, cries in her lonely heart, thinking,
If there's nothing missing in my life
Then why do these tears come at night?
Now, another pop-star — lost in an image, in a dream — is reportedly struggling with a nagging sense of ennui. According to People, singer, Drew designer, and Dirtbag Dauphin Justin Bieber "feels empty sometimes, even though his life is filled with plenty to be grateful for," like his wife, Hailey Baldwin, of the Baldwins.
"Justin has his up and down days like everyone else," a source told People. "What he struggles with mostly is that he knows he is beyond blessed, but he has days when he feels empty and confused."
Isn't she lovely, this Hollywood girl?
She is so lucky, but why does she cry?
"He feels something is missing from his life that can't be bought. It's a missing feeling of happiness. He is very much grateful for his amazing life and especially for Hailey. It's difficult for him that he can't just enjoy everything and feel happy. He has been in treatment for this before."
Bieber has been spotted cry, cry, crying around New York City in recent months, including on a Citi bike, and at a Harry Potter-themed bar.
If there is nothing missing in her life
Why do these tears come at night?