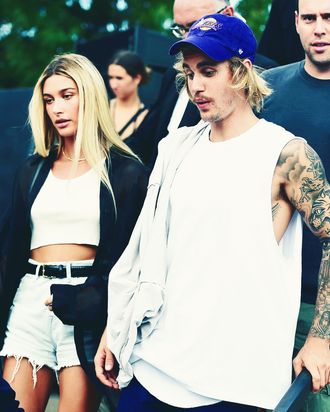 Photo: Theo Wargo/Getty Images for NYFW: The Shows
Justin Bieber and Hailey Baldwin can't keep their hands off each other, and now they can make out, publicly weep, and wipe crumbs off each other's faces in the sweet privacy of Canada.
After the newly officially married couple spent Thanksgiving together in Justin's home country (where they also celebrated Hailey's 22nd birthday and, of course, continued their international PDA tour), a source told People just how happy the Biebers are to be alone, together.
"Justin loves being in Canada because it's very peaceful. He can take Hailey out and it's not a mess with photographers," the source told People. "They are much more left alone. They seem very happy together."
If you can't be left alone in a $5 million mansion, where can you be left alone?
This source also told People that Hailey decided to change her name on Instagram (and reportedly trademark it) to really seal the deal and "openly celebrate their marriage," just in case you didn't already know that they really, really like each other.
"After being married for a few weeks, they both realized that they actually felt like husband and wife without having a religious ceremony," the source said.
Despite already feeling like husband and wife (after, you know, getting married), don't rule out another, bigger wedding for the Biebers — if this source is anything to go by, the couple is "still planning a wedding and a religious ceremony." Either way, you can probably bet there will be plenty of tender smooches in their future.