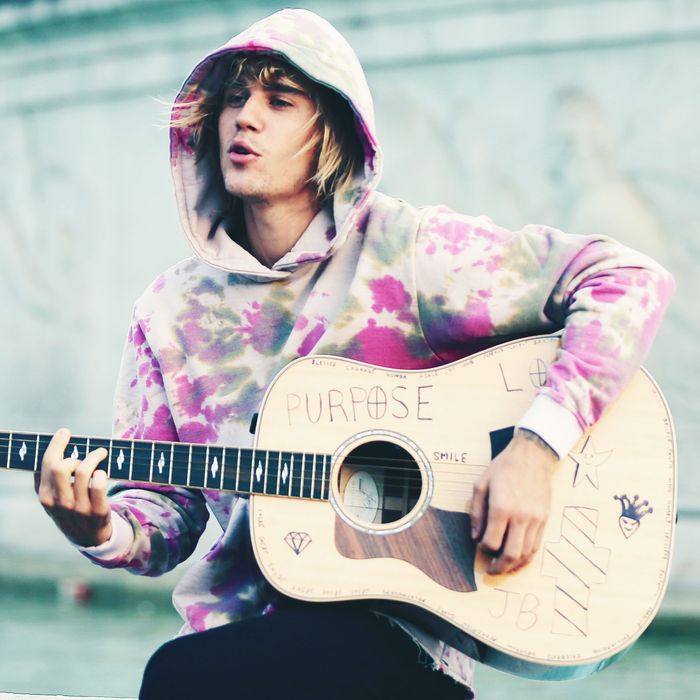 "Anyway, here's 'Wonderwall.'"
Photo: Ricky Vigil Moran/GC Images
Thanksgiving is around the corner, meaning it's the season of unbuttoning your pants, being grateful for friends and family, and, for Justin Bieber, "self-discovery." The singer, who has reportedly been suffering from ennui to the extent that he frequently weeps in public, has taken a hiatus from doing what made him famous in order to plunge deep into the waters of his own soul — and make out with his new wife, Hailey Baldwin.
"He's happy and content," a source told People. "He is in love with Hailey. She encourages him to do whatever he wants to do, and is encouraging him in this season of self-discovery."
Bieber doesn't want to be told what to do, especially by fans who want him to get back to making music. No, world, Bieber just wants to find his purpose. "It actually bugs him when people ask when he's going back to the studio or on tour," the source said. "He has worked for years, and the first time he takes a significant break, everyone's all, 'When's he coming back?' To Justin, those aren't just questions — those are demands. For years, everyone has tried to take a piece of him. Just let him be."
So many demands, so few hours. We offer Bieber our best wishes for his "season of self-discovery," which may involve plenty of sheet masks, meditation, and horseback riding at his new $5 million mansion in Canada. Wander forth on your pilgrimage of self-care, young Bieber.