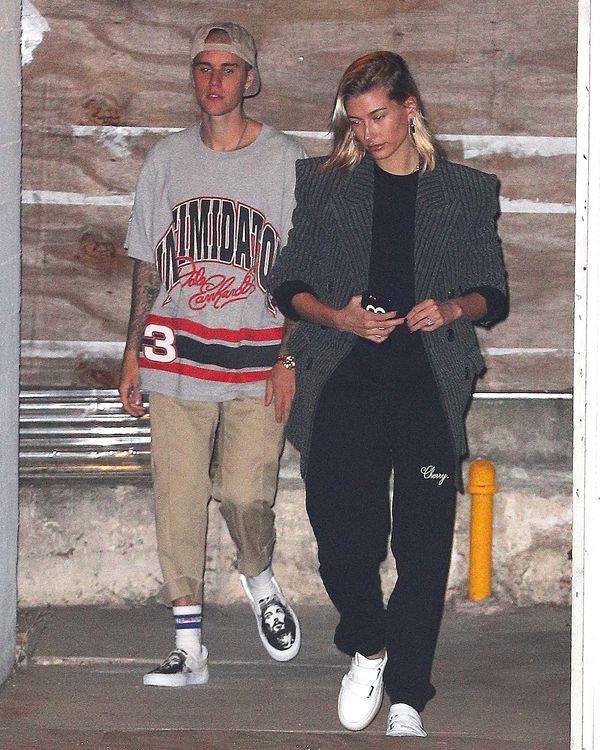 Justin Bieber and Hailey Baldwin.
Photo: Pap Nation / SplashNews.com
This summer, celebrities were obsessed with putting giant engagement rings on each other's tattooed fingers while wearing slide sandals. Such effortless, low-commitment footwear became emblematic of a certain aspirational lifestyle led by men like Justin Bieber, Pete Davidson, and Shia Labeouf — one where decisions are made on a whim with zero consequences, and where comfort, in one's relationship and one's attire, is the ultimate luxury.
Vanity Fair called these men "Scumbros," while Esquire declared it the "Summer of Sleaze." However you want to describe the look, it raised one important question: How long could they keep it up? Wouldn't their feet get cold in fall? But lucky for us, sleaze-lebrities are adaptable beings. They've found new ways to express themselves as we enter fall/winter 2019, and by that we mean they've expanded their range of footwear.
On Wednesday night, while most other celebrities were flaunting their wealth and cultural relevance on Halloween, Justin Bieber was photographed attending church with his fiancée, Hailey Baldwin. Although Bieber was not eating a burrito sideways, he was wearing the gray NASCAR jersey of Dale Earnhardt, plus his signature Dickie pants rolled at the ankles to show off his Vetements socks. On his feet were a pair of white Vans slip-on sneakers with Jesus's face printed on them. Very thematic!
While we aren't sure where Bieber got these slides from, we can say that when we visited the studio of his stylist Karla Welch this summer, she had boxes and boxes of Vans piled high, ready to go for her client. We wouldn't put it past her team to cop him a custom holy pair.
Those of us will fewer connections "up there" can turn to the footwear of Post Malone, the 23-year-old musical artist, chess enthusiast, and TERF bangs icon. On Thursday morning, he released a new collaboration with Crocs, the classic rubber slip-on shoe brand most often associated with chefs and toddlers.
Post's $60 dollar Croc shoe is fittingly covered in yellow baby devil faces, which are his official Posty Co. logo. The collaboration came about when Post tweeted, "U can tell a lot about a man by the Jibbitz in his Crocs." Jibbitz, of course, are the little pins you pop into the shoe's circular vents. Post's include a replica of one of his many tattoos, which says, "Stay Away."
"I wear Crocs everywhere, from the bar to the stage," wrote Post in a statement on Thursday. Inspiring!