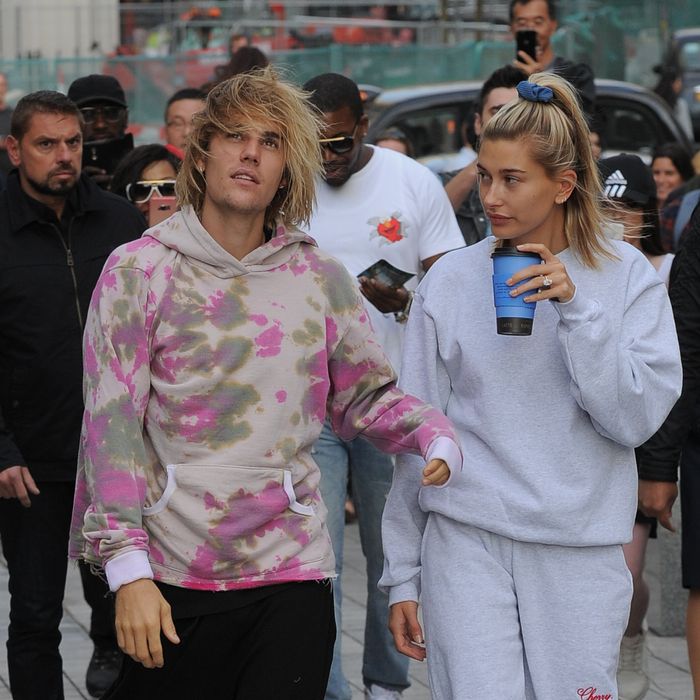 Photo: PALACE LEE/Barcroft Media via Getty Images
Justin Bieber and Hailey Baldwin are in love, and they really don't want anyone to forget it. They've expressed their strong emotions for each other without hesitation, making out in France, weeping at parks and bars, and wiping food off of each other's faces. The public displays of their young love continued through the Thanksgiving holidays.
While they were in Canada, the couple stopped by a Toronto Maple Leafs hockey game, where Justin continued his affection spree. He walked up to his wife, grabbed her face, and showered her with kisses. The make out did not go by unnoticed, and a video of their session was posted to Twitter.
All the PDA follows ample confirmation that the couple did actually get married in September (without a prenup). Earlier this month, Hailey changed her name on Instagram to Hailey Bieber, and even trademarked the name. Not to be out done, Justin has repeatedly posted about his "amazing" wife in the past few weeks.
Justin also posted about his first Thanksgiving as a married man, and his first as host. He shared that he's still learning a lot about love, in his quest to become a better man. "Relationships are hard and love isn't always easy but thank you Jesus for showing me how," He wrote in the caption. "Every day is a learning process, trying to be more like him, patient, kind, selfless, boy I got a long way!"
You're doing great Justin. Just keep tenderly smooching Hailey at sporting events.