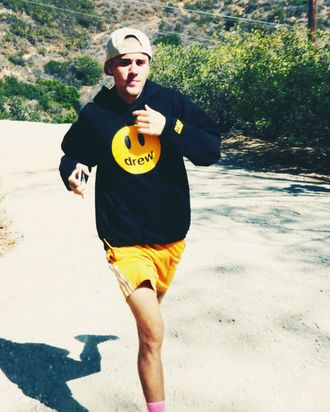 "drew".
Photo: gotpap/Bauer-Griffin/GC Images
For those of you who like your personal style to scream "I was recently escorted out of a Lids outlet store for making too many airhorn noises", I have some good news: Dirtbag style icon Justin Bieber is launching his own clothing line, and he named it "Drew" after his middle name (Drew).
There he is, in that picture right there, wearing a "Drew" hoodie. Do you like it? I think it's fine, though having "Drew" — or rather, "drew" — right where a smiley face's mouth would normally be makes it look like the smiley had it's mouth sewn shut, and gives it a slightly ominous look. But maybe that's what he was going for.
As "Page Six" noted in a post called "Justin Bieber trying to make 'Drew' happen", this hoodie is the third "Drew" design. The first two were a yellow shirt that said "drew" and a yellow hoodie that said "drew."
The public weeper trademarked "DREW" as well as "THE HOUSE OF DREW" and "LA MAISON DREW" (which is "the house of Drew" in French) back in February, the Blast reports. In October, his probably-wife Hailey Baldwin, of the Baldwins, also reportedly trademarked the name "Hailey Bieber" as well as her probably-maiden name, "Hailey Baldwin".
It is unclear when House of Drew or Maison Drew torture smiley hoodies will be available, but if you Google "House of Drew" now, you'll find an HGTV story about Property Brother Drew Scott's house with his then-fiancée Linda. It's nice!