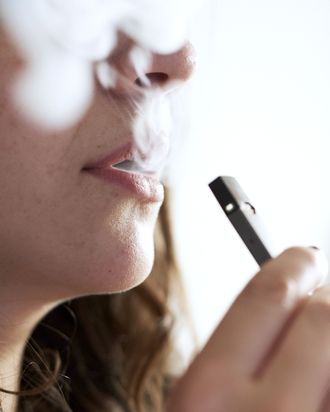 Photo: Bloomberg/Bloomberg via Getty Images
Pour out your taurine-less Four Loko, folks. Juul Labs, the company behind teens' favorite e-cigarettes, announced this week that it will stop selling most of its flavor pods in stores, and that it will stop promoting its products on social media.
"Our intent was never to have youth use Juul," the company's chief executive, Kevin Burns, said a statement. "But intent is not enough. The numbers are what matter, and the numbers tell us underage use of e-cigarettes is a problem."
The numbers, according to the New York Times, tell us that three million middle and high-school students report using e-cigarettes, and that a third of those cite the flavors — like creme, mango, and cucumber — as a major factor in their choice. Now, the company will only sell menthol, mint, and tobacco flavor pods in stores (though it indicated that it would, at some point, resume selling the fun flavors at stores that implemented age-verification technology).
The move comes just days ahead of the Food and Drug Administration's expected roll out of a plan to ban the sale of e-cigarettes from convenience stores and gas stations.
Juul also deleted all of its Instagram posts except for one, informing customers that as of November 13, they will no longer post any content or respond to direct messages. You can still subscribe to their newsletter, though.
The Cut has reached out to a young vaping fan to get his thoughts on the new development, and will update you when we hear back.