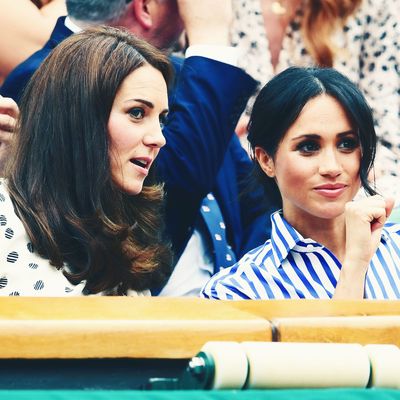 Kate Middleton and Meghan Markle.
Photo: Clive Mason/Getty Images
Over the weekend, it was revealed that parents-to-be Meghan Markle and Prince Harry will be moving out of their Kensington Palace digs and into a "cottage" on the property of Windsor Castle, about 20 miles outside of London. The news came amid weeks of shady tabloid stories about the millennial members of the British royal family: Namely, Meghan is said to work too hard (the horror), and there have been murmurs about a possible rift between Prince Harry and Prince William. (Meanwhile, Prince Charles has received a seemingly unprecedented amount of positive stories in the buildup around his recent 70th birthday, hmmm.) And now, rumors are circulating that there might be tension between Meghan and her matching sister-in-law, Kate Middleton.
So, is any of it true? Let's break it all down.
First, let's take a look at the Prince William and Prince Harry rumors.
Prince Charles, the future king, turned 70 earlier this month. In the weeks leading up to his birthday, the heir to the throne received a ton of positive press — while his two sons, Prince William and Prince Harry, received a ton of shade from the British tabloids. There were stories (from excerpts of a new Prince Charles biography by royal reporter Robert Jobson) that Prince William is a little "grand" (whatever that means), and that Prince Harry had a pre-royal wedding temper tantrum. As Lainey Gossip pointed out, the stories were peculiar — given Jobson's access to Prince Charles, were the stories coming from inside the palace?
Amid all of that, it was revealed that Prince William and Prince Harry would be splitting their royal courts. That means these two adult men who currently have completely different roles (as one will be king and the other will not) and yet share one office would be splitting their office into two, which would allow them to focus on their different interests and different royal duties.
Some tabloids, of course, are claiming the split is actually a symptom of a rift between the two. However, a source told the Times, "The brothers have leant on each other and looked after each other since their mother died. But now they have their own families, they no longer rely on each other as before." Royal historian Robert Lacey also told the Daily Beast, "It makes sense because although they will act as a team in future, the functions of the team members will change." So, the general consensus between those in the know seems to be: The split is just a practical thing.
Yet, the Sun broke the news of Prince Harry and Meghan's impending move — and the story stated that there has been some "tension" between the two brothers, though it provided no further details about what might be making things tense. Whether there's any truth to the rumors of — to quote Lainey Gossip — "boy shit" has yet to be seen.
Okay but more importantly, is it true that Meghan Markle and Kate Middleton are fighting?
Given that there are rumors of a possible rift between Princes William and Harry — and that Meghan Markle has been on the receiving end of a ton of shady stories about her (good) work ethic and passionate opinions — it should come as no surprise that there are also rumors about infighting between Meghan and Kate. In a Sunday report about Sussex's upcoming move, the Daily Mail quotes a source as saying, "Kate and Meghan are very different people. They don't really get on."
To dissect this, let's take a step back. After Meghan's relationship with Prince Harry was revealed, it was widely reported that Kate was one of Meghan's closet allies as the former actress transitioned into royal life (and royal fashion). The pair have often been spotted smiling at each other at official events, and also attended Wimbledon together, where they smiled some more. Rumors of a rivalry between the two have been repeatedly shot down.
Does that mean Kate and Meghan are absolute best friends? No. Does that mean they don't occasionally disagree and get annoyed at each other? Also no. Overall, it seems Kate and Meghan are friendly, but as a person who has relatives, I would not be surprised if they occasionally piss each other off. That's the thing about family; you're different people and you're essentially stuck together for life (well, sometimes), so you don't always like each other. Just like any in-laws, I'm sure that Meghan and Kate occasionally have tiffs or want to avoid each other.
But there's no indication of any all-out war between the two — and I'd be careful of tabloid stories that suggest otherwise, since both Meghan and Kate have their inner circles locked down tight. Their closest confidants wouldn't leak this sort of story.