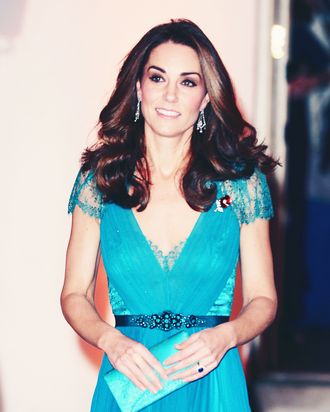 Kate Middleton.
Photo: Jeff Spicer/Jeff Spicer/Getty Images
Kate Middleton, Duchess of Cambridge, is truly a timeless beauty. And she proved that on Thursday evening, when she was out with her husband Prince William in full glam for the Tusk Conservation Awards in London. It has been one of the few royal appearances she's made since she gave birth to her son Prince Louis.
She wore a stunning teal Jenny Packham gown for the event, and followers of the royal family might recognize it. She wore the same dress all the way back in 2012, when we were all much younger and Meghan Markle was gearing up for the second season of Suits.
She also carried the same teal clutch for the event. Page Six reports that the gown was originally a wedding dress that Packham dyed just for Middleton, and retails at around $5,000. It's understandable why she'd want to get a second wearing out of such an expensive gown, especially considering that it is custom. Kate switched things up a little, though. She accessorized with different earrings and added a brooch in 2018, as well as opting to wear her hair down, instead of the low bun she had in 2012.
Middleton frequently wear Jenny Packham designs, one of her favorite designers. In April, she wore a red Packham dress leaving the hospital after giving birth to Prince Louis, which reminded everyone of a similar dress that Princess Diana wore in 1984. She also wore a Jenny Packham dress leaving the hospital after the birth of Prince George. Back in 2013, she wore a shimmery Packham for another Tusk Conservation event.
Kate has worn quite a few memorable looks lately. At the Netherlands State Banquet, she wore an Alexander McQueen dress and a tiara of Princess Diana's that made her look exactly like Cinderella. Hopefully she'll revist that look too!