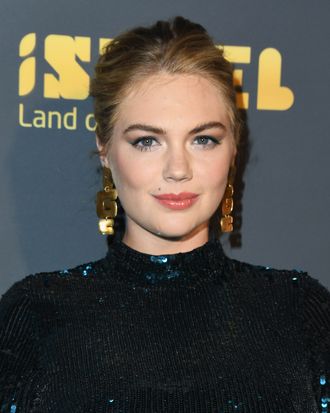 Kate Upton.
Photo: Jon Kopaloff/Getty Images
Kate Upton, actress, model and occasional space explorer, has given birth to a baby girl! She and her husband, Houston Astros pitcher Justin Verlander, welcomed a daughter earlier this week, a year after they married in Italy.
Kate posted a photo to Instagram on Saturday to share the news. The baby's name is Genevieve Upton Verlander, and according to Kate's post, she was born on November 7, 2018, which makes Genevieve a Scorpio. Exciting!
The first photo of Genevieve is a a sweet black- and-white photo of her little hand and a portion of her face. Justin also posted a photo of baby Genevieve, another black-and-white photo, though this time its was her very small hands and her parents adult-size hands. "Welcome to the world Genevieve Upton Verlander," Justin wrote in the caption. "You stole my ❤️ the first second I met you!!!"
Kate also announced her pregnancy on Instagram back in July, with a short post simply saying "#PregnantinMiami" and tagging her husband. Justin also posted the photo for the announcement, but didn't hold back on how excited he was that Kate was going to be a mom.
"You're going to be the most amazing Mom!! I can't wait to start this new journey with you," he wrote on Instagram. "You're the most thoughtful, loving, caring, and strong woman I've ever met. I'm so proud that our little one is going to be raised in this world by a woman like you! I love you so much."