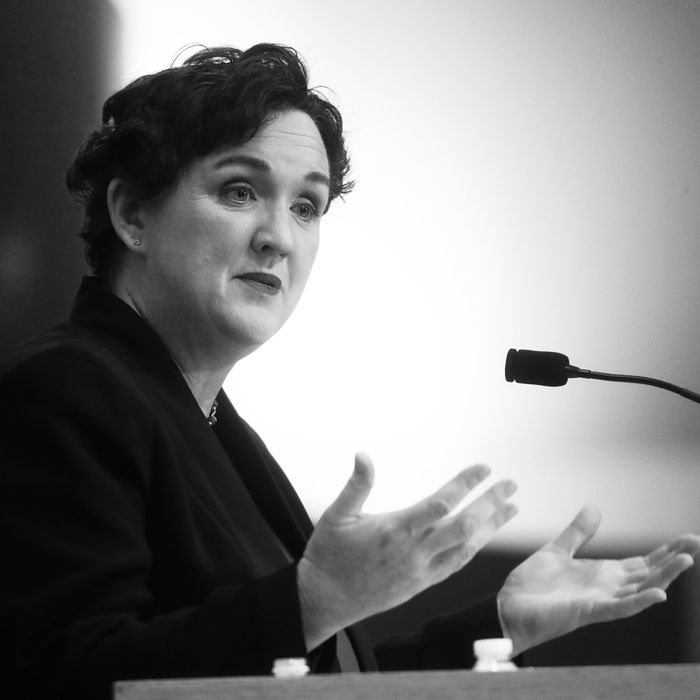 Katie Porter.
Photo: Mario Tama/Getty Images
More than a week after the midterm elections, good news keeps rolling in for Democrats. The Associated Press reports that Katie Porter won her congressional race in a Southern California district that has historically supported GOP candidates.
Porter beat out the incumbent candidate, Republican Representative Mimi Walters by over 6,000 votes. Porter ran a progressive campaign in California's 45th congressional district, promising to fight back against President Trump and hold "the powerful special interests in Washington accountable." Porter is a former student of Democratic Senator Elizabeth Warren at Harvard Law, and the Associated Press described Porter as a protégée of Warren's.
Mother Jones reports that Porter is the fifth Democrat to flip a Republican-held district in California during the midterm elections. Porter is a single mother of three, and before the campaign, she was a law professor at UC Irvine, and worked as a consumer attorney.
In a video posted to her Twitter account, Porter stood in Washington D.C. as rain whipped around her, thanking voters and announcing that she was excited to get to work. "I'm here in Washington to represent you, the 45th congressional district of California," she said. "I can't wait to get back home to you in sunny California."
Porter is one of more than a hundred women elected to office during the midterms, part of a powerful group who will change the way the country looks. Some of these women are already hanging out in Washington D.C. learning the ropes for their new jobs as elected officials.