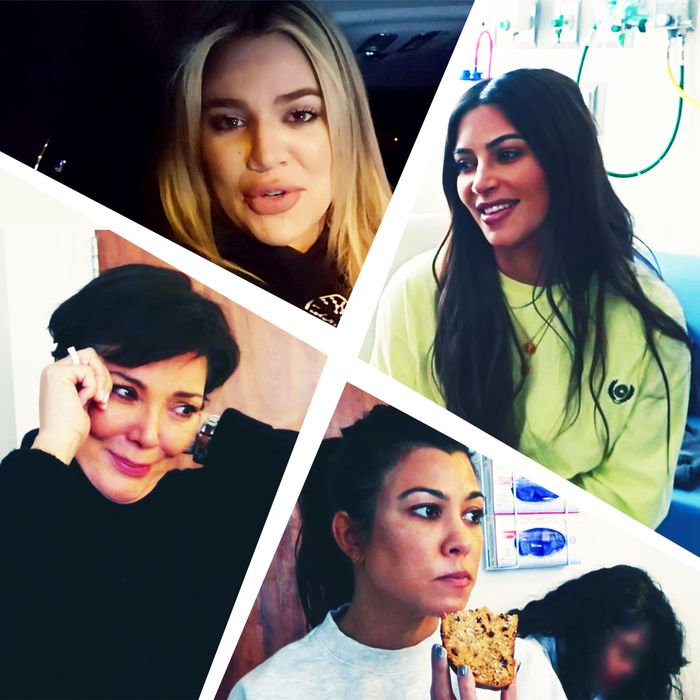 Photo: Courtesy of E! Entertainment
After a week away, Keeping Up With the Kardashians finally returned, delivering children and drama. TLC's A Baby Story could never deliver the nuanced tension filling Khloé Kardashian's delivery room, proving yet again that this series needs an Emmy or at least a pat on the back.
This week our A-Plot was True Thompson's birth; our B-Plot was Tristan's hellish lifestyle; and our C-Plot was Kim Kardashian West's high-school reunion. This recap is 10 centimeters dilated and ready, so #LEGGO!
Scene 1/Scene 2:
At 9:37 p.m. on a Cleveland night, Khloé Alexandra Kardashian, formerly known as Khloé Kardashian Odom, is en route to the hospital to deliver her first child. Driven by Savas Oguz, longtime friend of Khloé's baby father, professional basketball player, and gatekeeper to Hell, Tristan Thompson. Savas is calm, as he and Khloé navigate the rain and contractions. While on their way, Khloé worries that her mother, sisters, and, most important, doctor won't make the delivery. Shockingly, none of their planes have Wi-Fi, so she can't get a hold of them and won't have any update until they land. Still, she's excited.
Up in the air, Kourtney Kardashian, Kim Kardashian West, and Everybody's Favorite Best Friend/Former Twin, Malika Haqq, are on their way to Khloé. All three are just as anxious as Khloé is that they'll miss the birth. They're also impressed with Khloé's independence. Kourtney, especially, can't imagine doing any bit of this process alone without the support of family or the baby's father. These scenes were filmed on April 11, 2018, as it's a continuation of the last episode's events.
Scene 3:
Finally at the hospital, Khloé is in the hospital bed and eating ice chips just like your auntie. Tristan is still not there, but Khloé's kept company by Savas, who is filming her and making endless jokes about the labor and delivery process. Khloé's responding well to them despite the fact that she hasn't had her epidural yet and no one else with any blood relation to her or her baby have arrived.
Finally, Tristan arrives with his friend Simon Gebrelul. Khloé seems sort of happy to see Tristan, and in her confessional, she says that it was super important to her to stick to her birthing plan because she's waited her entire life for this moment. This means that she's setting aside her personal experiences for the greater good of her birthing experience. Khloé's also a believer of not making "permanent decisions on temporary emotions." I'd say I'd agree with that when it comes to getting a tattoo or a haircut post heartache, but not so much when it means allowing an actual trash bag in the delivery room.
Still, Khloé allows Tristan to rub her head, hold her hand, and participate in a video diary for their baby girl. He makes it clear that he was late because he just played the last game of his Cleveland Cavaliers season (which he lost 😊). At this point, it's 12:21 a.m. on April 12, and her family still hasn't arrived, but she's gotten the epidural. This scene was filmed in the wee hours of the morning of April 12, 2018, the day Khloé delivered her baby girl!
Scene 5:
Soon after Tristan's arrival, Khloé's family and doctor touchdown in Cleveland and head to the hospital. Once there, everyone seems in good enough spirits considering Tristan's most recent transgressions. Still, before she even says "hello" to the man, Kim makes sure to make faces behind his back — the mom of three mimes herself slitting his throat and sticks her tongue out at him. But though Khloé's family is prepared to lethally inject Tristan with the harshest words they know, Kim has decided to hold back on the tongue lashing for the time being.
Elsewhere in the now-crowded delivery room, Kris Jenner dances for joy and FaceTimes Kylie, while Kourtney FaceTimes Kendall, just as Khloé is about to deliver her baby. Over FaceTime, Kylie tells Khloé to have fun with the process. At this point, Khloé's a bit more concerned with the placement of everyone in the room. She's upset that Kris is pointing a camera directly at her vagina, and she's insisted that Tristan stay above her legs because they have "enough issues" already.
Just like she did with Kylie and baby Stormi, Kris is planning on pulling Khloé's baby out of her birth canal. This means that she's gotta suit up in scrubs and surgical gloves, which she of course loves. To the dulcet sounds of Two and a Half Men Khloé begins to push. Impressively, Khloé's pushing is calm, and she doesn't even break a sweat! I've truly been more winded lifting up my phone in bed than Khloé is delivering a whole ass person. With Kim holding back her legs, Tristan by her side, Kylie Jenner on FaceTime, and Kris ready to catch, Khloé delivers her baby at 4 a.m. on the dot.
Kris remarks that she has a full head of hair, "just like Stormi," and the baby is placed on Khloé's chest for skin-to-skin contact. Both Khloé and her daughter are surrounded by cameras getting close-ups on the new family. Once she's weighed, measured, and checked out, it's Tristan's turn for skin-to-skin contact with his daughter. Shirtless, he cradles his daughter and tells the room that he's heard that baby girls change your life. Kourtney responds simply, "We can only pray." Khloé's delivery was filmed on April 12, 2018.
Scene 6:
Later that day, after everyone's rested, Khloé's family is back to the hospital to see more of the new baby. Khloé's decided on the name "True" because it's the one name that she and Tristan can't get out of their minds (plus, it's her grandfather's name). Everyone loves it, and jokes that she should be called "True Kardashian," as a slight dig at Dream (the only Kardashian kid that holds the Kardashian name) I suppose, considering one of her most recent birthday gifts was a cockroach. Khloé, who seems both emotionally and physically wiped, receives a one-of-a-kind gift from her mother. Along with a handwritten note about how much she loves her "bunny," a teary Kris gifts Khloé with three gold bangles. These bangles were given to Kris by Robert Kardashian Sr. after she delivered Khloé. Kris explains she waited 34 years to give Khloé this gift and feels so happy that she finally got the chance.
Before leaving to go back to Los Angeles, Kim and Khloé make a plan for the following week. Her sisters are all scheduled to return on Monday for a few days with Khloé and the baby. During this time, Khloé wants her family and Tristan to have a sit-down conversation — they're all livid at him and since he decided to act out so publicly, she reasons, their input matters. Tristan even wants to have this talk to sort of apologize or explain himself. At this point, though, Khloé is mainly embarrassed. Yes, she put aside the drama for the birth of her baby, but in her confessional Khloé admits that she was even shy around nurses and people in the hospital who might be judging her for keeping him around. Like the scenes before, this scene was filmed on April 12, 2018.
Scene 9:
Luckily for Kim, True Thompson made it possible for this high-demand woman to attend both the birth of her niece and her 20th high-school reunion. More ecstatic than anyone in the history of the universe, dead or alive, to attend a high-school reunion, Kim's rented a party bus, decorated it with balloons, and picked up each of her high-school friends on her way to their high school. While looking through her old yearbooks and uncharacteristically sipping Champagne, Kim tries to connect with her best friends from 20 years ago, whom she hasn't seen in 20 years. Which is odd, considering the fact that Kim never went off to college or left the greater Los Angeles area.
Nevertheless, Kim says she loved her high-school experience and enjoys touring the halls of Marymount High School, even the bathrooms! Trillions of selfies later, Kim seems satisfied with her high-school reunion experience. I'm sure she'll be back in another 20 years! This scene was filmed on April 13, 2018.
Scene 11:
Like they promised Khloé, Kim, Kourtney, Kris, and Kendall all had a sit-down conversation with Tristan in Cleveland. It wasn't filmed, however, because Khloé wanted to respect the fact that Tristan's job isn't to be on a reality show (and she feared he wouldn't be as vulnerable if cameras were there). Thankfully, Kim knows how to keep a story line moving smoother than your bowels, so she and Kris gave us and her cousin CiCi a recap.
According to Kim the meeting was "pointless," mainly because Tristan isn't truly remorseful — he's just embarrassed. He's also upset that this news is affecting his career. Fans are now booing him, and he's just all-around frowned upon. Kris then says that the meeting got heated once Tristan got tired of being grilled. Apparently Khloé asked him how many more women would come forward, and Kim told Khloé that there's no point in asking because he'll never be honest. Kris also told Tristan that he doesn't need to stick around just to stick around — if he leaves, their family will "rise to the occasion" and take care of Khloé and the baby. What hurt Kris most was something Khloé told her, which was that she didn't have a baby just to have one and move on, she had one so that she could start a family. This scene was filmed on or around April 18, 2018, given the fact that this was one of Kim's few inside days in April.
Scene 12:
Following her jaunts to and from Ohio, Kim Kardashian West visits Ellen to sell her KKW Fragrances and talk shit about Tristan. During the interview, Kim tells Ellen and the world that what Tristan did was "fucked up," but that Khloé's enjoying time with her baby. After the show, Kim calls Khloé to give her a heads-up about what she said. A sad-sounding Khloé thanks Kim for supporting her, but is a bit agitated, because she doesn't want to be dealing with other people's feelings about Tristan. She already has enough to work through on her own, and yes he's a "piece of shit," — and she has to deal with that piece of shit in her own time and on her own terms. Kim really isn't satisfied with that, but tells Khloé that she loves her and hangs up. This scene was filmed on April 19, 2018.
Scene 13:
Kim visits Kourtney Kardashian to watch her and Reign jump on a trampoline and discuss the fallout from her Ellen appearance. After sending Khloé a clip of the show, Khloé texted Kim saying that Tristan was livid. He apparently called Kim an "instigator." However, Kim doesn't care what he thinks because, again, he's a piece of shit.
Kim also proclaims that she's "done" and "over him," while Kourtney suggests that they bow out of the drama and let Khloé learn her lessons on her on. Kourtney agrees with Kim's theory that he'll never change and cheat again, but, as she points out, even though she knew Scott would continue to act out, she stayed with him and learned for herself. Plus, she commends Khloé because it takes more strength to try and make this work for her family than to just toss him out. Kim barely agrees, and is most likely plotting a way to ruin Tristan's life even more. This scene was filmed on April 28, 2018.
Thanks for joining me, Dolls! When I wake from my Tofurky coma, I'll be right back her next week with another #KUWTKE recap of Keeping Up With Tristan Thompson's Soon to be Ex-Family. #TRUEKARDASHIAN