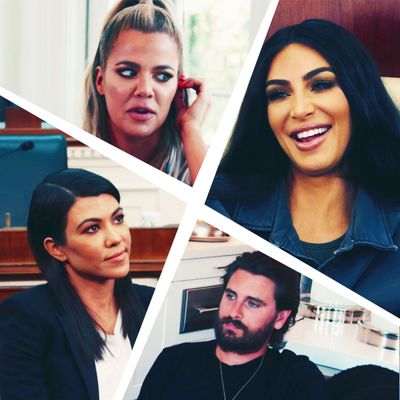 Photo: Courtesy of E! Entertainment
Last night's episode of Keeping Up brought us back into the land of Post Traumatic Tristan Disorder, as the family continued to deal with his sexual shenanigans. Though the Tristan tea was and is still piping hot, this week we were served a mild, bordering on lukewarm brew. And yet! We remain satisfied.
This week, our A-plot was Kim resurrecting her party days; our B-plot was Khloé's return to Calabasas; and our C-plot was Kourtney getting political. #LEGGO
Scene 2:
Clustered around Khloé Kardashian's kitchen table (formerly the host of ornate bouquets of flowers, and the current host of guest Kendall Jenner's extremely minimalist and dare I say nonexistent décor choices), Kim Kardashian West holds court with Kendall Jenner and Scott Disick. Kendall, the self proclaimed "homeless" one of the family, is staying in Khloé's home while her new one is getting renovated — and while Khloé tries to repair her broken relationship in Ohio. Scott, on the other hand, is around because he often just is.
Like the rest of us, Scott knows how freakishly excited Kim was to attend her high-school reunion. Unlike the rest of us, he appears happy to hear that it lived up to Kimberly's hype. After regaling her sister and almost ex-brother-in-law with stories of her rented Sprinter bus and KiKi approved kiki's with her former friends, Kendall and Scott tell Kim that they're shocked she went wild for one night. Mildly offended, Kim tells them that she once used to be a crazy party girl.
Kendall, worried about the road they're about to tread, tells Kim she's heard stories, but as she looks directly into the lens of the KUWTK camera, says she shouldn't discuss them just now. Kim, however, has no restraint and reminds the table that she got married (for the first time, 2000–2004) while high on ecstasy and filmed her sex tape while high on ecstasy as well. She's also spent the night on rafts in the middle of an ocean while partying it up in Ibiza with her former boss, Paris Hilton. Kendall: Kim knows how to party, okay! This scene was filmed on or around April 29, 2018, given Kim's loose waves and Kendall and her dog playing in Khloé's backyard.
Scene 5:
Still clinging to her past and original face, Kim Kardashian West charters a private jet for herself and some of her high-school friends. They're headed to Las Vegas for the night, to not only see Kim's idol Cher perform, but for Kim to also prove to herself, Kendall, and Scott that she still knows how to party. The last to enter the jet, Kim situates herself in a window seat as she tells her former friends and current pawns in her "relatable" story line scheme that she brought with her two Cher costumes and a bracelet that Cher once owned and wore herself. Impressing even herself, Kim is excited to share the world of Cher with her kinda-sorta gal pals, and has a truly remarkable evening planned for the group. While discussing the night, one of Kim's guests tells the plane that one of her co-workers had no idea who Cher was. Kim rolls her eyes at the thought of having and referring to someone as a "co-worker." This scene was filmed on May 4, 2018. 
Scene 6:
While Kim Kardashian West takes a group of charity winners to Vegas to see Cher, Kourtney Kardashian is on Capitol Hill fighting for the rights of all the Least Interesting People to Look At in America. Just kidding, she's trying to make us all interesting to look at by joining forces with the Environmental Working Group to reform cosmetics laws in America. Apparently, they haven't been updated in over 80 years, and Kourtney and the EWG group are hoping to put stricter regulations on cosmetics and household products to make them safer by eliminating hazardous products and chemicals from each and every product. Before she makes her first political appearance, Kourtney and her good friend, beauty blogger Sarah Howard, have a meeting with the EWG team. This is where Kourtney learns that she'll have to speak in front of a large crowd, including members of Congress, press, and staffers — and that she's the final piece of their puzzle to get the laws they want passed. Basically, there's a lot riding on her tiny, hunched-over shoulders. Spooked, Kourtney takes the information in and prepares as best she can for the following day. This scene was filmed on April 23, 2018.
Scene 7:
Back in Los Angeles after her brief maternity leave in Cleveland, Khloé Kardashian introduces her baby True Thompson to family friend Scott Disick. Kendall and Kris Jenner are both in attendance of this epic meeting, and Kendall can't believe that this is the first time these two people have crossed paths. Before handing her child over to Scott, Khloé makes sure that he knows how to hold a baby, to which Scott reminds her that he has three children of his own. Khloé doesn't really take that information in, given the fact that he's already outed himself as a deadbeat dad, considering he is in charge of four kids.
Scott is immediately taken by True, calling her a "tiny bowling ball" of a baby. He also can't believe that Khloé is finally a mom! The group takes their chatter out to Khloé's backyard, where she admits that she's adjusting fine to life back in Calabasas, but it's a bit shocking to go from having nearly zero people around in Ohio, to having a full crew and staff around in L.A. She's also worried about Tristan and Kim seeing one another for the first time since their chat in April, and since Tristan blocked Kim on Instagram. This scene was filmed on July 21, 2018.
Scene 8:
Once she's landed in Vegas, Kim surprises her high-school sweethearts with an overly decorated suite covered in high-school photos, balloons, and other decorative moments from Party City. After she's toasted once to Cher and once to their high-school reunion, Kim asks the group if they're okay with her getting into her first Cher look. Obviously, they're fine with this, and Kim returns in a sheer-white moment, nearly identical to a look Cher wore in her early days. Posing for the women who are definitely her dearest friends, Kim has them take photos and Boomerangs before they're allowed to sit down for their evening meal. Excited by the night, Kim, former ecstasy user and current non-alcohol drinker, downs multiple glasses of wine and asks their waiter for shots of vodka. Taking her binge to the balcony, Kim and friends toast yet again to the evening ahead, before slowly sipping their shots and making faces like tiny babies who've just tried lemons for the first time. This scene was filmed on May 4, 2018.
Scene 11:
It's finally concert time, and Kim's changed into her final look of the night! Wearing the turquoise bracelet gifted to her and once worn by Cher, Kim's super hype to not only see her idol but to also re-create some high-school memories. Kim says that 20 years ago she and her friends absolutely loved to get dressed up and go to concerts, and here they are doing it again! Adding to the festive atmosphere, Kim tells her friends that she was able to "pull some strings" and get a backstage meeting with Cher, as if she and her husband didn't just charter a 747 private plane just hours ago. Dancing to Cher's performances and singing along to the legend, their excitement to meet the icon post-show only grows.
Kim's excited and nervously fusses with her press on nails and hair before Cher rounds the corner to greet them. The conversation is pretty much only between Cher and Kim as the friends watch from a safe distance, and Kim spends most of it telling Cher that she is her one true queen and icon. Cher thanks Kim for her kind words and is impressed with Kim's re-created look. To everyone's surprise, Kim allegedly made the jacket herself the day before by buying and cobbling together three different coats. Before she leaves, Cher tells Kim that they should take a joint trip to Armenia with one another sometime soon. A wonderfully casual meet-up! This scene was also filmed on May 4, 2018.
Scene 13:
In Washington, D.C., Kourtney speaks in front of press and members of Congress on behalf of EWG. Through her nerves, Kourtney talks about why she's so invested in the cause of reforming cosmetics laws. She says when she was a new mother, she first became aware of the harmful chemicals she was exposing her children to, and she just couldn't take it. Kourtney rallies for Congress to finally do their job and protect the innocent lives of children and their skin. I have to say, Kourtney did a wonderful job, which could possibly be chalked up to her decision to wear a chic clutch over a fanny pack to the event. This scene was filmed on April 24, 2018.
Scene 16:
In an effort to repair her relationship with her sister's cheating sack of a boyfriend, Tristan Thompson, Kim visits Khloé's Calabasas abode. Upon entering, Kim is gassed up by her sisters who tell her she's gotten so skinny that she looks like a bobble head (all three agree that this is their ideal body type). Kim has come over to see Tristan for the first time since their awkward conversation just days after Khloé delivered baby True. Khloé's anxious for their meeting, and offers to tag along with Kim, who jokingly refers to Tristan as her "BFF," but Kim says she can do this alone.
Kim then makes her way through Khloé's halls to greet Tristan, who is lounging in the theater room. Khloé wants to know how the conversation is going, and asks a crew member to hand her their audio device so that she can listen in on their mic'd conversation. Kourtney apparently missed this exchange and asks if Khloé is taking a phone call. Khloé of course asks the budding politician what possible phone call she could be on while wearing a wire and listening through a bricklike device.
In the other room, Kim forgoes traditional greetings and immediately asks Tristan if he's ever played pickleball. He hasn't, so Kim tells him all about it. She then tells him that she's a fantastic skier, and shows him videos to prove her point. Tristan is impressed and tells Kim that she could probably beat him in a winter sport. That's the extent of their conversation, but the tone was generally high. That might be because this wasn't the first time they spoke since April, as this scene was filmed on July 19, 2018, almost a month after Kim and Tristan documented him un-blocking her on Instagram on June 27.
Thanks for joining me this week, Dolls! Calabasas is nothing without you and me! I look forward to meeting you again next week for another #KUWTKE recap of Keeping Up With Ecstasy. #PICKLEBALL