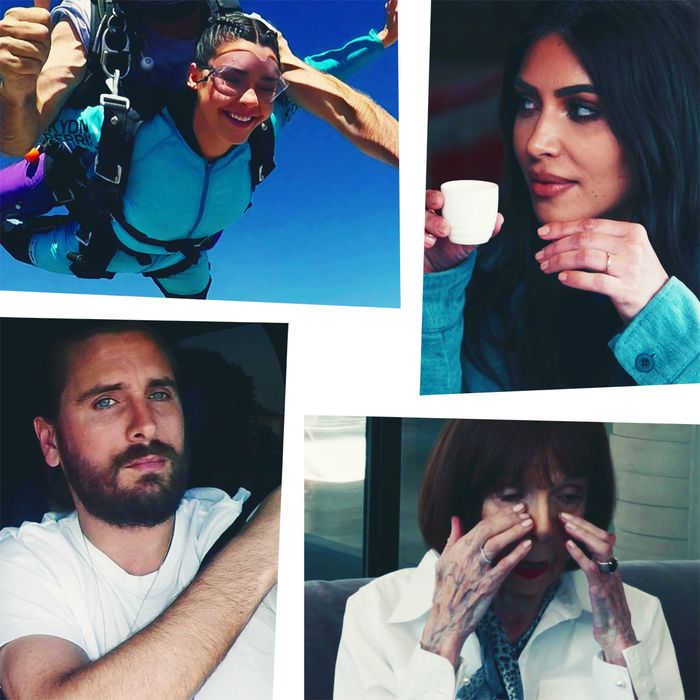 Do we love anything more than exposing a dirty, dirty dog of a man on national television? No! Which is why last night's Keeping Up With the Kardashians was appointment TV. Lies were uncovered, vulnerabilities exposed, and pitchforks sharpened. Join me as we break down the highs and lows of Khloé's third trimester — before Tristan Thompson can knock a new woman up and proceed to cheat on her.
Our A-plot was Tristan Thompson's runaway dick; our B-plot was Kendall and Scott's adventures; and our C-plot was Kim's schedule. #LEGGO
Scene One
As a valued citizen of Calabasas, Kourtney Kardashian takes in a stray animal for the afternoon: Jonathan Cheban. Because the dog park must have been full, she took him to release some of his energy at a trampoline gym. Bravely, without knowing if this stray was up to date on his shots, Kourtney still allowed her children to commune with and play alongside him. But as Cheban the Stray tried to get the children from the House of Disick to bounce against the endless trampolines, they refused.
First, Mason told the manimal that he didn't have to do what he said, and then he and Penelope sat on the sidelines looking like they'd rather feed a wild boar than continue on with Cheban. Kourtney, unfazed, correctly predicts that her kids' moods will change in two minutes — they'll be up jumping in no time. She continues on with her life and jumps, and jumps, and jumps and jumps, until she can jump no longer and her legs disintegrate into KKW Fragrance particles and burn the place down. Just kidding — she jumps until the opening credits roll and the rest of the episode unfolds like a 42-minute death rattle. This scene was filmed on January 15, 2018.
Scene Four:
On maternity leave in Cleveland, Khloé Kardashian, a willing servant of the reality-TV industry, has vowed to document the days leading up to birth for Keeping Up. With no camera crew, Khloé counts down the days until her delivery as she bounces on a maternity ball to hopefully get her baby into a better position. And, since Tristan is traveling for the National Basketball Association, he's asked that Malika step in and stay with Khloé in case she goes into labor. Unfortunately for Khloé, she's still pregnant and oblivious to what the next few days will hold.
Dated 12 days before her due date, this scene was allegedly filmed on April 1, 2018. However, Khloé says explicitly in the scene that Tristan is traveling — but she also went to a Cleveland Cavaliers game in Cleveland on the night of April 1, sans Malika. Considering the circumstances, it's to be assumed that Khloé spent at least two weeks bouncing on that birthing ball, waiting for her perfect future with a new baby girl and loyal boyfriend, meaning that if this scene wasn't filmed on April 1, it sure was close to it.
Scene Five:
During the "What in the Entire Fuck" portion of the show, Kim Kardashian entertains two women conceived and birthed by Instagram and a three-and-a-half star cosmetic dermatologist. Kim says she's friends with them because they're not moms. These two mutations, whose earthly names are Natalie and Olivia, watch Kim get her underarm hair lasered off at SEV, a popular laser company in Los Angeles. I assume that Natalie and Olivia's WAGs salaries (yes, they've apparently been on TV before, and on … wait for it … E! as Wives and Girlfriends of athletes and that's all I care to know about them; if you know more, please do not tell me) don't allow them the financial comfort to participate in the same procedures Kim gets, so they just watch and ask what Kim will do when and if underarm hair comes back in style. Kim says she doesn't care if it does because she hates when women grow their underarm hair out.
After the laser session and presumably charging up these Insta Androids, Kim takes Natalie and Olivia to lunch. The one with short hair and a speech pattern and overall feel of someone who's under anesthesia asks Kim why she doesn't drink more. Despite the fact that it was Kim who suggested the table try Chin Chin's green-apple sake, Kim tells her that she needs to be in Vegas to get super drunk. Then, the one with the long hair and the ability to open her eyes, tells Kim that they'll just have to go to Vegas. Kim giggles and moves the conversation to her upcoming 20-year high school reunion. Kim didn't go to college, so this is the only reunion she has to look forward to, and she's been looking forward to her 20th since she graduated. Kim tells the living Instagram filters that she will do everything in her power not to miss this event and she plans on getting wasted there. With that, they cheer. This scene was filmed on March 21, 2018.
Scene 13:
The two most bored and arguably boring people in this family, Kendall and Scott, seek a thrilling adventure. Earlier in the episode the duo went dirt biking, but Scott felt that it wasn't as much of an adrenaline rush as he'd like — now he wants to try skydiving. Kendall, scared, told Scott that she'd suit up, but there was no guarantee that she'd jump out of a plane. Anxious, Kendall sticks to her word. She gets dressed and secured and is even attached to a man and sitting on his lap, seemingly ready to go. But, as Scott seems to grow more and more excited, Kendall tells everyone that she cannot do it. Still attached to the man, Kendall apologizes to everyone saying it's just not going to happen. While she does this, Scott soars through the open skies like a pro, or a white man with nothing to fear.
Trying to convince her, the man Kendall's attached to tells her that they'll just peek out of the plane to see Scott. Kendall agrees, and while on the edge of the plane, the man she's attached to tells her that he'll just count to three and then they'll jump. Kendall faintly agrees, and then she's off! Once airborne, Kendall smiles with the confidence of a white woman who is surely insured within an inch of her life. After touching down, Kendall and Scott congratulate one another, take pics in front of the plane, and feel as though they've got their thrill of the day. Or did they? This scene was filmed on April 10, 2018.
Scene 14/Scene 15:
Thrilled with themselves, Scott and Kendall rehash the day as they leave their skydiving adventure. While talking, Kendall gets a text alert on her phone. Her face drops and she falls silent. News of Tristan Thompson cheating on a pregnant Khloé has been released. As each of the other sisters presumably find out about the transgressions of TTD — Tristan Thompson, Devil — we're treated to dramatic Brady Bunch–style boxes with each of Khloé's sisters looking down at their phones digesting the news. Much like Khloé, Scott is a victim in this case as he suffers through one of the worst features of our society, the I Know Something Big Happened, But I Don't Know What moment.
As he's driving, he only knows that Kendall stopped talking and as he asks repeatedly, "What?" she doesn't really respond until she has all of the information. Finally, Kendall speaks and tells Scott that TTD was caught repeatedly making out with a woman over the weekend, and there's video. Kendall even reads an excerpt for Scott so he can take it all in. Still convinced that this might be a nasty rumor, Scott tells Kendall to ask Kim if it's legit. But when Kendall tells Scott that she got the news from Kim, Scott's heart drops and he concedes that this is in fact real. As Scott and Kendall take in the news and lament TTD's actions, Kendall calls it a "sick joke."
Meanwhile, across town (or something like that), Kylie, in her confessional, explains that she felt it her sisterly duty to tell Khloé about TTD's cheating. She didn't want her sister seeing it in the media, but she knows she's taking a big risk because this will wreck her. So, she does.
On the other side of town (most likely), Kim, the family's gossip guru, tries to understand the news while in the middle of filming a confessional. She doesn't know what to do, so she calls Malika. Malika is pissed, but she's not with Khloé so she doesn't really know what to do — though she does think this will most likely put Khloé into labor. After speaking with Malika, Kim quickly debates whether or not she should call Khloé. She does, and Khloé sounds a bit despondent on the other end. Kim asks how Khloé is doing, and she's not well. Khloé tells Kim that she "can't be calm" now and that she's trying to get out of Cleveland as fast as possible, but doesn't know if she should travel. Kim offers to go to Cleveland that second, but Khloé tells her not to.
Back in the car with Kendall and Scott, Kendall tells Scott that Khloé's already kicked TTD out of his house (boss move, Khlo$!), but she seems to be stuck in Cleveland. Scott takes this time to tell Kendall that he now looks like the gentleman of the family.
So, when did the Kardashians all find out about TTD's cheating? Well, The Daily Mail reported on April 10, 2018 that Tristan was caught cheating on a pregnant Khloé and according to Keeping Up all of the sisters found out on that day as well. Let me start with the bad news first: Kylie, the one sister who looks the most perplexed in her boxes, was not being filmed on April 10. In reality, she was just on her phone on April 3, the day she shot an Adidas campaign. Which makes sense, because her scenes featured confessional voice-overs and not in-the-moment commentary. We know this is on the 3rd of April given her glam team's lime-green wristbands for set and, well, her glam.
Like Kylie, Kourtney never spoke outside of her confessional for this scene. And, though I can't date Kourtney's exactly, she seems to appear, in the kindest way possible, tired, so perhaps this was around early-mid April when Kourtney was jetsetting between Turks and Caicos, Cleveland, and Los Angeles.
Now, for the good news. Kim and Kendall were both filmed in real time, on April 10, just one day after Kim and Kourtney returned from a trip to Turks and Caicos. A twist for the reality-TV ages.
Scene 17:
Following the breaking news that Khloé's beau is a hoe, Kim sits down to discuss the recent drama with Kris Jenner and M.J. M.J. shocks me and Kim when she admits that she only just found out about the cheating on her way over to Kourtney's home, where they are, sans Kourtney for the moment. The news hit M.J. hard — she says her makeup was ruined because she couldn't stop crying.
M.J. then wonders why Khloé can't try and find another "type," because obviously the professional athletes aren't working out too well. She suggests that Khloé romantically take up with an accountant or a preacher. Kim agrees, and thinks that this is all bad news. She has friends calling her up claiming to know about other women Tristan's cheated with, and Kim's trying to get Khloé to understand that he will never change. Kris agrees, but she still has work on the mind. Apparently, "some university" — Brown — has a class called "Keeping Up With Keeping Up," and Kris has agreed to surprise them with a Skype. She asks Kim if she'll join as an added surprise. She also invites M.J. and Kourtney to be a part of the education of these Ivy League students.
Once online, Kris is pleased to see that the small class is all women. They're excited by Kris, Kim, and M.J., but have the biggest reaction when Kourtney enters the room. It could be because her makeup is painted on so thick and dark that she looks like a Black woman, but I hope their excitement was a vote of confidence for the occasionally interesting-to-look-at mom of three. Kris and her family answer the students' questions about both being on the show and producing it, when Kris gets a phone call. She ignores it, and continues on with her lecture. Then, Kourtney's assistant rushes in telling Kourtney to tell Kris to look at her phone ASAP. Kris does, and jolts up, telling the women that she'll be "right back." She never returns.
Instead, she takes a call from Khloé, who is in labor! To this news, Kris lets out a string of expletives, condemning herself for not flying out to Cleveland the night before. She's upset because she's in charge of bringing Khloé's doctor all the way from Los Angeles to Cleveland, and she doesn't want to miss this birth. Kim and Kourtney wrap up their Skype call with the Brown ladies and make a flight plan with Kris.
Kris, rushing, tells Kim and Kourtney that she's waiting for no one and will be on the next plane out. Kim wants to go with Kris, but her 20th high-school reunion is in a few days and she fears she'll miss it. For her, it's a hard choice: Attending a high-school reunion or attending the birth of your younger sister's first child after she struggled for years with fertility issues and is currently dealing with a cheating partner in a city she's unfamiliar with.
To make up her mind, Kim calls Khloé, and with Kourtney on speaker, the two eldest Kardashians decide that they need to head to Cleveland as soon as possible as well. Khloé's contractions are getting closer together, and it appears that full-blown labor is eminent. Kim leaves to pack a bag, and Kourtney takes a moment to chat with Khloé. Over the phone, Khloé tells Kourtney that she wants her delivery to be as simple and drama-free as possible. Even though Tristan is a cheater, she doesn't want his foul behavior brought up in the delivery room; she just wants calm and to pretend that none of this happened, just for the day. Kourtney tries to understand, and then hangs up with Khloé to pack her own bag for Ohio. This scene was filmed on April 11, 2018, the day before True Thompson was born. We know this was April 11 because Kourtney's hair was wavy like the day before and the timeline of Kim and Kourtney's departures to and from Cleveland add up, as you'll see very soon.
Scene 19:
Finally at the airport, or whatever they call a private jet area, Kourtney and Kim meet up with Everybody's Favorite Best Friend, Malika, who has since returned from Cleveland and will be flying back with them. Kris has already taken off with Khloé's doctor, and they're right behind her. Everyone's on edge, considering how close they're cutting it and the fact that they'll have to interact with Tristan.
All three want to obey Khloé's wishes of keeping things civil, but Kim and Kourtney devise a plan to only nod their heads at him in an intimidating way as a "hello" and/or mime cutting this throat. Kim does say that she's definitely going to tell him, in a whisper, "To be continued, motherfucker. It's not over." Like Scene 17, this scene was filmed on April 11, 2018. And, if you're wondering, Kim was able to make both the birth of True and her 20th high-school reunion. She and Kourtney were in Ohio for less than 24 hours, flying out the afternoon of the 12th.
Whew! We made it, dolls! But like Kim said, this story is to be continued, with True's birth on the next episode. Join me next week for another #KUWTKE recap of Keeping Up With Trippin' Tristan. #ITSNOTOVERMOTHERFUCKER