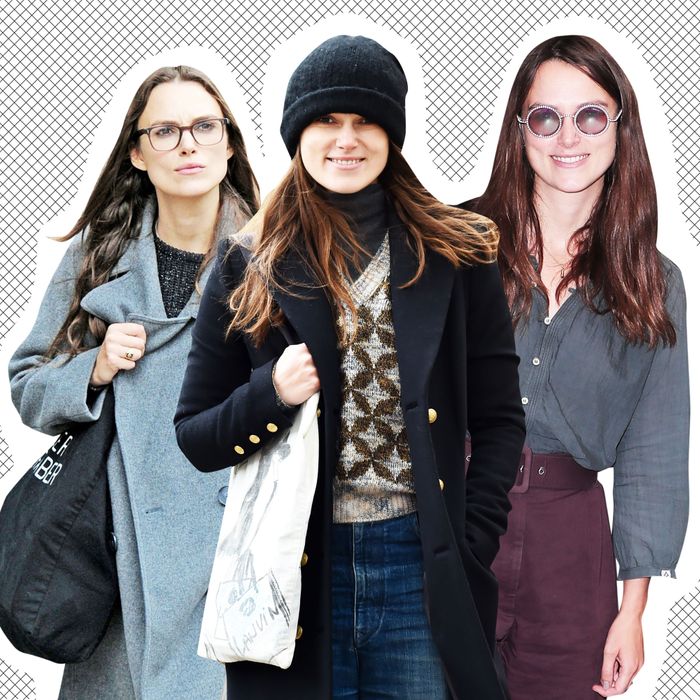 My autumn queen, Keira Knightley.
Photo: SplashNews, BackGrid
The other day, as I was scrolling through the endless homepage of the Daily Mail, I came across a headline that stopped me in my tracks: "Keira Knightley wears jumper and jeans for autumn stroll after admitting she returned to work to maintain her 'sense of identity' after becoming a mum." I did not read the full headline for obvious reasons (i.e., it's incredibly long), but the words "Keira Knightley," "jumper and jeans," and "autumn stroll" jumped out at me, and I simply had to click.
For a few years now, Keira Knightley has been my ultimate cozy fall street-style inspiration. I do not have her body type nor her resources, so I absolutely cannot and will not attempt to recreate her high-fashion red-carpet looks (or the many corsets she wears in her movies). But as I've learned from spending hours on end looking at paparazzi shots of her, the actress prefers laid-back outfits in her everyday life — each of which makes me feel comfy just by looking at them.
Her no-frills outfit from the October 30 Daily Mail article — the one with her "autumn stroll" — is the exact look I go for the second the temperature dips below 65 degrees; the time when my teeth start chattering and I begin my six-month routine of telling everyone I encounter, "I'm so cold," even though I'm Canadian and should be able to withstand a slight chill in the air.
In the pics, she's wearing a black beanie, as well as a dark gray turt, a brown-and-gray patterned sweater, loose-fitting jeans, Doc Martins boots, a warm-looking black coat, and a lightweight tote bag. Her look simultaneously screams "I feel very relaxed" and "I also enjoy matching." She looks chic but effortless, and most importantly, warm.
The outfit matches her general autumn everyday fashion pattern: She appears to favor a comfy pant, adores neutral colors, and lives for easy layers. Take, for instance, when she arrived in Paris in late September. Fall had just begun and the temps likely hadn't dipped too low yet, so all she did was take off her coat. Voilà, her look was was suddenly both comfy and weather appropriate.
There was also last autumn, where we saw her again in baggy jeans, boots and a coat, but also in a comfy-looking Nike sweater. And of course, she was also photographed in boyfriend jeans, a fall coat, and sneakers while out and about that September, because how could she not?
Now, I wouldn't go out on a limb and call her style anything remarkable, but I would love to commend her for favoring looks that seem comfy and easy — which I don't normally see when I scan paparazzi pics. And given that my biggest dream in life is to always be cozy, I can't help but dream of using one of her warm coats as a blanket while I curl up on my couch in fall layers.