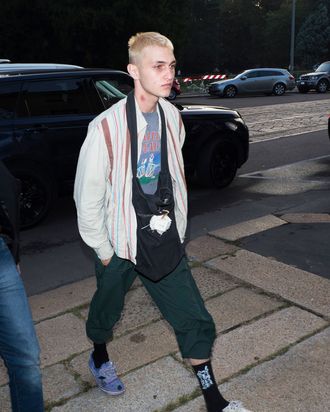 A hickey, mismatched shoes, sad eyes — a grunge icon.
Photo: Arnold Jerocki/GC Images
On Tuesday afternoon, 19-year-old Anwar Hadid decided to publicly ponder a casual hypothetical on his Instagram story: "I wonder if i could be loved as deeply as i love," he mused. The contemplation, which he posted over a black-and-white photo of two hands, also featured the phrase "WHY ARE you still my mind" [sic]. This came less than a week after the youngest Hadid sibling posted another black-and-white photo, stylized similarly, with an equally cryptic message: "A WOMAN IS MORE DANGEROUS THAN A LOADED PISTOL." Someone, clearly, was suffering.
What is the root of the young man's consuming pain? It could be that suffering is the human condition, and that we'll never know if those we love truly love us back. Or … it could be Kendall Jenner. As many of those interested in Anwar's life and emotional state were quick to note, Jenner — with whom Hadid sporadically made out over this past summer and fall — was photographed last Friday with her ex-boyfriend Ben Simmons at a Philadelphia bowling alley. Very sexy, for Jenner. But for Hadid, the source of excruciating heartbreak, quite possibly.
Was this really what caused young Anwar's torment? We have no way of knowing for sure, leaving us with no recourse other than to sift through the assorted clues left on social media and in various celebrity-oriented publications. Here is all we know of Anwar and Kendall's alleged love:
On October 2, 2016, Jenner called "dibs" on Hadid
Jenner is close friends with Hadid's older sisters, Bella and Gigi, which is fine, and early in October 2016, she posted an Instagram of herself and Hadid cozying up to one another with the apprehensively sexual caption: "dibs?" It seemed like a saucy joke, but it clearly wasn't, because …
On June 4, 2018, they were photographed making out with each other
At a CFDA Fashion Awards after-party, TMZ captured Jenner and Hadid cuddling around 2 a.m. at Socialista New York, where they apparently summoned the energy to make out for two full hours.
On September 2, 2018 in Malibu, they acted like mere friends
Along with Bella and a few friends, Hadid and Jenner hit up the Malibu Chili Cook-Off, where they apparently were not all over each other, leaving one to wonder if it is possible for someone to be loved as deeply as they love.
"Kendall seems great," a source told People. "She's spending time with Anwar. She obviously likes him, but both nights they were with a group of friends. She wasn't affectionate with Anwar."
On September 5, 2018, they made out again during New York Fashion Week
The horny friends were at it again, this time during NYFW. At another after-party at Cipriani in Soho, as a "spy" told Page Six, "Kendall was sitting with Anwar all night and made out with him for quite some time."
"They didn't give a damn who saw them," the source continued.
From September 21-26, 2018, they both sported hickeys
Fans noticed that Hadid had a massive purple hickey on his neck; days later, others noticed that Jenner, too, had a hickey. Wow … what a coincidence.
On October 2, 2018, they were inseparable in Paris
During Paris Fashion Week, Hadid and Jenner acted "very, very together," a source told People. And apparently, the Hadid sisters were totally cool with it. (It's fine, as I said before!!)
"They actually kind of like it," the source said. "They all hang out together and Gigi and Bella actually think they're good together. Their friends think it's a little weird, but it works."
On October 6, 2018, they enjoyed a double Kardashian date
Kourtney Kardashian, her ex Luka Sabbat, Jenner, and Hadid had a cursed double date at Soho House in Malibu, where the latter couple reportedly acted "like friends."
On November 7, 2018, the maudlin Instagrams portended the end of this rousing emotional rollercoaster
First, the aforementioned weepy Instagram post. Then, a source close to Gigi Hadid told Hollywood Life that the friends' "romance" was fizzling out.
"Gigi has vowed to stay out of things between Kendall and Anwar, she knows he can take care of himself," the source said. "But still, she's a little disappointed that the romance between them seems to be cooling off."
Hadid later uploaded another emotional missive to his Instagram story, in which the 19-year-old wrote that he is simply learning how to acknowledge his feelings "openly."
"I used to be afraid to feel things deeply cuz i felt as if the feeling of abundant happiness couldn't be obtained forever, but openly feeling is now my only source of inspiration," he wrote, before increasing the size of his text for emphasis. "And now that im not afraid to express my thoughts and feelings i kinda feel like everythings pretty mellow."
Happy that he's, uh, feeling mellow now!