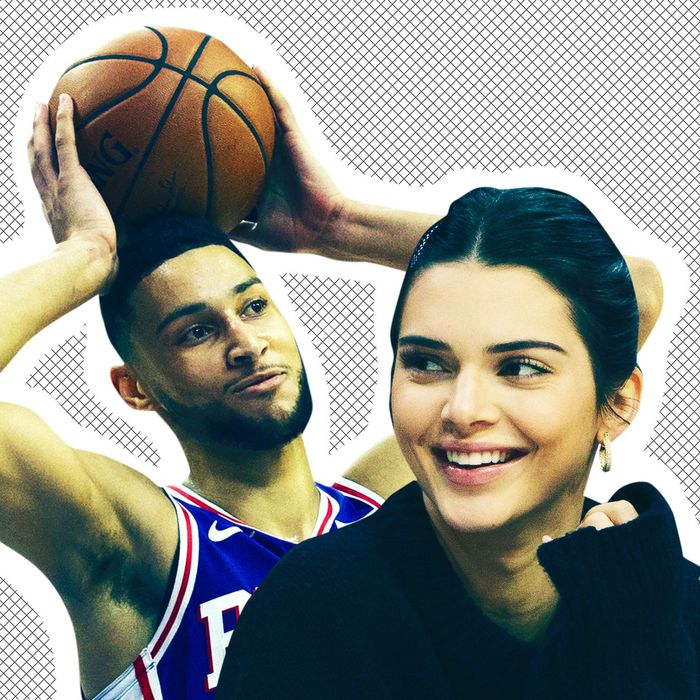 Appearing to further her family's tradition of bedding every professional athlete with even a hint of melanin, "Page Six" reports that Kendall Jenner, 23, is dating National Basketball Association employee and Philadelphia 76ers player, Ben Simmons, 22.
Kendall and her rumored sexual pal Ben have been seeing one another on and off since May of this year. There have been a variety of lunch dates around the greater Los Angeles area, sneaky canoodles exposed on Snapchat by fellow court-side courter, Khloé Kardashian, and a myriad of "are they or aren't they" stories to satiate anyone on a slow KarJenner news day.
And, though things appeared to have cooled off when Kendall was seen doing what any warm-blooded mammal would do if given the chance — making out with Anwar Hadid over the summer — she just couldn't stay away from someone with a ball in his hands (with hopes of landing at least one of his balls in her court, if you know what I mean).
These two young lovers aren't rushing to put a label on their dating thing, mostly because of their busy schedules and the fact that every NBA player that's darkened Kris Jenner's door has caused extreme turmoil and distress to the family. Yet, as you may have seen, Kendall's been galavanting around Philadelphia with Ben, buying him soup at Whole Paycheck Foods and rooting for him on the sidelines at his professional basketball games. She even made light of her sister Khloé Kardashian's baby's father's bad behavior by fake "boo"-ing for Tristan Thompson and his team, the Cleveland Cavaliers, as they played against Ben this weekend. Now, that's #True love!
I am excited for Kendall to possibly find love with a young NBA player who has yet to fully experience the thrills of being a rich man over 6-feet tall (i.e., who has hopefully not given into the temptations of female pheromones on the road), but I'd be forever unsettled if I didn't caution the young model. While I'm impressed that she's visiting one of our nation's first ever colonies for a booty call and possibly some sightseeing, I must remind her that the last time a Jenner visited a colony with a flame, she ended up pregnant. Go ahead and ring that liberty bell as many times as you want, baby girl, but use protection!