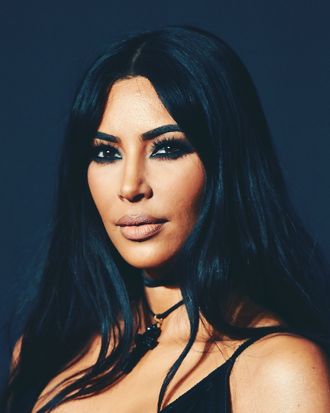 Kim Kardashian West.
Photo: Axelle/Bauer-Griffin/FilmMagic/Getty Images
What do Kim Kardashian West's first wedding and her sex tape have in common? Apparently, being high on ecstasy, or so says the reality-TV star.
On this Sunday's episode of Keeping Up With the Kardashians, the 38-year-old — who now barely even drinks — decided to get candid with Scott Disick and Kendall Jenner about her past drug use, which seemed to coincide with some significant life events. After the former asked about her wild days, Kardashian West spilled all.
"I got married on ecstasy — the first time," she said of her wedding in 2000 to music producer Damon Thomas. The second time she says she took the drug was in 2003, right before she made her sex tape with her ex-boyfriend Ray J, which leaked in 2007.
"I did ecstasy once and I got married," she said. "I did it again, I made a sex tape. Like, everything bad would happen.
Apparently, "everyone" knew she was rolling during the tape, Kardashian West says. "Like, my jaw was shaking the whole time," she says.
Clearly, Kardashian West has now realized that she and MDMA don't exactly mix. She did, however, insist that she "still can do crazy things."
Like … launch an ass-shaped perfume or wear a thong from 1997?