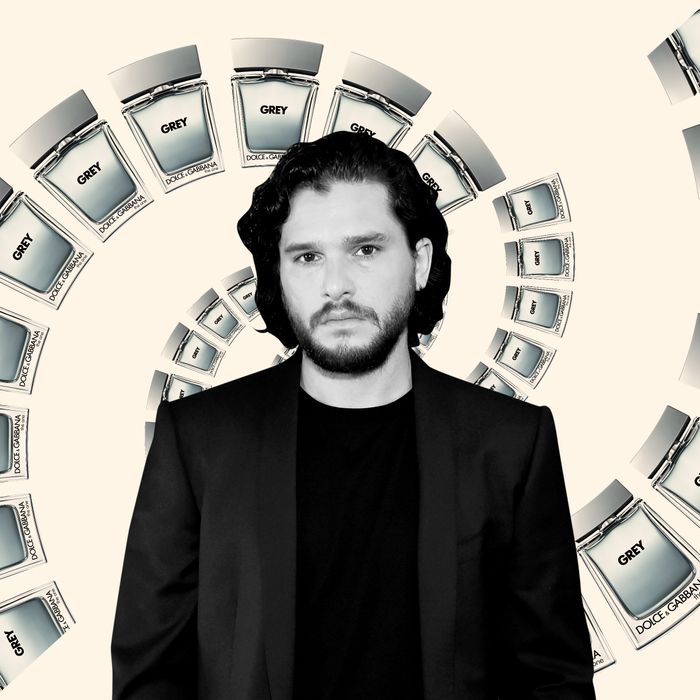 Kit Harington.
Photo: Courtesy of Macy's
Call it the Proust effect: Memories are often triggered by smells. Scientific studies confirm that out of all the senses, smell offers the best recall. In Scent Memories, the Cut asks people about the scents they associate with different times in their lives. Next up is actor Kit Harington, or as you may know him, Jon Snow from Game of Thrones, and the face of Dolce & Gabbana's The One Grey cologne. The Cut caught up with Harington to chat about the smell of his costumes, vaping, and "the wall."
My first scent memory: I once tried to make my mum perfume from the roses in her garden. I picked all the roses off her rose bush and crushed them up. I don't think she was very happy about me doing that.
Happiness smells like: Autumn, and the freshness in the air.
Love smells like: Perfume on a pillow.
Friendship smells like: My four best friends — Dan, Ollie, James, and Theo — so it doesn't smell very good.
Heartbreak smells like: Whiskey and cigarettes.
Regret smells like: My publicist.
The "wall" smells like: Damp earth, rain, and Belfast.
The Emmys smelled like: Hair spray.
My Jon Snow costumes smell like: Wet dog.
My wedding smelled like: Fresh flowers.
Vacation smells like: The south of France, with fresh baguette and hot, dusty heat.
Success smells like: Emptied-out bottles of champagne.
My Sunday morning smells like: Bloody Mary.
My Monday morning smells like: A vape, after smoking for the weekend. I was a heavy smoker, so I'm getting off cigarettes. It's helping.
My home smells like: Wood, smoke, and wooden beams.
If I could have one smell on my hands forever, it would be: Dolce & Gabbana, The One Grey, obviously. But if there was going to be another, it would be fresh soil.
The One Grey smells like: Lavender and grapefruit. It's not a heavy scent; you can wear it every day.
If you buy something through our links, New York may earn an affiliate commission.