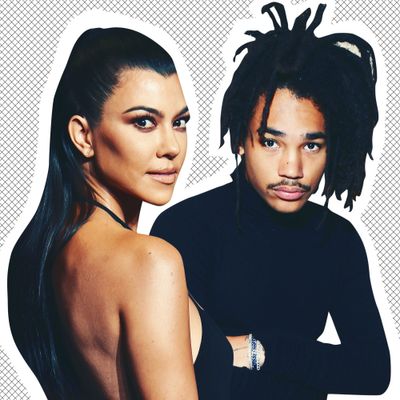 Kourtney Kardashian and Luka Sabbat.
Photo: Getty Images
Life is a series of choices — choices we make about who we want to be, what we want to do, how we want to spend our short, precious time on this planet. On Monday, Kourtney Kardashian, 39, made the choice to spend the evening at a 21-year-old's birthday party.
The 21-year-old in question is Luka Sabbat, a Yeezy model and Grown-ish actor whom Kardashian may or may not be dating.
"She doesn't see it becoming an exclusive committed long-term relationship like she had with Younes," a source told E! News, referring to Kardashian's 25-year-old model ex, Younes Bendjima, who just dated for two years. "But she never thought that would happen with Younes either. She's not over-thinking it. She just knows she's very happy when she sees Luka and is always excited to see him again."
What should the 39-year-old and her 21-year-old beau do the next time they see each other? They could:
1. Drink beer together (legally!)
2. Make out.
3. She could talk to him about Macaulay Culkin and have him say, "Who?"
4. Help him set up a 401K.
5. Instagram stories (make and watch them.)
6. Build a fire and throw away his fake ID.
7. Dab.
8. Listen to him talk about how moved he was by Infinite Jest, or at least the part he read.
9. Visit the Hot Duck.
10. Help him plan his three-year high school reunion.
11. Stay out until 4 a.m. and have "so much fun, really! No, I'm just yawning out of excitement like how dogs do sometimes!"
12. Fidget spin.
13. Over-the-pants stuff.
14. Top stuff.
15. Ignore the inevitable and crushing passage of time.
16. Tweet "this ain't it chief" at brands.
17. Explain to him where the clit is.
18. Have him explain "They did surgery on a grape."
19. Have dinner with his parents and say, "This feels like a parent-teacher reunion!" and then take a deep sip of wine when they don't laugh.
20. Watch cool skateboarding videos.
21. Make Scott Disick, 35, and Sofia Richie, 20, jealous.