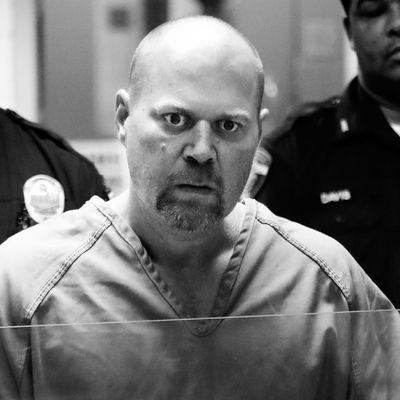 Gregory Bush.
Photo: Scott Utterback/Courier Journal via AP Pool
On October 24, a 51-year-old man drove to a Kroger in Jeffersontown, Kentucky, where he shot and killed two black people whom police believe he did not know: Maurice E. Stallard and Vickie Lee Jones. After the shooting, the suspect, a white man named Gregory Bush, reportedly told a white bystander, "Whites don't kill whites." The suspect, a white man named Gregory Bush, has been charged with three federal hate crimes.
Before Bush stopped at the supermarket, police say that he drove to another suspicious location: a nearby, predominantly black church. Bush yanked on the church's front doors, as captured by surveillance video, but the secured entrances remained locked, and Bush gave up after ten minutes. Then, he drove to Kroger.
Police are still investigating the shooting. Here's what we know so far.
The alleged shooter, Gregory Bush, has a history of violence and racism
On October 24, 51-year-old Gregory Bush of Louisville, Kentucky, traveled to Jeffersontown, which is about a 25-minute drive. In the afternoon, sometime before 3 p.m., police say he tried to enter First Baptist Church of Jeffersontown during a midweek service. According to the church administrator, Billy Williams, somewhere between eight and ten people were inside the church when Bush started pulling on the front doors, which alarmed a church member who was in the parking lot. After ten minutes, Bush got back in his car and headed to Kroger, where police say he fired multiple rounds at Maurice E. Stallard, and later struck Vickie Lee Jones multiple times in the parking lot.
According to court records, Bush has been convicted of domestic assault, and has a history of making racist remarks, such as speaking about "black death" and calling his wife the N-word.
In a May 2009 case, Bush was accused of screaming profanities at his ex-wife and and threatening her. He was convicted of domestic assault, which means it's against federal law for him to own a gun.
In 2001, Louisville news station WDRB reports that one of Bush's ex-girlfriends allegedly took out an emergency protective order because she "feared for her life." Eight years later, Bush was accused of threatening and screaming profanities at his ex-wife, which resulted in his domestic-assault conviction.
In 2009, the same year as his domestic-assault charge, Bush's father — with whom the suspect did not have an overwhelmingly positive relationship — said that his son once said, "Tonight might be black death," according to court records. (It is unclear why compelled Bush to make the remarks.)
Furthermore, Bush has detailed his struggles with mental illness on a Facebook profile that appears to belong to him, on which he claims to have "paranoid-schizophrenia." Per court documents, Bush attempted suicide in in February 2000.
"I'm lucky I made it this far with all the trouble I've caused myself when I get off my medicine," his "about me" section reads. "I'm lucky my parents are in good health as it took 2 years too finally get my disabilty.maybe one day I can work again.I'm hoping for the best."
He is also a fan of Donald J. Trump, Blue Lives Matter, and various conservative pages, per his Facebook likes.
What happened at the Kroger on October 24?
At Kroger, Bush killed Vickie Lee Jones, 67, and Maurice E. Stallard, 69, both of whom were pronounced dead at the scene.
In an interview with the New York Times, Jones's nephew, Kevin Gunn, said his aunt had retired from a local veterans affairs hospital and was caring for an elderly family member at the time of the shooting. "[She was] a good Christian woman and wouldn't hurt a fly," he said, calling the shooting "senseless" and reminiscent of a "hate crime."
Stallard's family did not make a comment to the Times, but Mayor Greg Fischer of Louisville, who says he's "sick and heartbroken and angry" over the shooting, asked the public to respect the family's privacy.
What charges is Bush facing?
On October 25, Bush was arraigned on two counts of murder and ten counts of wanton endangerment; weeks later, on November 15, a grand jury charged Bush with three federal hate crimes and three federal firearm offenses
"The crimes alleged in this indictment are horrific," Justice Department attorney General Whitaker said in a statement. "We cannot and will not tolerate violence motivated by racism. We will bring the full force of the law against these and any other alleged hate crimes against fellow Americans of any race."
These charges come weeks after Louisville's black leaders criticized police and politicians for their failure to address race as a motivating factor in the killings; instead of calling it a hate crime, they called it "senseless violence."
"It was also an act of terrorism," Truman Harris of Louisville's Black Lives Matter told the The Courier-Journal. "It's ridiculous that Mayor Fischer, that Matt Bevin, that Mitch McConnell are taking as long as they are in acknowledge this as what it is. If this person was a black or brown terrorist, it would have been acknowledged right then and there."
If found guilty, Bush could face life in prison without parole or the death penalty.
This post will be updated.