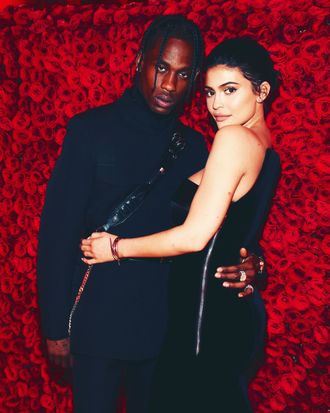 Travis Scott and Kylie Jenner.
Photo: Kevin Mazur/MG18/Getty Images for The Met Museum
In February, lip-kit mogul Kylie Jenner gave birth to a baby girl named Stormi, with the help of her mother, Kris Jenner, and a team of medical professionals. Stormi's father, Travis Scott, was also there, and he was horrified.
Scott recounted the day of his daughter's delivery on The Ellen DeGeneres Show on Monday, and said that the whole experience was so scary, especially the brave new world of fetomaternal organs.
"There's this thing called the placenta, that I've just been hearing about?" he said. "Oh my God. So, I was fearful of all that. But I cut the umbilical cord."
"So the placenta freaked you out?" DeGeneres clarified.
Scott shuddered and nodded. "Very, very crazy."
Once the scary placenta was out of the way, though, he seemed much more enthusiastic about his newborn baby.
"You know, when you first hold a baby in your arms, it's uncontrollable. It's this whole like, warp. It just takes over your whole body. I never thought I could just love something so hard, ya know? It's crazy."
While he may know about Jenner's placenta now, it is unclear whether he knows the names of all of her dogs yet.