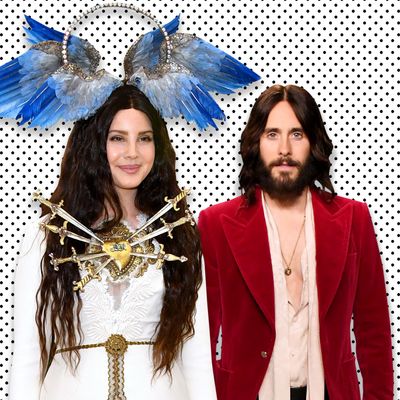 Gucci Guilty Pour Femme, and Pour Homme.
Photo: Getty Images
Courtesy of their new gigs representing good smells by Gucci, Lana Del Rey and Jared Leto will be hanging out in a glamorous cemetery. Del Rey is the face of Gucci Guilty Pour Femme and Leto is the face of Gucci Guilty Pour Homme. Together with creative director Alessandro Michele, they will be throwing a launch party tonight at the Hollywood Forever Cemetery in Los Angeles.
The Hollywood Forever Cemetery is not just a glam, gloomy random location choice. Michele once attended a party there to celebrate Joey Ramone that ended up inspiring the spring/summer 2017 collection. It's also featured prominently in the film campaign for the scent which stars Del Rey and a surprise appearance by Courtney Love. As part of her official duties, Love will record stories for the brand's Instagram account.
The film campaign and the fragrance don't launch until January 15, so you'll have to wait a little longer to see how it all comes together. But for now, imagine a dark and stormy night, a cemetery filled with celebrities who smell like Gucci Guilty, and Courtney Love to play social-media manager for a night.