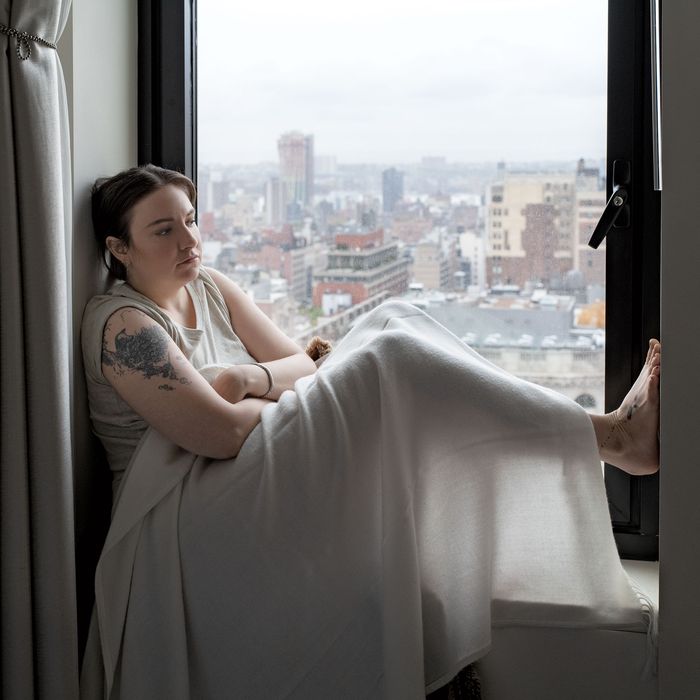 Dunham in New York on November 2.
Photo: Gillian Laub
One morning, about three weeks after we'd first met, Lena Dunham sent me ten text messages in a row. She was in the hospital, recovering from a procedure to remove her right ovary, "which was encased in scar tissue & fibrosis, attached to my bowel and pressing on nerves that made it kinda hard to walk/pee/vamp," as she'd later explain on Instagram. She sent me a post-op photo of herself in bed, a red bracelet that read NO BENZODIAZEPINES dangling from her wrist, hospital gown hiked up, her medical mesh panties out.
She sent more photos, all with little captions and taken with Huji Cam, an app that makes everything look like it was snapped with a disposable camera in the '90s. There were striking portraits of her artist parents, Laurie Simmons and Carroll Dunham, elegantly keeping bedside vigil and looking mildly annoyed at the camera phone in their face.
There were photos of all the nurses and doctors and surgeons. A close-up of her pubic area, showing off tattoos and hair and the place where the doctor had drawn incision marks in blue ink.
"I'm like Virginia Woolf writing letters only with emojis, and nobody cares," she texted. Then, over days and weeks, she texted some more.
She sent texts to supplement conversations we'd already had in person, texts that answered questions she thought I'd probably ask in the next interview. She expressed disappointment with negative reviews of Camping, the HBO show she co-wrote with her Girls partner, Jenni Konner, and, days later, refused to be bummed by bad Camping reviews. She Skyped into the new writers' room for a show she's developing for HBO about a grifter heiress, and sent me a screenshot of the first session. Sometimes she shared memories of her ex-boyfriend Jack Antonoff, the Fun and Bleachers musician. Once, she described her ovary remnant as reminiscent of a bean or maybe a fried clam. She sent a screenshot of a motivational text conversation she'd had with her friend Lady Gaga, who is saved in her contacts as Lady Gaga, not as Stefani. There was a photo of a gift she'd gotten for her surgeon (a silver business-card case with ENDOKING engraved on it). There was a #RIPPariana (a reference to the breakup of Pete Davidson and Ariana Grande). Reassurances that she wasn't on painkillers: "It's all me, baby!" There was video of a hairless black puppy she was thinking of adopting and naming Rosa. "I'm worried people will get mad bc of Rosa Parks bc I have to consider those things," she wrote.
At first it felt overwhelming, but then I got used to the intimate snippets of her life. She became like a TV show I was binge-watching. So by the time we were together again in person and she asked if I wanted to see a photo of her uterus, I barely hesitated. I'd seen so much of her, what was an organ?
She turned her screen toward me and there it was: the uterus she'd had removed during a hysterectomy last year. A bloody, swollen crimson orb resting casually on industrial-blue surgical cloth. It was smaller than I'd expect a uterus to be — more alive-seeming, too, as if it could be plopped right back in and resume its function. "The doctor said he'd never seen a uterus as misshapen as mine," she said proudly. I leaned in so I could see her Fallopian tubes better. They looked like little outstretched arms.
Dunham has been living in Los Angeles off and on for years, but she's been there more full-time since May. Antonoff took over their shared Brooklyn Heights apartment when the couple broke up, in December, after six years together, so she filled her other home with a bunch more "fucking-nutty wallpaper," she says. Her parents' home was white and austere when she was growing up, but this bungalow is full of things that make her feel happy and safe, like at a kitschy gift shop at Lena Dunham World.
"I'd have to say, I do feel pretty good here," she says, offering me three chilled-beverage options from the fridge one September afternoon. Right now, there are purple snakeskin poufs, leopard-print rugs, and bright-green walls. There's a tiny pink room, called the "Lady Room," filled with memorabilia: a framed teen glamour shot of a pubescent Dunham in a Nicole Miller blazer, lip-printed pottery she made at Color Me Mine and wanted to sell on Etsy, Eloise posters. But all this will change, she says. She redecorates all the time; in fact, her interior designer, Paul, lives with her; he moved into her guesthouse alongside her two poodles, Susan and Karen, when Dunham got sick a few years back. He's been a family friend since Dunham was a baby, when he'd follow Simmons around Soho while she pushed Baby Lena in a stroller.
The bungalow is also home to Dunham's three hairless Sphynx cats: velvety-gray Candy and Irma, and Lou Lou, a tiny, wrinkly peach cat that looks like a walking foreskin with watchful eyes. Dunham settles onto her overstuffed cream couch, tucking the skirt of her olive-green floral-print dress under her knees, looking over at me with her familiar eager eyes and nervous unsmiling mouth. Irma and Candy jump up next to her, cozying under a blanket. She got Irma right after she and Antonoff broke up. She called her "good friend" Emmy Rossum, who asked what she wanted to do to feel better. Dunham had come across an ad on Craigslist for hairless cats and replied, "I want to drive to Brighton Beach and get a cat from this woman's house." So they did.
The two cats start suckling each other, making loud slurp-slurp noises while one cat Hoovers the other's belly. "They love to do this. I'm sorry, but can I just confirm? Does the fact that they are hairless not make it 70 percent more interesting to look at them? Jack hates the cats, so getting him to come over is a chore." (Dunham says she and Antonoff remain close.)
There's a long-running internet conspiracy theory that Dunham kills her pets; it began last year when she gave up her adopted dog, Lamby, because he had severe anxiety and behavioral issues. After Lamby — whom she had written about in The New Yorker — bit her on the ass, she Instagrammed a photo of the bloody damage. Later, she posted the story of giving him up on the app, too. Soon after, an employee from BARC, the shelter she'd adopted him from, wrote an email claiming the dog was just fine, actually, until he met Dunham. In June, Gia Marie, a Sphynx cat she had adopted, died suddenly; a couple of months later, her 13-year-old Yorkie, Bowie, died too. Gia Marie had lung damage after surviving a house fire, Dunham explains to me, and Bowie … well, when you are a nice person who adopts end-of-life pets, sometimes they die.
"You can say a lot of shit about me, but I am a very committed pet owner," Dunham says. "Ask anybody who works with me on a pet level."
"Also," she continues, addressing the Lamby controversy, "what animal-shelter guy is like, 'I'm an electronic DJ, and I'm also looking to talk to Yahoo! Celebrity'? But dragging him through the court of public opinion like that doesn't get me anywhere. It's better just to kick back and be like, 'Okay, sir, you can extend your career by telling people what a bad dog owner I was.'  " She throws up her hands. "That was one where I was truly like, Welp! Ain't life rich."
Dunham entered pop culture through a narrow doorway. Her breakthrough film, Tiny Furniture, established her raw, self-loathing, self-referential weirdo art. Before it hit theaters, she had to show it to distributors. One guy loved the movie but told Dunham, then 23, that he couldn't stand the main girl, not realizing she was the main girl. "Her voice just gets to me," he said. "It's so grating."
"I always feel like that's been a metaphor for my career," she says. " 'Everything about it is so interesting. It's so well-made. Cannot stand that main girl.' "
When Dunham quickly got very famous and powerful — on-the-cover-of-Vogue famous, star-maker-in-her-own-right powerful — that dynamic replicated itself on a larger scale. Cannot stand that main girl. In a way, she dared it all to happen, the insane expectations and attention. The very first episode of Girls contains a joke mocking her character's self-involved grandiosity: "I think that I may be the voice of my generation," Hannah Horvath whines to her parents, trying to bilk them for cash, "or at least a voice of a generation." Captivated by her strange/normal body, her precise and new-seeming brand of satirical humor, and the good taste she displayed in casting Adam Driver, people took the joke seriously, as a statement of purpose.
Her talent was anointed and shaped by major critical and creative voices of an older generation: David Remnick, Nora Ephron, David Carr, and Judd Apatow, all of whom became mentors. Dunham's agent, Bill Clegg, was impressed by what he saw on Girls. "I kept thinking that each episode was like a great Deborah Eisenberg short story in The New Yorker," he told me. "She's great at the details, the very local stuff of coffee shops and shared apartments, artist parents and private schools — but equally skilled at the big universal themes of hopelessness, self-doubt, new love, shame, and longing."
People her own age, however, chafed at the teacher's-pet status she was accorded, and resented her $3.5 million book deal, but they also paid rabid attention. Over the near-decade of Dunham's fame, culture has become far more sincere and censorious. Her comedy was cruel in its precision, but the edgy jokes and the navel-gazing worldview weren't allowed to be the work of an auteur; they were inspected, especially by her peers, for their morality, their political awareness — or their lack thereof. When she was 28, Dunham went to visit a class at Oberlin, her alma mater, and a kid raised his hand and asked, "How does it feel to be a line item in the history of supremacy and oppression?" "I was like, 'Well, sir, you know a lot of words.' It was like, by the way, a 21-year-old white Rasta who asked me," she says. "One I probably would have slept with."
"I texted Jack last week and said, 'HOW DOES IT FEEL TO HAVE DATED SOMONE EVERYBODY HATES?' in all capitals. He wrote back, 'They only hate you because they love you so much, true story.' Which is like, What a sweetie. What a liar and a sweetie."
Dunham lists the reasons for the hate — with her explanations for why she is the way she is — as if she were reciting a poem imprinted on her brain in grade school: She grew up privileged in New York, which led to what people perceive as a sense of entitlement. Her parents are Soho art-scene royalty, and she was raised around "very specific, liberal provocateurs," who taught her she could say things that "might now warrant a trigger warning," which informs her sense of humor. (For instance: the joke she made on her podcast, Women of the Hour, about never having had an abortion but wishing she had.) Race is a chronic blind spot for her because she didn't grow up with a lot of diversity in her New York City private school, she explains.
An incomplete list of things Dunham has been asked to apologize for: the nondiverse casting on Girls; casting Donald Glover as a black Republican boyfriend the season after she got in trouble for having an all-white cast; saying in an interview, "No one would be calling me a racist if they knew how badly I wanted to fuck Drake"; declaring herself "thin for, like, Detroit"; writing a New Yorker essay called "Dog or Jewish Boyfriend? A Quiz"; constantly being naked; tweeting a photo of herself wearing a scarf around her head like a hijab; accusing a Spanish magazine of airbrushing her photos (it did not); comparing Bill Cosby to the Holocaust; giving Horvath a brown baby at the end of Girls (and casting a baby that was Puerto Rican and Haitian, not half-Pakistani, as the script dictated); comparing the reading of negative Jezebel coverage to getting beaten in the face by an abusive husband; accusing NFL player Odell Beckham Jr. of not wanting to sleep with her; saying she disliked India because of the visible poverty; apologizing but never learning.
Dunham internalized the feedback — sort of. It sometimes seemed as if her newsletter, founded in 2015 with Konner, was a line of defense against a certain strain of Dunham criticism: Lenny Letter featured writers and artists of color and LGBTQ voices writing about issues of identity. Somehow — was it the whiff of insincerity that clings to reflexive apologies? — her efforts to use her platform for righteous causes only made people more annoyed by her. She says Antonoff used to tell her, " 'You're a provocateur and don't even know it. You have to look at the fact that when you say things, you're not just not trying to please; sometimes you're actively trying to displease people.' And he forced me to look at the side of myself that had that desire to poke the sleeping bear."
This is a point at which many celebrities, on the advice of their management, would step back from the public eye. Dunham is trying. While she's in L.A., she's doing some promotional work for Camping but less than she might have done in the past. It's the last project she and Konner worked on together before they abruptly announced plans to dissolve their production company this past summer. Dunham doesn't seem particularly attached to it — she was in the writers' room only sporadically, owing to health issues.
Mostly, right now, she's trying to figure out who post-Girls Dunham is and how, maybe, she can distance herself from the meta-version of Lena Dunham that has overshadowed the work in recent years. But as she texts me increasingly intimate details that she knows I'll put in this article, as if she were trying to be the director of her own candid, sympathy-generating magazine story, I begin to wonder if Lena Dunham, the performance artist daring us to hate her, is the work.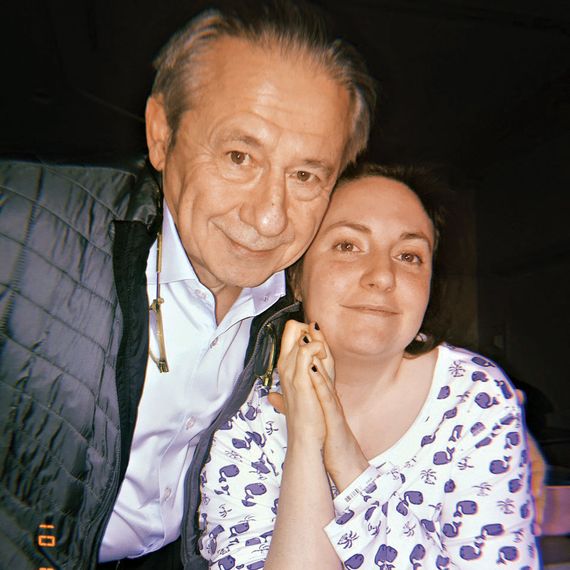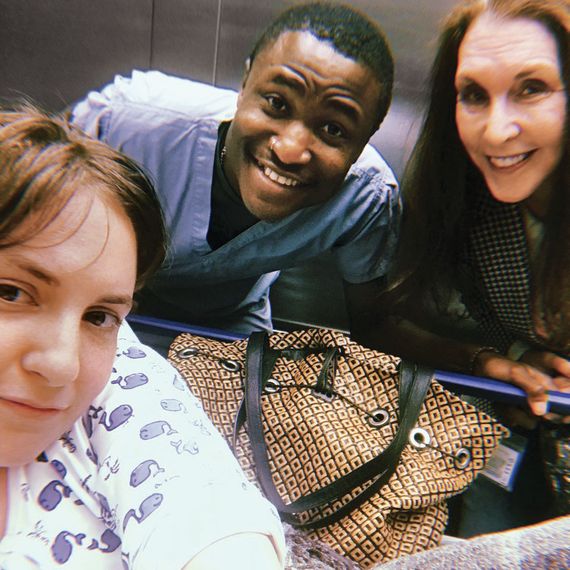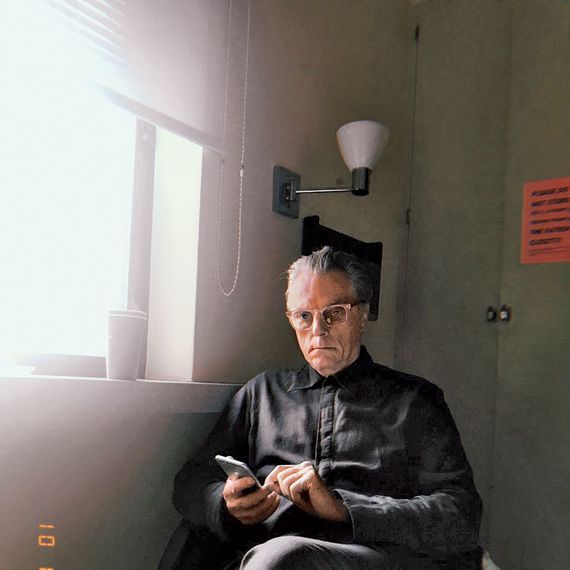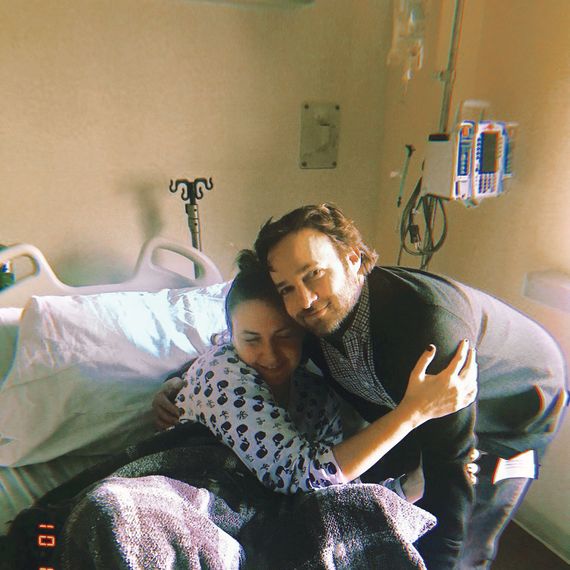 The morning after Girls filmed its last episode, in September 2016, when Dunham woke up, it was raining. She called an Uber and spilled a smoothie on the seat during the ride. "I was just like, Oh my God, I'm such a disaster in the real world." She went to make a "not very celebrated rap" video for Funny or Die, a pro–Hillary Clinton celebrity-PSA spoof called "Sensual Pantsuit Anthem." As "MC Pantsuit," she sang-spoke some lyrics in support of Clinton, ripped off a tear-away red pantsuit to gyrate in a red bikini, and ended the song by saying, "I wonder if I'm actually hurting her chances of winning?"
Dunham is proud of the alter ego — and the pantsuit — even still. "Because she was a very white woman rapper who wore a Hillary Clinton suit, and we haven't had one of those before," she says. She spent some time in 2016 campaigning for Clinton — canvassing with friends, uploading photographs in a bespoke blazer with VOTE 4 HILLARY bedazzled on the back. She did not donate. "My job was to, like, make noise, because frankly Bernie was such a thing that I just felt like my voice as, like, a young hyperliberal person was helpful," she says.
After Clinton lost, Dunham started writing new projects — a book of short stories and a second memoir, both to be released by Random House at some point. But that fall was mostly taken up with chronic pain caused by endometriosis, with which she had been diagnosed in 2014 after realizing that her years of intensely painful periods were something more serious. Her illness had gotten worse as Girls wound down: She had surgeries to remove lesions and to clean up ruptured ovarian cysts. There was nerve damage in her leg, and she rarely left the house because she was using a walker. After six seasons of making the show, her relationships were "shabby at best" and "fractured at worst," she says. "Physical pain is really isolating … I was lonely and medicated." She lost 30 pounds, and people asked her if it was from the Tracy Anderson method. She passed out at the Met Gala and was rushed to the hospital, where she posted selfies on Instagram. That summer, she was diagnosed with fibromyalgia and a mixed connective-tissue disorder, which means that her joints hurt. ("I'm very flexible," she says. "It's the reason I'm good at sex and also why I'm gonna die.")
That November, despite pushback from her doctors — most OB/GYNs do not recommend this as treatment for endometriosis — she had an elective total hysterectomy at 31. She didn't have time to freeze her eggs. "I was in too much pain to wait," she explains. "It's really amazing, in points of extreme distress, how things you thought were nonnegotiable start to become negotiable," Dunham says. "I thought I would do anything to have a kid naturally. Turned out that wasn't true."
When she woke up from her surgery, her first question was "Did you find anything?" " 'Cause I think what they're gonna say is, like, 'No, you fucking hypochondriac psycho,' " she says. "And so when my surgeon was like, 'You have the most misshapen and diseased uterus I've seen in my entire career,' I was like, This is vindication." Talking about chronic illness — hers and other women's — has since become her main public focus; her Instagram has shifted from set photos and ironic captions to aching self-help paragraphs, reminding readers — and herself — of the strength her disease demands.
By the time she went public about the hysterectomy in Vogue on Valentine's Day, she'd weathered two very public incidents: her breakup with Antonoff and a #MeToo misstep. Two days after Dunham's surgery, TheWrap reported that an actress, Aurora Perrineau, had filed a report with the Los Angeles County Sheriff's Department accusing a Girls writer and executive producer, Murray Miller, of raping her at a party in 2012 when she was only 17. Dunham and Konner had known about the accusations for a month; Miller came to them in October and told them his side of the story, which they believed. When The Hollywood Reporter reached out for a statement, Dunham says, "I remember thinking, Well, people know that I'm an advocate for these issues, so if I say this, they'll know I'm not coming from X or Y place." (Dunham has been public about her experiences with sexual assault.) She was "high as a fucking kite" from the surgery, but "I think I was just like, Fuck everyone else. This is my tribe. Let's keep it safe."
Dunham starts to get teary and then points out how it must appear for her eyes to well up. Her statement with Konner — which read, in part, "While our first instinct is to listen to every woman's story, our insider knowledge of Murray's situation makes us confident that sadly this accusation is one of the 3 percent of assault cases that are misreported every year" — was not well received: Dunham, a woman who loudly claimed allyship, had chosen to publicly discount the story of a young black woman. Her digital strategist sent her a text with four familiar words: "You're trending on Twitter."
"Some people reached out and were quietly like, 'It's great that you defend him,' " Dunham says, but mostly people in her life came to her in disbelief. Apatow warned her, "I don't think this is what you meant to do. That's not how, in this day and age especially — this isn't how we talk about women."
"That was a 'Girl, what the fuck' moment for me. It then became a 'Girl, what the fuck' moment for her, too," says the model Hari Nef, who started her friendship with Dunham on Instagram. "I asked her, 'Why did you do that?' "
Zinzi Clemmons, a contributor to Lenny Letter, wrote a statement asking women of color to renounce Lenny and Dunham, accusing her of a long history of "hipster racism" dating back to her days at Oberlin. So Dunham did what Dunham has had to do over and over: She apologized on Twitter. "I now understand that it was the wrong time to come forward with such a statement, and I am so sorry," she wrote. A few days later, she Skyped with the Lenny editorial team, which asked her to refrain from calling in to meetings until she was given a green light to do so again.
Not even two months afterward, Dunham alienated the organizers of Time's Up, the Hollywood anti-harassment group, when she appeared in a photograph with the architects of its Golden Globes protest. It was the only meeting she'd showed up for; the actress Tessa Thompson pointedly said, "Lena's presence was a surprise to us all." In August, the Los Angeles District Attorney's office declined to move forward with charges against Miller; the following month, five months after the Perrineau family's first attempt to make contact, Dunham reached out to Perrineau to apologize, which, according to Perrineau's mother, "went better than expected." (Konner declined to speak to the family and for this story.)
Dunham starts squeezing blackheads on Irma the hairless cat's chin. "I texted Amy Schumer the other day, and she was like, 'How are you doing,' and I was like, 'You know, fourth operation in a year and losing my fertility and my boyfriend and all this stuff with Aurora,' and I was like, 'It's like, we all go through it,' and she wrote, 'Not really.' "
Dunham begins to remove her hoops and gold rings. "This is what I do right before my naps. I take off my jewels. I get ready to snug out," she says, gently dismissing me so she can get back into bed.
The Dunham family residence in Connecticut is stately, comfortable, and in a former life was a school for "brilliant but disturbed children," as Simmons tells me. Dunham is building her own little house in the backyard of her parents' property, with six writers' nooks for staff and friends to come out and work with her.
Simmons and a big, suspicious collie greet me at the door. "Lena's just taking a shower," she explains, and leads me to a sitting room. It is sparse and dramatic, with dark walls, luxuriously oversize furniture. Each object seems to have been chosen and placed after much deliberation. Simmons puts out a bowl of almonds. Her face is Dunham's face, only longer and narrower.
Dunham enters the room in black-and-white pajamas, glowing pink post-shower. She's really good at pajamas, since she spends so much time in them these days. These are ASOS, she says; since the hysterectomy, Dunham has gained 24 pounds, she tells me, and she is invested in finding and promoting size-inclusive brands.
"Mama, I like that shirt! Is it a fancy brand?" Dunham calls out to Simmons as she passes by. The blue-and-white tie-dyed tunic is "Thakoon from forever ago," Simmons says and disappears into the kitchen, where she's roasting a chicken in a Showtime Rotisserie machine she'd found via a neighborhood swap at the dump. As Simmons sets the table, Dunham is chatting about this, that, and her tendency to tell potentially offensive jokes when she's nervous. I volunteer that once, in a creative-writing workshop, I tried to defuse a harsh critique by joking, "You only hate it because I'm black."
"Are both your parents black, Allison?" Dunham asks in reply.
Simmons was supposed to be on vacation in Jamaica, decompressing after the opening of a retrospective of her work in Fort Worth, Texas. But she canceled the trip to be there for her daughter during the most recent surgery. "It's been tough," Simmons says. "I've gotten really good at hospitals."
"She brought all the nurses Chanel face cream this time," says Dunham, "but did not love my post from the hospital."
"I'm a pretty private person," says Simmons. "But what can I say — if Lena calls it her work, then it's her work."
"Mama, can I have this chicken leg?" Dunham says, rising to serve herself more food. She stands picking at the salad surrounding the chicken.
"You just reminded me of your iguana," Simmons says affectionately. "You have arugula sticking out of your mouth."
"At one point we had 16 pets living here," brags Dunham.
"No, we didn't," says Simmons. Dunham begins to list them: the iguana, a dog, three cats, another dog, a rabbit, two mice, two turtles, two frogs, and snails.
Dunham slides back into her seat, chattering about what's on TV later. Simmons is obsessed with CNN's Don Lemon, which Dunham thinks is funny, but they watch him together. Simmons especially liked his commentary on the recent Megyn Kelly blackface controversy.
"I am so pleased to report that I've never done an ethnic costume," Dunham announces.
"Really?" Simmons asks and moves to get more wine. Dunham repeats how much she likes her mother's shirt. "We do a lot of trading back and forth, though," she tells me, then turns back to Simmons. "Everything good that I've been wearing recently belongs to you."
"You just go in and help yourself, sweetie," Simmons says, then clarifies.
"I'm not saying, 'Just go in and help yourself, sweetie.' I'm saying, 'You just go in and help yourself.' "
Recently, as a guest on Jimmy Kimmel Live!, Dunham pranked her parents. She texted her mother pictures of potential outfits she'd wear on the show, each dress worse than the last. She read her mom's texts back to her out loud — "too short and slutty when you're sitting down" — and finally FaceTimed them to reveal they were live on the show.
Did Simmons enjoy it? "No."
Dunham seems shocked. "You didn't hate it, though, did you?"
"Kind of."
"You did? I'm sorry, Mom."
"That's okay."
"Did you have backlash about it?"
"No, I just wish I had lipstick on."
"You were great about it. You were an angel. Dad loved the prank."
"Oh, he did?"
"He told me he did; he said it was genius."
"Whether the prank was genius — it was very clever — is separate from whether or not we liked it."
Simmons is philosophical about her frequent appearances in Dunham's work. "Writers and artists, they use their parents as subject matter. They mine the family history to understand who they are. I did it in my own work a lot, so I feel like I can't get on her case about it. But on the other hand, I don't like being pranked and Instagrammed that much," she says, clearing away the dinner.
The study is filled with the Dunham siblings' framed art from childhood. Dunham's younger sibling, Grace, now Cyrus, is a 26-year-old trans writer who lives in Los Angeles and starred in Tiny Furniture. (Cyrus prefers they/them pronouns.) "They have a book coming out next year," Dunham says and jokes, kind of, that everyone is about to find out who the real talent of the family is. In her 2014 memoir, Dunham describes having come out to her mother for her sibling, who wasn't quite ready to share. In the book, Dunham also describes curiously exploring her 1-year-old sister's genitals at the age of 7, which became a right-wing obsession Dunham describes as "painful and insane and terrifying" for the family. Even now, when some people attack Dunham, they call her a child molester.
This year, Simmons made new work about gender and photographed Cyrus as part of the project. Lena didn't like being left out, despite not being a natural fit for the theme. "I forced you to do me," Dunham says to her mother. "I pitched really hard. I was like, 'I don't want to get left out of this.' "
Dunham leads me to her bedroom and closes the door. She has just started staying in this room, which is across the hall from the one she used to stay in all the time with Antonoff. Her room is strewn with pink plastic Glossier makeup bags, a bag of gold Jennifer Fisher hoops, and medallions of illness: a Biomat 7000MX (the tourmaline-infused status heating pad, about $1,600), plus various pill bottles. She explains each one: Lyrica, a nerve-pain medication she takes for her fibromyalgia (she'd like to be the face of the drug, she tells me); her Lexapro; a medication for her adrenal glands; and oxycodone, for the intense post-op pain, which she takes only after having consulted her therapist and her parents.
Eight months ago, Dunham got out from under a Klonopin addiction. Before she quit, she was on a prescribed four milligrams of the drug a day and recalls being on set and forgetting to eat or forgetting words.
She also didn't like what drugs were doing to her relationships. "I was on pain meds for a couple of days after I got out of the hospital," she tells me, "and my dad was like, 'You have a very specific personality on medication. It's a mix of aggression and regression.' He was like, 'You're not nice.' I was like, 'Sorry.' "
Dunham wanted to be drug free in order to enter intensive treatment for her previously undiagnosed PTSD. She had begun to experience panic attacks and crippling depression. She says the PTSD was a result of the trauma of sexual assault and "medical trauma." Gynecological appointments were particularly triggering. She began prolonged-exposure therapy (and keeps harassing The New Yorker's David Remnick to let her profile the therapist who created it. So far, no go). Now she attends group therapy and is in communication with women who reach out to her with their own stories of benzodiazepine dependence. She counsels them. "I'm a benzo doula."
Recently, Dunham — who is in perimenopause at 32 — has been having a hard time looking at pregnant women and new babies, and especially her friends who are having kids. "It's always like a little catch in the throat when I think about it. It's all those things like new-baby smell, and breastfeeding, and looking at a baby that you know looks like you." Dunham sits cross-legged at the edge of her unmade bed. "When I just figured out you could mute Instagram stories, it was such a fucking blessing."
Perhaps because we're sitting in her room like teenagers, with her mom downstairs, Dunham begins to talk about her breakup with Antonoff. They had been set up on a blind date by his sister, the designer Rachel Antonoff, and the comedian Mike Birbiglia. "Jack and I made a couple of Jewish-power-couple lists, which I was proud of," she says. Three years ago, she wrote in The New Yorker about her expectation that they would get married.
"Our relationship probably lasted longer than it should have," Dunham says. "He's a very loyal person, so he was not going to bail when the going got tough. He literally held my hand while I got an enema on New Year's Eve while his family celebrated. But when you're sick, so much energy goes into making sure the other person is well that you're not even noticing maybe our schedules aren't compatible. Maybe we want different things out of our lives. Maybe we have different attitudes about what family means. Maybe these essential questions that people have to ask themselves all the time are not being asked, because we just want to make sure that I don't pass out at the grocery store."
They officially broke up a month after her hysterectomy. It was a mutual decision, she tells me. The breakup felt real to Dunham only when she saw the announcement on E! and paparazzi showed up at her home. She has processed her feelings publicly; her 5.6 million followers saw her tweet out a list of baby names she wrote with Antonoff in 2015. ("Hey @jackantonoff I just found a potential baby name list we made in 2015. I could definitely keep this private, but then the world wouldn't know that you suggested 'Carrot' over and over … Love u!!!")
"I still think it's funny," she says. After the list went out, she called Antonoff a few times and he didn't pick up right away. (He was in the studio). When he got back to her, he said, "No, it's funny." "He knows that being the hysterical ex-girlfriend is kinda like the weirdest, funniest, public performance." But it hurts, too, she admits. It hurts looking at his new girlfriend's Instagram stories (Antonoff is reportedly dating model Carlotta Kohl). "I thought I was kind of proving weird girls can have love too. And now he's dating somebody who looks regular and normal and like girls are supposed to look."
It also hurt when it was heavily rumored that Antonoff had very quickly started dating Dunham's close friend Lorde, whose last album he'd produced. Antonoff defended himself, tweeting that the rumors were "dumb heteronormative gossip," but it didn't help that Lorde sat on his lap during the Brooklyn stop of her tour or that both discussed their late-night cereal binges and daily FaceTime sessions on various nightly talk shows and in magazines. Someone even created an obsessively researched viral PowerPoint presentation that made a near-airtight case for Antonoff's cheating on Dunham. "Actually, I completely respect this girl, because she did a very good job and she was very funny," says Dunham. But in the bigger picture, "it was so embarrassing," she says, closing her eyes. "It was awful because I felt like a weird — " She cuts herself off. "I don't think anything happened between them. I can never know someone else's life. I have never spoken to Ella [Lorde] about it. We haven't talked since Jack and I broke up. It was awful, and I couldn't do anything about it except trust that what he was saying to me was true."
For several months, Dunham has been very casually seeing an artist she met through mutual friends. She remembers, right after the hysterectomy, crying to Jemima Kirke, "Who's gonna want to date me? I have PTSD and no uterus." Kirke's answer: "A soldier who hates condoms." After many months of not being this way, sex is now pain free, and without having that fear or hope of getting pregnant, Dunham describes sex as more chill, "like an intimate high-five."
But a week later, she'll text me on a Sunday night, while she's listening to Robyn's new album, Honey (the title song first appeared in Girls' final season), "Robyn is how Jack and I connected 6.5 years ago (technically 6 years 6 months and 5 days … but who is counting?)." She was living with her parents and would call him while he was on tour, from the baby-pink landline in her room. Even now, "Sometimes when I'm worked up, I'll text him a pic I took of my legs while we talked on the phone" during that initial first blush of their relationship.
Dunham's split with Konner seems harder to process than the one with Antonoff. The women had an intensely close friendship, which they often described in interviews as co-dependent. Others told me Konner was like Dunham's "mom." Her phone, Dunham jokes, is full of photos of herself and Konner still, as if they were married. The loafers she is wearing in Connecticut were a Christmas present from Konner. Last month, Lenny Letter announced it would cease publication. It was a portmanteau of their names (Jenni plus Lena), so it made sense that it couldn't survive their split. The only times Dunham gets uncharacteristically tight-lipped are when I ask questions about Konner. When she starts her answers, they are usually hedged with "All I will say is" or "I don't want to speak for Jenni." It seems there was no explosive breaking point but rather a slow dissolution. People who are close to both of them say they are no longer friends.
Dunham seems to shoulder the blame. "Maybe my illness made me impossible to be close to, maybe my fame made me impossible to be close to … I'll work that stuff out in the future, but I was not operating in healthy relationship to the people closest to me." She began her PTSD treatment while Camping was in production, leaving Konner to take care of the show.
"Now she doesn't have to absorb whatever bullshit I tweet that day," Dunham says. "Whatever I do doesn't have to now be hers, which, I'm sure I'd imagine if I were her, would be a relief."
Recently, Dunham has come to a realization that other people came to a while ago: "Yeah, I'm not for everyone." She's doing her best to be quieter. She skipped the Camping premiere, owing to her health, she said. She was meant to be on a New Yorker Festival panel in October with Crazy Ex-Girlfriend's Rachel Bloom and Kristen Roupenian, the author of "Cat Person." She canceled on the day of, again citing health. While Simmons remains an active member of Time's Up, Dunham has decided to step back. "My voice isn't needed," she says simply, a sentence she might never have uttered before. She's still friends with Taylor Swift, which surprises even her. She has a new plan to go to parties only if they have no more than five other people. She doesn't plan to quit Instagram, however, no matter how many people on the internet tell her she should. "I'm like, 'Bitch, you get 3 million followers, then delete your account."
She also got an apartment in the West Village. "My whole identity was, like, Brooklyn, and now I'm like, Thank you, Lord. I'm back amongst my tribe, which is like old people puttering around the health-food store. If I never see another fucking person in a cool sack dress with their baby again … I just wanna live around old people who are not reminding me every day of my infertility and loneliness. A lot of the stuff that happened last year couldn't have happened if I was happy in my life, right?" she says. "It was almost like I was throwing a match, burning it down."
It was always impossible to separate Hannah Horvath from Lena Dunham, the creator. Plots were pulled directly from her life, after all. But Dunham says she's not doing anything that channels herself again — though she did give Camping's main character a history of gynecological surgeries and chronic pain culminating in a total hysterectomy. Her new plan, she swears, is to be a conduit for other people's stories that focus on themes she's often thinking about. She's also working with friends, like Nicole Richie, to help them develop their own writing.
"All I would tell her is to not try to do everything. Not have to say everything or react instantly," Remnick says. "For the sake of her own work and the sake of her own ability to live in this world."
She has signed a solo two-year deal with HBO and is working on an adaptation of "Anna Delvey, German Princess," a scammer story based on a Vanity Fair article. (Shonda Rhimes is also doing an Anna Delvey project, based on a New York article, that will air on Netflix.) She's got plans to adapt the YA novel Catherine, Called Birdy. She has a role in Quentin Tarantino's upcoming Charles Manson film, Once Upon a Time in Hollywood. The Daily Mail ran a picture from the set: Dunham lifting up her dress, inadvertently revealing her massive thigh tattoo — and underwear — to Brad Pitt.
She's also adapting a true-life story, A Hope More Powerful Than the Sea, about Doaa Al Zamel, a Syrian refugee who was stranded in the Mediterranean. The film is being produced by J. J. Abrams and Steven Spielberg. It seems like a fairly extreme version of attempting to get outside her own perspective in her art — there are smaller steps she could have taken first. But she tells me she has a multipoint plan to avoid stepping into it again. She is working with Al Zamel, her translator, and Melissa Fleming, who wrote the book. She'll go to Sweden in December (health allowing), to spend time with Al Zamel, and to an undisclosed location with the U.N. Refugee Agency. She hopes to work with collaborators of Syrian ancestry, and of course all of Dunham's fees from the film will go to organizations dealing with the Syrian crisis. She hasn't announced all of this yet because the plans are still in the works.
But she did announce the news of the adaptation in late October, and, as if on cue, Lena Dunham was trending.
*This article appears in the November 26, 2018, issue of New York Magazine. Subscribe Now!