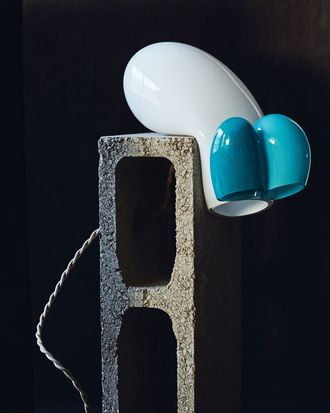 Heavy Light.
Photo: Paul Barbera/Courtesy of Lindsey Adelman
Designers refer to the past in different and varied ways. Nostalgia often feels like the cheesiest option — think of an old attic in a thrift store or a novelty store in Times Square. But lighting designer Lindsey Adelman is proving that nostalgia can be cool through a pop-up store inspired by a store she would visit on the Upper East Side in the '80s, called P.S. I Love You. Adelman's new interpretation, called "P.S. I Miss You," pays homage to that carefree time when she would make things for fun instead of for business. The pop-up is open at on Orchard Street until December 24 and is a great place to look for unique holiday gifts.
The store offers pieces made by Adelman, and a few made by her mom and her son, Finn. Each item is sophisticated enough that you'd want it in your home, but also fun enough to inspire a sense of whimsy. Like a freakebana-y candlestick called "I Heart Darkness Candlestick" or a series of sculptures that look like outlets and light switches (made by Finn).
"When you're running a design studio, you get away from making and your life becomes managing and email," Adelman told the Cut. "So this was an excuse to make things that happen spontaneously and just letting the ideas come out and finishing each piece."
See some of the pieces below. "P.S. I Miss You" is open from November 16 through December 24, Wednesdays through Fridays from 12 p.m.–7 p.m., Saturdays from 11 a.m.–7 p.m. and Sundays from 11 a.m.–6 p.m. at 27 Orchard Street in New York.