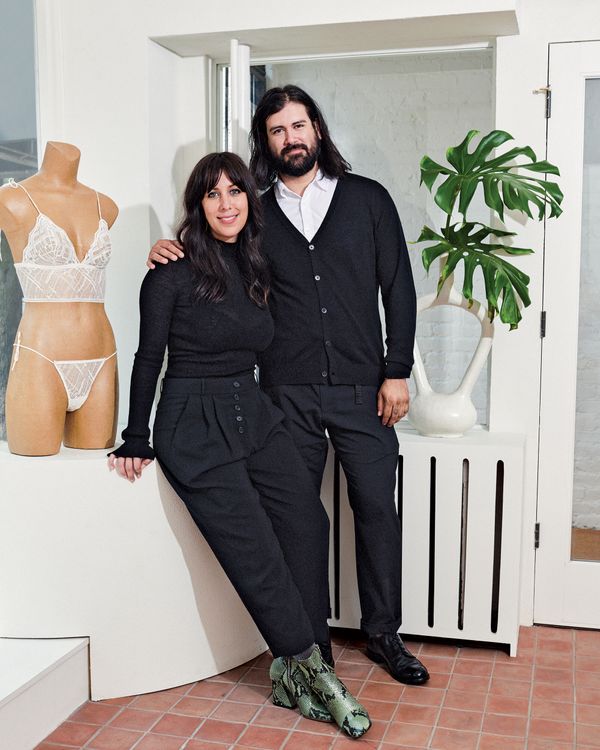 Emilio Ramirez and Christina Viviani.
Photo: Kyle Dorosz
Emilio Ramirez and Christina Viviani, co-founders of the Great Eros
How do you help women choose the right pieces for the wedding day?
Christina Viviani: Brides show us the dress, and that helps us understand what they need to be comfortable underneath. Comfort is so much of what we're about. When we started this company two years ago, we thought, What if this lingerie just feels good? And this is for women who don't want anything cheesy. If you come in needing something to wear under a sheer vintage lace slip, for instance, we have our Anesi darted silk slip ($255), which is very '90s Kate Moss. Or if you're going to be wearing a fitted dress, which might show bra and panty lines, there's our Canova collection of bottoms (from $38) and bralettes ($88); it has no darts and the bottoms don't have elastic, so it's just kind of second skin. Another option is our bodysuit: I'm not a huge fan of the whole shapewear movement, but this piece really gives you a clean line. It's mesh and comes in a thong, and if you need to go to the bathroom, it has snaps.
Emilio Ramirez: Very high-quality snaps — they won't pop off on the dance floor. They're made in France.
What about some more romantic underthings for the wedding night and honeymoon?
CV: The Sonata collection (from $48) comes in a classic pearl color, and I designed it with a third-generation lace-maker near Lake Como in Italy. Traditional lace is based on a floral or paisley print, but ours is more geometric; the way the pattern gets woven through the loom, it looks like lines of musical notes. It's really beautiful but also comfortable if you want to wear it for your wedding day as well.
ER: We recently had a customer with a very cool-girl attitude. She was like, "I'm not a sexy-lingerie person. I wear cotton underwear and don't think about it." She said she wasn't into lace, but I told her ours stretches and is very breathable.
CV: She left with a stack of lace. I think she even wears the lace to work now.
So what about the old trope of a strappy, buckled lace teddy as a surprise for the wedding night?
CV: We have other ways of creating the element of surprise. Like the Sonata lace set with ties: The idea of being able to untie the bralette's ($72) shoulders and also the undies ($48) is a lot of fun for both partners.
66 Greenwich Ave. (various locations); 917-261-5902 thegreateros.com.
"Think beyond white and ivory for the wedding night.There are plenty of soft shades — shell pink, putty gray — that aren't so virginal."
*This article appears in the winter 2019 issue of New York Weddings.
More From New York Weddings
See All