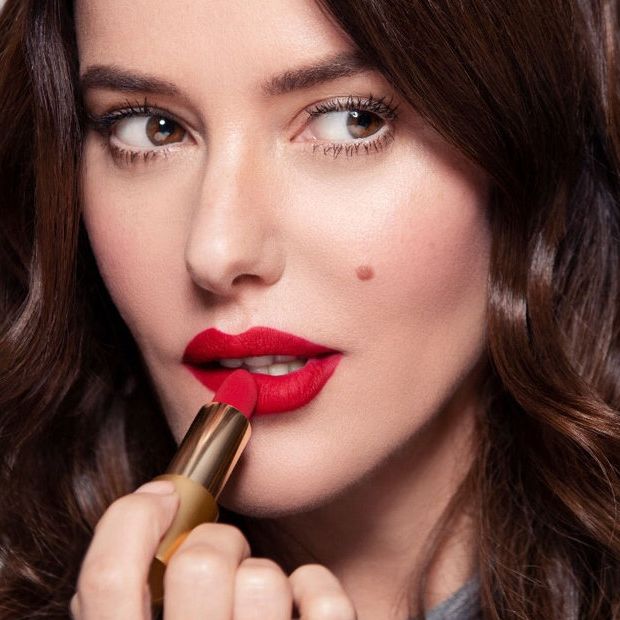 Lisa Eldridge applies her True Velvet lipstick.
Photo: Courtesy of Lisa Eldridge
If you haven't laid in bed while wearing a sheet mask, ordering pizza, and watching a Lisa Eldridge makeup tutorial video, have you ever really been hungover? The soothing English accent of Lancome's global creative director can be just what the doctor ordered on a day when you need to lie down. Her eponymous YouTube channel has over 1.8 million subscribers, and each of her videos show you how to do everything, from a smoky eye to "glass skin" to this incredible tutorial that walks through Marilyn Monroe's full makeup routine.
In her newest video, Eldridge shows us each of the shades in her new True Velvet Lipstick collection. Although she debuted a line of jewelry last year, this is her first foray into creating her own makeup line. What is really striking about these lipsticks is that each one has been designed to actually look like velvet. According to Eldridge, each has "a beautiful true velvet effect … which looks exactly like velvet fabric." It looks so much like velvet that some people have asked her if the lipstick is made of actual fabric.
Unfortunately, the three lipsticks have already sold out. She goes into more detail about this "true velvet effect" in her video, which you can enjoy below (with or without a hangover). While we wait for that restock, let's explore each of the new shades.
Velvet Morning, a "hot and fiery bright orange/red."
Velvet Ribbon, a "vibrant, universal, classic neutral blue/red."
Velvet Jazz, a "muted, earthy brick red inspired by 1930s red lipsticks."