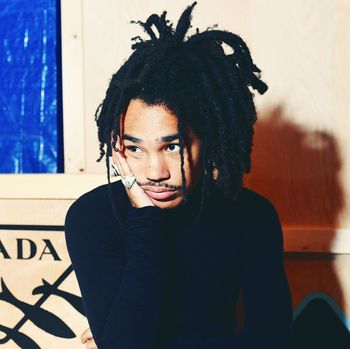 Luka Sabbat.
Photo: Jared Siskin/Getty Images
Fashion happens faster than ever these days. Each week, we attempt to make sense of it in a column called, "What Is Fashion."
On Tuesday, the 20-year-old model, actor, and fashion personage Luka Sabbat found himself the subject of a *chef's kiss* headline, which was published by Variety that afternoon and quickly made its way around the internet. "Luka Sabbat Sued for Failure to Influence," it read.
The resulting story — one that could only be written in the Year of Our Influencer Lord, 2018 — is exactly how it sounds. Sabbat is being sued by PR Consulting, a New York–based public-relations agency that represents well-known fashion clients such as Raf Simons and Tiffany & Co. This September, Sabbat allegedly signed a $60,000 contract with one of PRC's clients, Snap Inc., to promote the brand's new Spectacles glasses on Instagram, where Sabbat has 1.4 million followers. He also allegedly accepted $45,000 upfront for the task.
According to the lawsuit, which was published by The Fashion Law on Tuesday, the deal was that Sabbat had to post "a minimum of four unique posts: one Instagram Feed Post and three Instagram Story posts. Two of the Story posts were to be in New York, related to fashion shows and parties during New York Fashion Week … and one Story post was to be in Milan or Paris, related to fashion shows and parties during [the respective] Fashion Weeks."
Sounds easy enough, right? Four posts, only one of which exists for longer than 24 hours. This would be especially easy during fashion month, where every breath you take is an opportunity for content. But there was another thing Sabbat had to do: He also allegedly agreed "to be photographed in public" wearing Snap Spectacles. Needless to say, that never happened.
Sabbat didn't totally renege on his influencer duties. He did post one Feed Post and one Story post on his personal Instagram. The resulting images (five total) were taken in New York City and shared as a single slideshow post. In them, Sabbat wears a black turtleneck and black sunglasses. "Pshhh, I'm definitely not a spy and my glasses definitely DONT have cameras in them… heh, who would do that…" Sabbat wrote as a caption with the proper disclaimer hashtags, plus some emojis for good measure. This is why they paid him the big bucks: The post was ironic, and made the potentially embarrassing act of selling something seem like no big deal at all. In other words, he made it seem kinda cool.
But that only got Sabbat halfway. And now PRC not only wants its $45,000 back, but is also asking Sabbat to pay interest, damages fees, and the resulting legal bill. Ouch.
The Cut reached out to both PRC and Sabbat's modeling agency on Tuesday for comment, but we haven't heard back from either. In the meantime, we've been having deep, existential thoughts about what, exactly, it means for someone to "fail to influence."
At first, I scoffed. $60,000 seems like an insane amount of money for a task that most people perform ten times more often, and for free. But that's the thing: Not everyone can be an influencer. It takes real time and effort (and friends like Kourtney Kardashian) to build an engaged following of over 1 million.
When I first profiled Sabbat back in 2015, he was one of the coolest teenagers I'd ever met. He'd just graduated from high school after attending prom in a Tom Ford suit, which the designer gifted him. His mother was a stylist who'd held him on her lap at Galliano shows when he was a baby. But despite all his connections, Sabbat still has the air of someone who things just happen to. He was originally street-cast while on his way to buy a video game in Soho. He is often photographed pouting, seemingly bored out of his mind, at events many would kill to attend. Even when he was photographed wearing a mesh tank top for an Evian campaign this year, his fellow Instagram-famous friends proudly (if ironically) shared the ad on their own feeds. Of course, this only perpetuated Sabbat's influence.
In the days since the Variety headline was published, Sabbat has successfully ignored the press. On Wednesday, he tweeted enthusiastically about the new album by Matt Ox, a 13-year-old SoundCloud rapper made famous for his music video featuring fidget spinners. And last week, he jokingly posted on Instagram that he'd gotten a new, even easier-sounding job as "a casual cowboy." His nonchalance about being sued for failing to influence only bolsters his influencer status. Maybe he technically breached his contract; maybe Snap didn't sell as many glasses as it would have liked, but it doesn't really matter. Sabbat is post influence: It comes to him, instead of him coming to it. Can you imagine?
When I originally pitched this column, I wanted to investigate how hard it would be to complete the tasks Sabbat allegedly would have been paid two years worth of rent to complete. Sure, my editor said. Why don't you post a fake #ad on your personal Instagram, plus three Stories, and see what happens? It would only take me a few minutes, right?
I paused. But that would be so embarrassing, I thought. No one would know what I was doing. And of course, I wouldn't be able to actually sell anything. I hadn't even tried to influence, and yet I'd already failed. Lucky for Luka Sabbat, though, failure was never really an option.