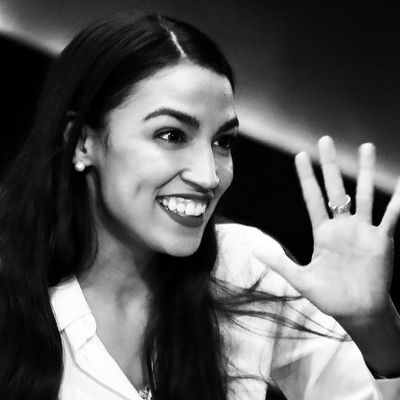 Alexandria Ocasio-Cortez.
Photo: Rick Loomis/Getty Images
Creepy dude and conservative media reporter Eddie Scarry decided that he was going to spend a cold Thursday afternoon posting a creepshot of Alexandria Ocasio-Cortez on Twitter. His biting analysis of the image: Because Ocasio-Cortez was in possession of both a jacket and a coat, there is no way she could be "a girl who struggles."
Ocasio-Cortez ran as someone from a working-class background — a year ago, she was working as a bartender. Ever since she won her primary, Republicans have been losing their minds trying to prove that she's somehow secretly rich.
They posted photos of her childhood home, brought her college education into question, and accused her of lying about being from the Bronx. Recently, conservatives on Twitter obsessively scrutinized her claim that she couldn't afford to move to D.C. until her congressional salary kicked in. Scarry's point, it seems, is that, because Ocasio-Cortez is wearing work-appropriate clothing to Congress, as opposed to rags or a potato sack I guess, that she has never struggled financially.
Obviously that's dumb.
Scarry quickly got ratioed, earning thousands of responses in under an hour. Plenty of people were delighted to point out just how incorrect he was, and remind him of all the other embarrassing and gross things he's done in the past, including posting photos of a different woman's foot. Others on Twitter just mocked Scarry.
Here's some free advice, Scarry. Don't post creepshots of women on the internet. Also, don't take creepshots of women. It's really pretty easy.
Updated at 8:07 p.m.
Perhaps unable to withstand the scrutiny, or maybe he realized how inappropriate the tweet was, Eddie Scarry deleted his tweet. He claimed that he was trying to actually compliment Ocasio-Cortez. If that's true it means that Scarry is like, really bad at complimenting people.