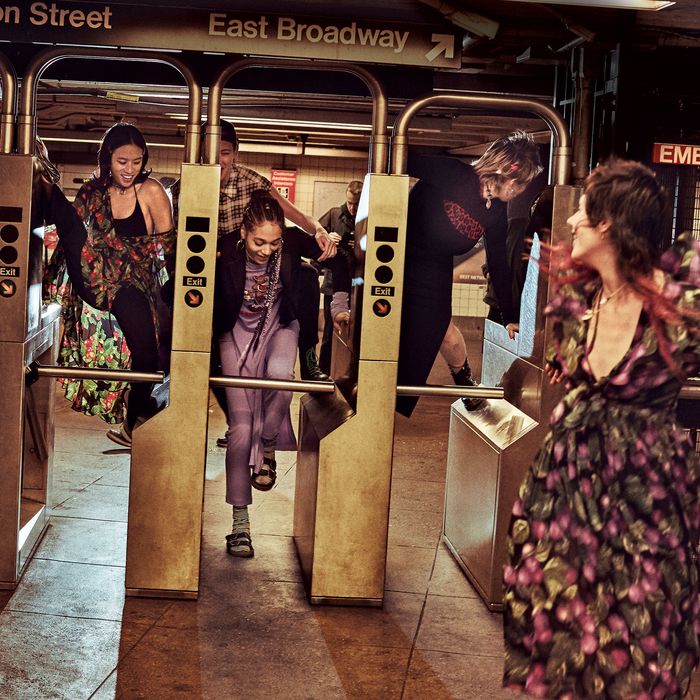 Love it or hate it, Marc Jacobs's 1992 grunge collection for Perry Ellis has always seemed a case study in trusting one's instincts. Sure, Jacobs lost his job afterward (he was fired six months later, mainly because Perry Ellis wanted out of the women's-collection business altogether to focus on licensing), but in reflecting the sensibility of both the Seattle music scene and the "waif" beauty advanced by photographers of the time, he achieved something unforgettable. Much of it — in Jacobs's words, based on "found crap" from vintage stores — became a touchstone of the '90s and beyond. For the designer personally, who was 29 at the time and struggling to create fashion that felt meaningful, the collection gave him his stakes: Do things you believe in, however silly, and the results will usually be strong.
So does the business decision to reissue his grunge collection this year spoil the idea that America's most creative designer operates best from instinct? Is it an admission that Jacobs is facing a new set of obstacles in an industry that has changed mercilessly in the past decade? Will a new generation of consumers share the irony and charm of his awkward take on femininity? The answers are unclear, but as the Marc Jacobs label tries to improve sales and reburnish its youthful image, a positive response will matter. In any case, the company is reproducing 26 of the original runway outfits, along with knitted caps, jewelry, and shoes (again, in collaboration with Birkenstock and Dr. Martens).
Despite the historical relevance of the grunge collection, Jacobs did not keep any samples, so for pattern-making purposes, his staff had to rely on photos and videos, like Sonic Youth's "Sugar Kane," which includes scenes from the show. The Met's Costume Institute had a few pieces to view, and friends like the stylist Elissa Santisi and the former editor Gabé Doppelt loaned items they owned, such as the trench coat worn in the 1992 show by Christy Turlington. For the redux styles, Jacobs even went back to the same mills he'd used originally for fabrics like a peach-hued silk plaid based on a men's flannel shirt he found on St. Marks Place and to Robert Crumb for permission to again use Mr. Natural and other cartoon figures on shirts.
And rather than seek permission from Perry Ellis to reissue the clothes, which most critics (myself included) initially hated, the company decided to ask for forgiveness instead.
Anyway, Perry Ellis didn't object, Jacobs said, adding with an amused grin, "It would have been funny if they suddenly had a problem with me wanting to do it."
This summer, I met with Jacobs in a sunny room in his Soho offices, where the clothes were displayed on mannequins. Since his physical transformation more than a decade ago from nerdy shlub to buff celebrity, often in Comme des Garçons, Jacobs's look has been a source of mild fascination. That day, he had on a dark long-sleeved top with form-fitting yet soft pants and one or two gold chains, possibly Chanel. His gray-flecked hair was slicked back and covered with a wide black headband. Jacobs in conversation is part psychiatrist-couch confessional, part Joan Rivers girlfriend patter. He talks a lot, with selective deep dives on art, culture, fashion, and the state of his moods.
He says several factors influenced the decision to revisit grunge. One was that the plan to develop the contemporary collection, with the designer John Targon, wasn't very considered, in Jacobs's view. He said that he wasn't part of the initial decision to bring in Targon, a co-founder of Baja East, and that it was instigated by the company's chief executive, Eric Marechalle.
"I said, 'You guys, you put the cart before the horse,' " Jacobs said, recalling conversations in February of this year with Marechalle and Sidney Toledano of LVMH, the majority owner of Marc Jacobs. " 'You didn't give John a real project. It was just like, Come in and see what you can do. I don't think that was fair to him. And I'm not sure he was the right person.' " So Jacobs asked executives to stop the project and regroup. Targon was let go.
Another factor, more complicated, was the turmoil within the label — the subject of a New York Times piece in June — and the decision, in 2015, to unify the collection line and the lower-priced Marc by Marc Jacobs division. "Clearly, we had been struggling in areas where it's become a different brand, and people are confused," Jacobs told me. "Like, you're doing these runway shows and then the clothes don't exist. You're making these contemporary-priced bags that sell super-well but then that's not what people think of as Marc Jacobs."
In other words, although a significant portion of a runway collection used to be offered in stores, that's not the case now, owing partly to declining sales, partly to the disruptive effect of social media and e-commerce, and partly to the intensive way Jacobs designs. But it scarcely helps the brand's image to be represented in a store with a few collection pieces and a rack of inexpensive T-shirts. "Being a little bit of a lot of things to nobody isn't getting us anywhere," Jacobs said.
Still, the company needed something in stores for November. Jacobs brought together people who'd worked for the company the longest. He also asked Sarah Andelman, a co-owner of the recently closed, influential retailer Colette, in Paris, for her ideas. The upshot was a capsule grunge collection. "This is not an aggressive sales thing," Jacobs said. "It's not like we're going to redo this collection at one-16th of the price and put it in every store all over the world," he added pointedly. "We chose a few retailers" — Saks Fifth Avenue and Dover Street Market, among others — "and we won't show it in the usual way."
He asked Juergen Teller, his longtime collaborator on advertising, with whom he'd had a falling out, to shoot the clothes. As in the past, he gave Teller free rein. Since Jacobs was looking back, Teller told him he would look back as well, perhaps collaging new images over old ads — "Kind of fucking with time," said Jacobs, who had begun to vape.
Looking at the collection 26 years later, at the wallpaper-print silk dresses, a pair of khaki cargo pants tied at the waist with a green plaid shirt, a taupe suede jacket, at Turlington's divine trench, it's hard to believe we were so offended. (One critic later handed out grunge is ghastly pins.) The clothes looked cool, with more attention to the details and finishing than I'd remembered. More remarkably, they contained the themes Jacobs would pursue over the next two and a half decades, like the cherry prints and the slinky '30s silhouette and, of course, a youthful gawkiness.
At one time, Jacobs would have surely rejected the idea of a redux collection. He was all about the energy of the moment. But though there is a lot about the current fashion scene that Jacobs doesn't like or understand, like the absurd power of influencers, he doesn't want to fall into the trap of thinking only one viewpoint is correct. "I really don't want to be Grandpa saying the same thing that was said about me," he said.
For him, the virtue of the grunge capsule is that it shows people in his organization that they don't have to stick with a formula. Next year for resort, the brand could do a collaboration — or something else. "I don't think it's a time of binary rules," Jacobs said. "And I think that's the point." He added, "Now, in terms of what we're doing in September, it means nothing. I don't know what we're going to do. I mean, part of me thinks the runway thing should be just seven minutes of something you should just enjoy and maybe never see again. Because chances are you won't!" He laughed.
This is part of a longer conversation that Jacobs, a brilliant showman, says he has had with peers like Raf Simons, Miuccia Prada, and Bridget Foley, the executive editor of Women's Wear Daily, with whom he has had a long relationship. "Do we look at a show and say, 'Wow, that was something?' " he said. "Can we compartmentalize that and say that made a great show — the clothes that people might want to buy are another thing? I don't think that trickle-down thing happens anymore. The creative landscape has changed. Again, I don't think it's so binary or cut-and-dry."
Jacobs noted that the brand, like others, reaches a great many of its customers through makeup (a roughly $200 million business, according to WWD). "We have at times and are currently reaching a lot of people through handbags, at times with shoes. Ready-to-wear, even at its best, was always the smallest, the least democratic reach of all. Based on how often it changes. Based on sizes. Based on the many moving parts involved. I'm very realistic about that, and I was very realistic about that at Vuitton."
The shows at Vuitton may have been fancy window-dressing for the bags, but while he was the creative director there, from 1997 to 2013, Jacobs nonetheless turned ready-to-wear into a significant business, according to conversations I'd had in the mid-aughts with Yves Carcelle, the late chairman and CEO of Louis Vuitton. I mentioned that now.
Nodding, Jacobs said, "I wonder if it's so much easier to — well, I'm convinced it's so much easier to do when you've got the name on the door: Gucci, Dior, Chanel — not to take anything away from Karl — Yves Saint Laurent. Those names still bring with them something that very few people have been able to achieve. In the U.S., for sure. I learned my lesson very early at Vuitton. The first season had no logos, and it didn't go over very well. I was like, You know, if I'm going to make this work, I'm going to celebrate the thing that made this company what it is. Which is that everybody can see that it's Louis Vuitton. So I'm going to celebrate the monogram. And when I figured that out, I also had a better time." Indeed, Jacobs enlisted individuals like the designer Stephen Sprouse and the artist Takashi Murakami to disrupt the famous LV logo, in a sense bringing it back to the fore.
A month before I saw Jacobs, the Times ran its story detailing how Jacobs "fell out of fashion." It cited flat revenues, the closing of dozens of Marc Jacobs stores — including "a near-decimation of the stretch of Bleecker Street once called 'MarcLand' " — and the sense that his shows, however much they are anticipated, have suddenly taken on "a poignant air of irrelevance." Scant few of the lavish, oversize outfits from his fall collection — a nod to the era of Ferré and Montana and the hands-on-hips attitude of '80s models — even made it onto the company's e-commerce site.
For Jacobs, perhaps for all creative people, doing work that feels relevant and meaningful is one of the most confounding struggles to face. "I feel that all the time," Jacobs said, when I brought up the Times article. "I've felt that for 25 years. I think I've felt it all my life." While Jacobs didn't seem to take issue with the substance of the story, he found fault with its timing.
"Part of me wanted to lash out at the Times and say, 'Really? I could expect that from the Daily News.' I mean, somebody had already done the story. I just thought, Another one? Isn't there anything else to write about, rather than how our numbers have dropped? I've certainly heard about this about other designers as well. Why us?"
I suggested that maybe it had something to do with his talent, his name. "Okay, so that's the reason to do it," he said mildly. "But it was hurtful, it was annoying. Like I said, I've kind of struggled to think of myself as relevant anyway. It's true I never know what we want to do. Maybe I don't have much to say. I don't know. Maybe I have nothing to say, but I still enjoy doing this." He shrugged. "I wonder what 'relevant' is. Again, it seems that Lululemon is relevant."
To the writer of the Times piece, the fact that a designer of Jacobs's caliber could even admit to such self-doubt or to not knowing the desires of customers, was startling. But this is, in fact, one of the central problems of today, not just in fashion. It is the unrelenting speed of change and the certainty that the world will roll on — sooner rather than later — without you. Jacobs, it seems to me, is simply putting the matter out in the open. He doesn't yet have the answer. Some brands have adapted by promoting flashy new talent, like Gucci, while others strive to be "problem solvers" for women — something Jacobs has never tried to be, even when his designs easily connected with people. In a few cases, an influential designer has chosen to retire early — Martin Margiela, for example.
I asked Jacobs, who is 55, if he wants to be the person who guides his label through this weird time and also whether he thinks about retiring. "Yes, both!" he said, putting down his vape. "I can tell you this right off the couch at my shrink's twice a week. Part of me wonders what it would look like to do something else or to do nothing. But I've never done that before. This is so much a part of my life, and even when it's tortuously painful … it's still the only thing I want to do.
"Part of me is terrified by the idea of letting go, and then part of me is terrified by the idea of staying too long at the party." Then he added, "Yesterday I was in tears after a long day of things that didn't go my way. It wasn't bad news, it was just a struggle. Why am I doing this anymore? Maybe I have nothing to say? Then I woke up this morning and I thought, You know what? I have more energy than I did yesterday and I want to give it another go."
*This article appears in the November 12, 2018, issue of New York Magazine. Subscribe Now!