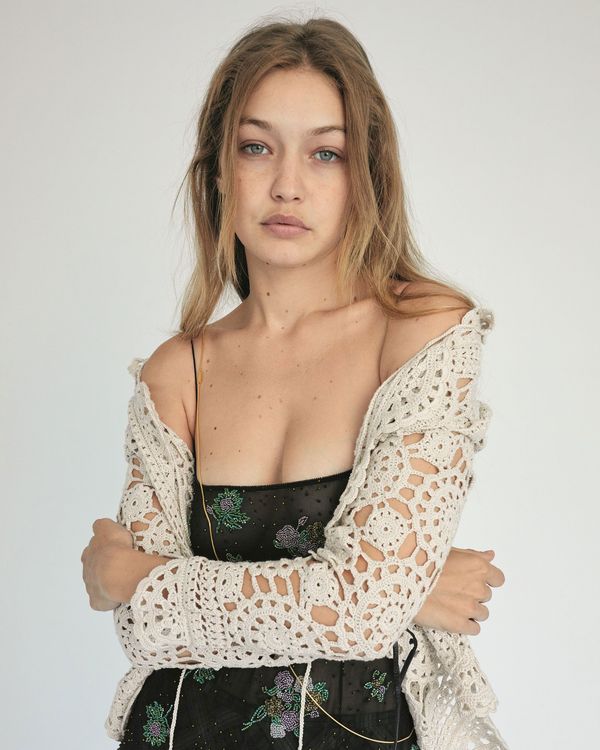 Gigi Hadid.
Photo: Juergen Teller/Courtesy of Marc Jacobs
On Monday, Marc Jacobs announced that he would be revisiting one of the most talked-about moments in his career: the spring 1993 "Grunge" collection he designed for Perry Ellis.
At the time, luxury fashion wasn't ready for Jacobs's take on the style. When supermodels like Kate Moss, Christy Turlington, and Naomi Campbell stormed the runway in Doc Marten boots, plaid shirts, and droopy beanie hats as L7's "Pretend We're Dead" blasted, some sitting front row wanted to walk out.
Needless to say, critics panned the show. The Times described the look as appearing as though "it were put together with the eyes closed in a very dark room." Meanwhile, Suzy Menkes, who was a critic at the International Herald Tribune at the time, handed out "Grunge is Ghastly" pins. A few months later, Jacobs was fired.
"The 'Grunge' collection epitomized the first time in my professional career I was unwavering in my determination to see my vision come to life on the runway, without creative compromise," Jacobs said in a release.
Twenty-five years later, he can confidently say that the collection defined not only his career — it put him on the map as a designer willing to take risks, and one with his finger on the pulse of what young people want — but also a significant shift in fashion.
Now, Perry Ellis International congratulates Marc Jacobs on revisiting a "first of its kind collection that changed the direction of contemporary womenswear."
Fashion critic Cathy Horyn also wrote for the Cut in 2015 that she'd "changed [her] mind" about the collection. "When I look back on that night, I am struck by an altogether different thought," she wrote. "Why were those of us in attendance such a miserable chorus of condemners?"
Titled the "Redux Grunge Collection 1993/2018" the new Marc Jacobs capsule features 26 looks from the original show that have been reissued in their entirety, from head to toe. Yes, that includes jewelry, shoes and accessories, all made in the original prints, fabrics, and embroideries.
In a campaign shot by Juergen Teller, models including Gigi Hadid, Slick Woods, and Kim Gordon's daughter, Coco Gordon Moore, are made to look their most crusty, wearing plenty of plaid, R. Crumb t-shirts, and — gasp! — Birkenstocks with socks.
So, it's safe to say: grunge is back!
The Redux Grunge collection can be found starting November 15 at marcjacobs.com, select department stores, and Marc Jacobs boutiques worldwide. It is also currently available for pre-order online.