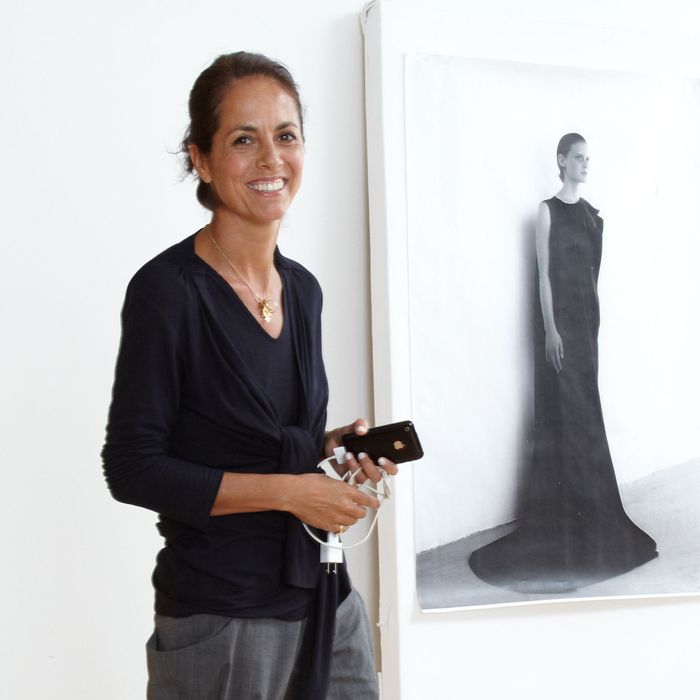 Maria Cornejo.
Photo: Martein Mulder
Climate anxiety has never felt so thick, and when it comes to waste and pollution, the fashion industry is a major culprit. There are signs of change on the horizon, though: Recently, H&M, Burberry, and other major companies signed the New Plastics Economy Global Commitment, a push that aims to create a circular economy for plastics. And brands from Levi's to Gucci are talking about ways to be more environmentally and socially conscious.
In order for sustainability to become an industry standard, big companies should be leading the charge. But underneath them are smaller brands who have been quietly doing their part for years, and who have arguably developed a more solid foundation for creating and selling ethical fashion. Chief among them is New York City's Zero + Maria Cornejo, which just won the Sustainability Award at the Fashion Group International's Night of the Stars.
This was the second major sustainability award of the past two years for designer Maria Cornejo; she also won one from the Council of Fashion Designers of America in 2017. On the surface, the brand may be an unlikely poster child for sustainability — its current goal is to make sure just 50 percent of its textiles are eco-friendly by 2020. (By contrast, millennial-friendly eco brand the Reformation reports that its whole line is made from sustainable materials.) But Cornejo has spent 20 years surmounting a difficult challenge: How do you get someone who is prepared to spend thousands of dollars to buy into eco-friendliness, something that isn't associated with luxury? And with the benefit of time, she's found workable solutions.
Zero + Maria Cornejo is a favorite among a certain set of New York women who pride themselves on being as intellectual as they are chic — and who dress for each other more than they dress to impress men. It's a brand that has appealed to both Michelle Obama and Tilda Swinton. Cornejo started her line in 1998 after working for larger companies including Joseph and Jigsaw, with the goal of filling the void she saw between Gap and Hermès. A white shirt at Zero + Maria Cornejo costs $550 — it's not exactly cheap, but there are luxury brands that would charge you more.
Initially, Cornejo says, sustainability "was partly the purpose [of the brand] but it wasn't a statement." She was mostly concerned about fabric waste and local production — to this day, she produces 84 percent of her products in New York City. But eventually, she began to turn more and more toward socially responsible practices. The company ships orders on recycled or previously used packaging, works with the UPS Carbon Neutral initiative to offset the impacts or shipping, and uses innovative dyeing processes to minimize water waste. Cornejo is particularly proud of the fact that many of her collection's "core fabrics" are eco. She'll also reuse fabric left over from previous seasons to make new clothes.
It seems simple to her. "Sometimes you don't have to reinvent the wheel," she said in her office, wearing a recycled cashmere sweater (her own design) and surrounded by fabrics that had been redyed and repurposed.
For example, when she subbed out their best-selling fabric with the new one they call eco-drape, she had to test to make sure the fabric would fit into the brand and its aesthetic. "The easiest thing would be to just keep using the drape, why change something that's already selling?" she said. "Production hated my guts."
Still, Cornejo wouldn't use the term "sustainable" to describe her ethos, since she worries it's not entirely accurate. "Not everything is sustainable. We try," she said. "It's not easy. It's very expensive to have high principles when you're self-financed." Her term of choice is "responsibly created."
Cornejo may be one of the last of an old guard of ethical designers who've had the luxury of 20 years to figure out how to make eco-friendly clothing feel luxe. As climate change and plastic waste becomes more pressing, the positive change may have to happen more quickly. She's skeptical of the spree of sustainable and eco-friendly capsule collections. "I get a little bit jaded about it because a lot of people make a lot of noise about it. But if they're not doing it correctly it doesn't mean anything. It's just a marketing tool." Systemic change, she says, should come from the largest companies so resources "trickle down" to smaller companies as they become industry standards. She compares the situation to eco-friendly options she saw in major grocery stores in Paris 30 years ago.
But most important is making sustainability appealing to a customer. "It's not about preaching; it's about showing by example. Nobody needs another pair of shoes, but if you're going to buy another pair of shoes, make sure they're produced correctly. "
As with all things in life, it's tempting to categorize all fashion brands into "good" or "bad." The current state of the industry is a lot murkier, though. H&M is the largest buyer of organic cotton in the world, but a recent report found evidence of abuse in its product chain. Everlane is transparent about its factories but doesn't publish wages for workers. But hopefully that will change. Cornejo's utopia is a world where you can scan an item and see where it came from and what it's made of. In the meantime, she's happy being the squeaky wheel, picking out plastic bottles from the trash can in her office and working on new goals. "We try every day," she said.