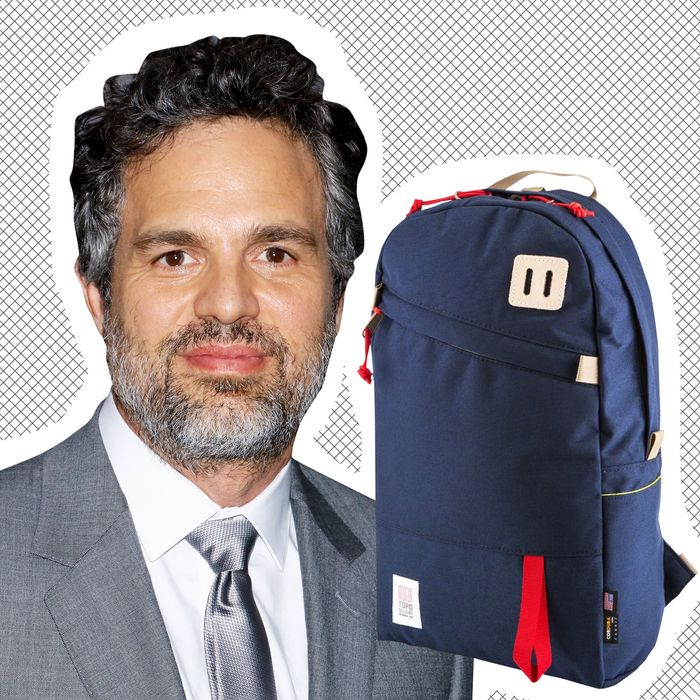 Mark Ruffalo (L) and his backpack (R).
Photo: Getty Images, topodesigns.com
I've been feeling pretty aimless and ladened with existential angst lately. Do I really want to be spending 10 to 12 hours a day on the internet? Will I ever have the money and time to fulfill my dream creative projects? Should I have a child? Isn't it fucking crazy that the planet is going to be virtually uninhabitable by the end of the century? Does my dog even know my name?
So I was pleasantly surprised to find a renewed sense of purpose this morning. For this, I thank an esteemed colleague who alerted me to the fact that actor Mark Ruffalo (The Avengers, The Kids Are Alright, this video with Bernie Sanders) had posted an urgent and crucial tweet.
"New Yorkers that I love so much, please help me find my backpack," he wrote. "I left my black w/ red trim Topo backpack in a yellow cab tonight (looks like the one in the pic) in UWS of NYC with no way to contact the cab & don't know the #. Reward if found [prayer hands emoji]."
Before I could fully process the tragedy of Mark Ruffalo's missing backpack, I first had to clear my mind entirely to visualize the contents of Mark Ruffalo's missing backpack. They included:
• A reusable water bottle and metal straw
• A spare henley
• A hemp necklace, ready for the exact moment they come back in style
• A vast assortment of anti-fracking pins
• A dog-eared copy of A People's History of the United States
• The joke "What do you call Mark Ruffalo's dog? (Bark Ruffalo)," written down on a note card
• Snacks
Once I had completed that incredibly soothing exercise, it was time to focus. Mark Ruffalo's backpack was missing! And I knew that I was the only person who could find it. I was determined. I was invigorated. I would go to the ends of the earth to find Mark Ruffalo's missing backpack. I felt like Frodo in The Lord of the Rings, or the ocean in the Odyssey (the backpack is Odysseus).
But first I had to go to a screening in midtown.
When I emerged from the screening, I was forced to confront some bittersweet news: Mark Ruffalo's backpack had been found. "UPDATE: it was found!" he tweeted. "Thank you for all of your help [backpack emoji]."
My journey was over before it had even started. Mark Ruffalo was reunited with his backpack, and I was reunited with my despair. Yes, I could begrudgingly afford some happiness for Mark Ruffalo and his backpack. But what about my sense of purpose? I'm left with only one reasonable option now, and it's not "finding a greater spiritual calling" or "working my shit out in therapy."
Mark Ruffalo: please lose your backpack again.