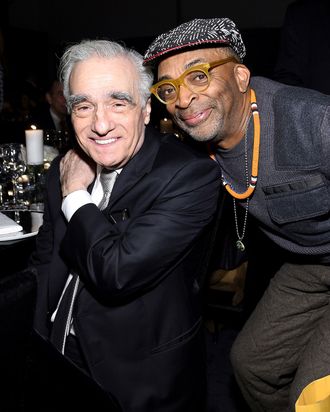 Martin Scorcese and Spike Lee.
Photo: Dimitrios Kambouris/Getty Images for Museum of Moder
Emily Mortimer, Spike Lee, Chloë Sevigny, and more celebrities honored Martin Scorsese on Monday night at the Museum of Modern Art's 11th annual Film Benefit, gathering for a gala dinner and tribute presented by Chanel. Leonardo DiCaprio, Jonah Hill, and Robert De Niro were the night's co-chairs and hosts. On the red carpet and throughout the evening, everyone lovingly referred to Scorsese as "Marty."
"To an undeniable expert of the cinematic art form, Mr. Martin Scorsese," DiCaprio said in one of the evening's many speeches, paying tribute to the director's five-decade career. "There are many words that can be used to describe Martin Scorsese — he's an inspiration, an artist, a mentor, a historian. Undeniably and without question he's someone everyone that's ever loved movies should look up to with the deepest admiration."
Other guests included Bette Midler, Patricia Clarkson, Drew Barrymore, and Chloë Grace Moretz. Onstage, a screen played a montage of Scorsese's greatest films, and Gary Clark Jr. performed. The museum has 20 of his films in its collection, including Goodfellas, Taxi Driver, and The Aviator. Scroll to see photos from the party.