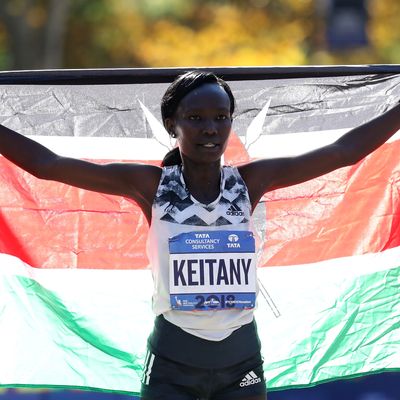 Mary Keitany.
Photo: Elsa/Getty Images
Mary Keitany won her fourth New York City Marathon on Sunday morning. The wins gives her a world record tie with Grete Waitz for winning the event four times. Keitany, who is from Kenya, won the 2014, 2015, 2016, and 2018 races. In 2017, Shalane Flanagan came in first, and was the first American woman to win the race in 40 years.
Marathons are typically considered to be horrible or best avoided, but Keitany excelled on the five borough run. She ran the second-fastest time for a woman in the course's history, running all 26.2 miles in 2 hours, 22 minutes, and 48 seconds, according to the New York Times. She was just 17 seconds slower than the course record. Keitany was humble about her victory.
"The course record was not on my mind," said Keitany to USA Today at the end of her race. "I was saying, okay, let me try to win. But I come to see that I missed by just 17 seconds. But it's okay. For me, winning was very important."
For the men's race Lelisa Desisa, of Ethiopia, came in first place with a time of 2 hours, 5 minutes and 59 seconds. Over 50,000 runners competed in the race. According to the Times, Keitany, 36, is one of the fastest marathon runners in the world, and finished this year's race three minutes ahead of the runners who came in second and third place, Vivian Cheruiyot of Kenya, and Shalane Flanagan, last year's winner.