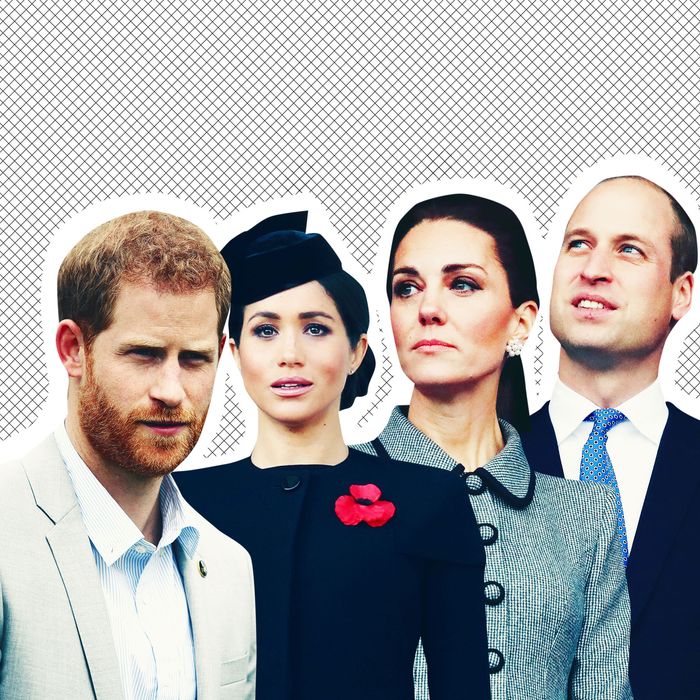 Prince Harry, Meghan Markle, Kate Middleton and Prince William.
Photo: Getty Images
On Wednesday, Kate Middleton greeted well-wishers in Leicester, U.K., during a royal visit with Prince William. At one point, she was asked about her children — Prince George, Princess Charlotte, and Prince Louis — and spoke of how they were, adorably, already getting ready for Christmas. Kate was also asked whether she was excited about the upcoming addition to her extended royal family: Meghan Markle and Prince Harry's baby-on-the-way.
"Absolutely," Kate said, in video shared on social media. "It's such a special time to have little kiddies. And a cousin for George and Charlotte, as well, and Louis. It'll be really special."
The Duchess of Cambridge's comments about her in-laws' spring 2019 baby were sweet — and under any other circumstances, they would have been seen as rather innocuous. Of course she's happy that Prince Harry and Meghan are having a baby; of course she's happy that her kids will have a new cousin. Yet, given the non-stop royal drama in the press, her words seemed to say so much more than that: Everything's fine, or at least, we're doing our best.
Over the past month — particularly in the buildup around Prince Charles's 70th birthday — there's been an onslaught of positive stories about the future king, and negative stories about his sons, Prince William and Prince Harry. If you believe some reports, there's now so much tension between the brothers that Harry is moving out (which he is, but not necessarily for that reason), and tabloids are playing up a supposed rivalry between Kate and Meghan. But what I find more fascinating than what these stories are actually saying is the fact that these stories are even coming out in the first place. What's going on there?
To figure this out, I recommend reading LaineyGossip — Lainey Lui's insight into the backstory of this drama is, in my opinion, unparalleled. In essence, Lainey has been pointing out that these stories started coming out as the royals tried to drum up positive attention for Prince Charles's 70th birthday. Royal reporter Robert Jobson was given 18 months of access to the prince's inner circle for a recent biography, and excerpts that shaded Princes William and Harry started to come out around their dad's birthday, as did reports that the younger royals don't work as hard as Prince Charles. Lainey also pointed out that there are rumors the recent story of Meghan "making" Kate cry might stem from Jobson's research for his book.
This isn't to say we know definitively who the source of all these stories are — instead, we can just recognize that there seems to be an underlying theme of wanting to perhaps knock Prince William and Harry (and also Meghan, but more on that later) down a notch. And why would that be?
Well, for starters, Queen Elizabeth is 92, so her reign as queen may end within the next few years. That would mean Prince Charles will soon become king. But Prince Charles — thanks to the scandal surrounding his divorce from Princess Diana and affair with Camilla Parker Bowles — has never been quite popular. In fact, there has been speculation over the years suggesting that Queen Elizabeth might skip over him and name Prince William as her heir instead. And just recently, a YouGov survey came out that showed Prince Harry is the most popular royal — with Queen Elizabeth and Prince William coming in second and third place, and Prince Charles way down as the seventh most popular.
However, the vitriol between Prince Charles and his sons has now veered into personal attacks on Meghan. This is not the first time the duchess has dealt with hostility from the British tabloids; remember when Prince Harry issued a statement calling them out for subjecting her to "abuse and harassment"? But after the positive press of their royal tour, the attacks against Meghan have started again; she's getting chastised for working too hard and being "demanding" with palace aides, which … cue eye roll. As Celebitchy points out, these reports may have more to do with an ongoing vendetta against Meghan — whether among the press, royal staff, or both — than anything else. She's probably not a perfect person — who is? — but it's clear that with some people, she just will never win.
So, it all seems like these stories — wherever they're coming from — could have started with the purpose of building Prince Charles up while knocking his sons down, and then cascaded from there to create the royal drama we have before us today. What exactly led to these leaks is more interesting than the probably true fact that members of the royal family don't always get along, just like the members of literally any other family. The only difference is, the rest of us don't fight over a crown.