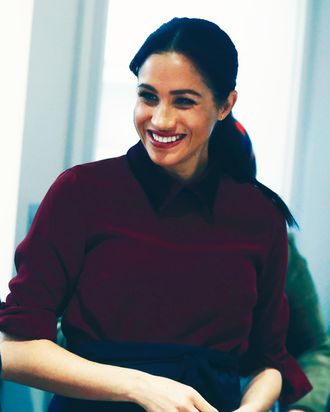 Meghan Markle.
Photo: Chris Jackson/Getty Images
Well, well, well. Mere days after the tabloids claimed Meghan Markle was upsetting royal aides with her "West Coast" work ethic (as in, she is passionate about what she does and occasionally texts her staff about work-related things), the Duchess of Sussex was at it again: working.
This time, Meghan stopped by the Hubb Community Kitchen to cook with women who contributed to Together, the charity cookbook she organized that benefits survivors of the devastating Grenfell Tower fire. And in the ultimate American move, the industrious outing took place the day before Thanksgiving.
As People reports, the pregnant duchess visited the Al Manaar Community Center in a Club Monaco dress and coat, and boots by Givenchy. There, she met with survivors of the tragedy and revealed the impact that the charity cookbook has had on the community kitchen. In the U.K. alone, the cookbook has sold 40,000 copies and raised $270,000 in the past seven weeks — and that's on top of selling "tens of thousands" more copies internationally.
After greeting the women, Meghan — in her typical fashion — got to work. By that we mean, looking genuinely happy as she cooked with the women. Behold her true joy at cooking/working:
And really, she just couldn't stop smiling.
Let's all allow Meghan's infectious excitement at cooking with these women — and her nonstop work ethic — guide us through the Thanksgiving holiday. Or at least, I'll think of these pictures as I fall asleep on my couch in a peaceful post-turkey coma.