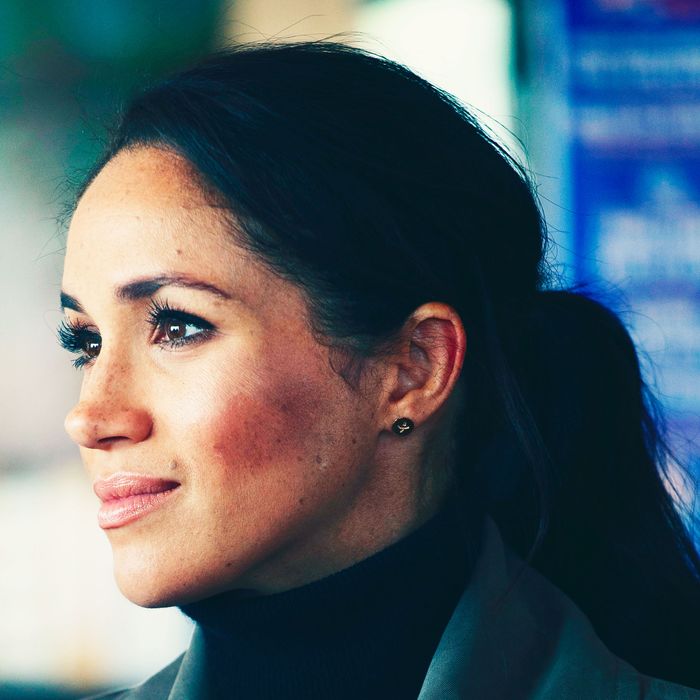 Meghan Markle.
Photo: Ian Vogler/Getty Images
Since her royal relationship with Prince Harry was announced two years ago, Meghan Markle's extended family has created nonstop drama in the press. Her mom, Doria Ragland, has remained a fantastic source of support, but relatives on the paternal side of the family (particularly her dad Thomas Markle Sr. and half-sister Samantha Markle) keep exploiting her newfound fame. Luckily, it turns out the drama Meghan has endured reportedly worked in her favor with the British royal family.
Before we go on, a quick refresher. Meghan's parents — Thomas and Doria — divorced when she was young. She has always been closer with Doria, but she asked her father to walk her down the aisle during her royal wedding to Prince Harry in May. That imploded when it was revealed Thomas had staged a photoshoot with the paparazzi. He backed out of the wedding, and began unloading on Meghan and her new royal family (including Queen Elizabeth) in the press. Thomas's daughter Samantha — Meghan's half-sister — is also one of the many Markles to disparage her for personal gain.
All of this family drama is extremely tiresome, and inevitably draws feelings of sympathy for Meghan from many of us. That's apparently also the case for the British royal family. According to royal author Angela Levin in the Daily Mail, Meghan's family drama helped bring her even closer to her father-in-law and future king, Prince Charles. Per the Daily Mail:
Anyone who thinks the soap-opera antics of Meghan's father, half-sister and half-brother have affected Charles's feelings for his new daughter-in-law couldn't be more wrong.




'On the contrary,' I was told by an immaculate source close to the Prince. 'There have been so many traumas and crises within the personal life of the Royal Family, from the Duke of Windsor onwards. And many Royal divorces. That's why the Duchess of Sussex's troubled family background has endeared her to Charles even more.'
Meghan and Prince Charles have also reportedly bonded over art, history, and culture, and she's apparently become quite close with his wife, Camilla. Both women married into the family "from the outside," so Camilla has gone out of her way to make Meghan feel welcome. And recently, in a touching show of fondness, the queen reportedly extended an invite to Meghan's mom Doria to stay for Christmas at Sandringham this year (which she never did for Kate Middleton's family). The royals have clearly rallied around her.
Well, at least something good came out of this unfortunate mess.