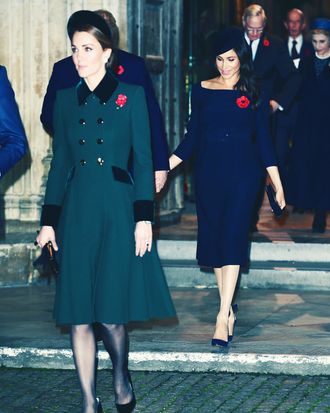 Meghan Markle.
Photo: Karwai Tang/WireImage
Prince Charles's 70th birthday party at Buckingham Palace in London on Wednesday evening was rudely closed off to the press and the paparazzi, meaning we don't, unfortunately, have any photos of the royals looking cute in their pricey gowns and suits. However, one brave photographer managed to snap cropped photos of Meghan Markle and Kate Middleton arriving to the septuagenarian's bash in their respective cars, and the duchesses looked glam as hell.
Seemingly coincidentally, Meghan and Kate opted for a very similar look from the shoulder up: updos and massive statement earrings. A chic evening look on a damn weeknight!
While there are no public photos of this look floating out there, Meghan apparently wore an bateau-neck black dress with the above-pictured big diamond earrings, which she's worn before. Just a few weeks back, she paired them with a blue cape dress at a state dinner in Fiji, and apparently, Kensington Palace was being evasive about their origin at the time — the Palace will admit that they're "borrowed," but they won't clarify from whom.
Per "Page Six," the Duchess of Cambridge paired her single-drop earrings — which are a departure from her beloved tiny pairs — with a ruffly, one-shoulder pink dress.
Hopefully, the duchesses had a lovely night that included very little movement and quite a lot of sitting, as those pendulous earrings aren't exactly made for the dance floor.