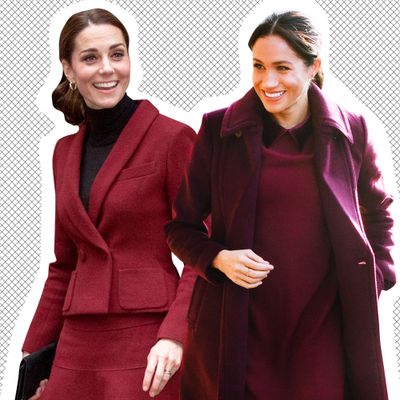 Kate Middleton and Meghan Markle in matching outfits.
Photo: Getty Images
On Wednesday (American Thanksgiving Eve), our favorite duchesses Kate Middleton and Meghan Markle stepped out, respectively, for two separate royal outings — while doing one of the things they apparently love more than almost anything else. Yes, they were matching … again.
During their separate outings — Kate to the University College London to chat about children's mental health, and Meghan to the Hubb Community Kitchen to support the Together charity cookbook — the sisters-in-law were photographed sporting similar looks. Kate, 36, was re-wearing her Paule Ka skirt suit, while Meghan, 37, sported an outfit by Club Monaco. But the underlying theme? They were both wearing black tights and mostly burgundy outfits. Here, look below at Kate's outfit.
Now, let's look at Meghan's attire.
Whether or not Kate and Meghan meant to match (it is autumn and they were both wearing autumn outfits, so maybe it's a coincidence?) is up for debate (because maybe there are no coincidences in life). But the pair have worn similar outfits and/or accessories in the past. In October, they both wore maroon polka-dot dresses around the same time (wow), and earlier this month, they both wore glamorous statement earrings and updos at the same event (incredible). But it is suspect that they'd show up to events on the same day in eerily similar clothes. Let's take another closer look.
Here's Kate:
And Meghan:
Ahhhhh, they both look lovely and elegant, yet my eyes and brain hurt from seeing so much double. But given that Queen Elizabeth wanted to wear matching green hats with Meghan that one time, I can only assume that triplet-ing with her will be the next stop on their royal matching tour.