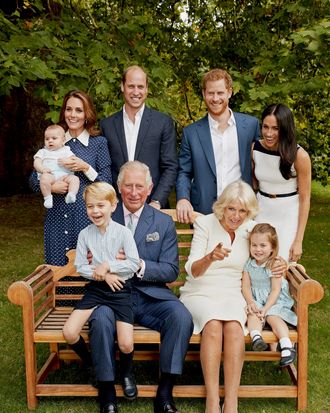 The royal family.
Photo: Chris Jackson/Clarence House via Getty Images
The royals, they're just like us. Well not really … not in any significant way — Prince George had his fifth birthday on a private island. But, they did take a very cute candid family portrait, each of them looking very happy, casual, relaxed, and almost like any other normal family. The photo was taken for Prince Charles's 70th birthday, which is on November 14.
The photos were taken by Chris Jackson, in the garden at Clarence House. Prince Charles's wife Camilla, Duchess of Cornwall, sat beside him on a small wooden bench, and they each held one of their grandchildren. Prince George sat on Prince Charles's lap, and Princess Charlotte was hugged by Camilla.
Prince William and wife Kate Middleton, Duchess of Cambridge, stood behind and Kate held their child, the very elusive Prince Louis. Prince Harry and his new wife, Meghan Markle, Duchess of Sussex, stood next to William and Kate.
The new photos come after Meghan and Harry revealed just how close the couple was to Prince Charles, and how Prince Harry asked his father to walk the duchess down the aisle at their wedding.
"I asked him to and I think he knew it was coming and he immediately said, 'Yes, of course, I'll do whatever Meghan needs and I'm here to support you,'" Prince Harry recounted in a new BBC documentary about Prince Charles. "For him that's a fantastic opportunity to step up and be that support, and you know he's our father so of course he's gonna be there for us."
Happy 70th, Prince Charles! May all future birthday celebrations be filled with this many genuine smiles, and may you only continue to get more chill with age.