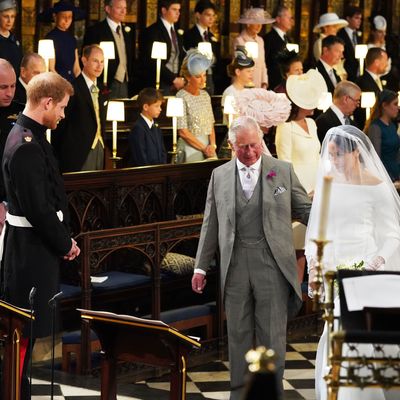 Prince William, Prince Harry, Prince Charles, and Meghan Markle at the royal wedding.
Photo: WPA Pool/Getty Images
Prince Harry and Meghan Markle may have become husband and wife back in May (long live Royal Wedding 2.0!), but the newlyweds and parents-to-be are still sharing new details from their big day. The latest round of dishing about Prince Charles's role in the nuptials — merely adding to the mounting positive press the heir to the throne has been receiving in the lead-up to his 70th birthday on November 14.
Prior to the wedding, it was revealed that Meghan had asked her estranged father, Thomas Markle Sr., to walk her down the aisle, even though she's always been closer with her mother, Doria Ragland. Inevitably, what followed was a series of pointlessly dramatic events: Thomas staged a photo shoot with the paparazzi, then went back-and-forth (again and again) with TMZ over whether he'd attend the wedding in the wake of the scandal, before he eventually backed out all together.
Luckily, the dramatics only endeared Meghan even more to the royal family, and apparently brought her closer to Prince Charles. He even stepped up to walk his soon-to-be daughter-in-law partially down the aisle.
Now, in the new BBC documentary Prince, Son and Heir: Charles at 70, Prince Harry talks about asking his father to give Meghan away at the wedding. Per People, Prince Harry says in the doc, "I asked him to and I think he knew it was coming and he immediately said, 'Yes, of course, I'll do whatever Meghan needs and I'm here to support you.' For him that's a fantastic opportunity to step up and be that support, and you know he's our father so of course he's gonna be there for us."
Prince Harry also revealed that he said "Thank you, pa" to his father at the altar, because "you've gotta say thank you. Just because he's my father that doesn't mean I can just sort of go, 'Okay, that's all, I'll take it from here.'" He added, "No, that is what I wanted to say but … and I was very grateful for him to be able to do that."
Meanwhile, Meghan has also been speaking about Prince Charles's contribution to her big day, saying in a recording at the exhibition of her wedding dress at Windsor Castle that he helped with some wedding-planning aspects. "We worked quite a lot with the Prince of Wales, who has incredible taste in specifically classical music, so it was really fun to spend some time going through selections with him," she revealed.
So grateful that the Royal Wedding 2.0 is the gift that keeps on giving.