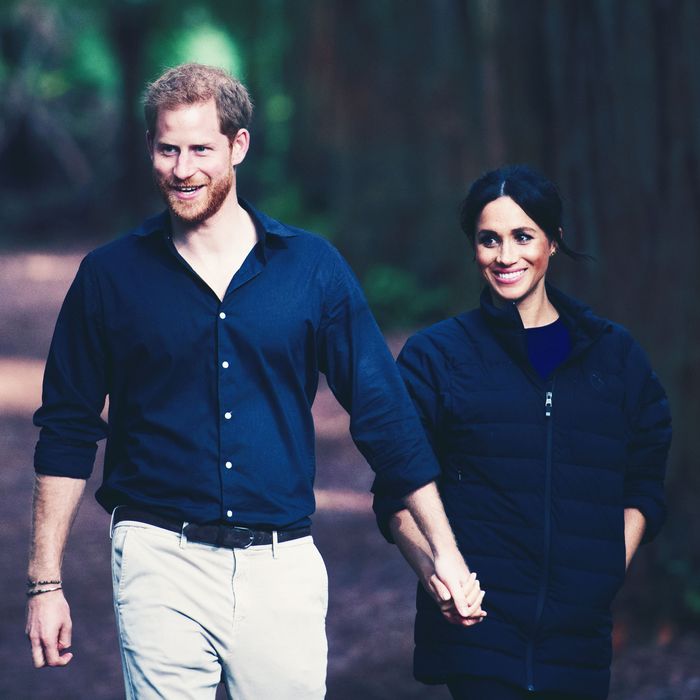 Meghan and Harry in a bucolic setting.
Photo: Pool/Samir Hussein/WireImage/Getty Images
This past weekend, Kensington Palace confirmed that Meghan Markle and Prince Harry were packing their bags and leaving Kensington Palace for the quaintly named Frogmore Cottage, an estate located 25 miles away from London and all of the city's paparazzi. Great news for Markle — she'll no longer have to render herself totally unrecognizable by wearing a hat on her runs to the grocery story or pilates class.
But why, exactly, are they leaving behind their city life for one more pastoral? Here's everything we know.
What exactly is Frogmore Cottage?
First of all, it's not a cottage in the traditional sense; it's a posh home located on the 35-acre Windsor Castle Home Park estate with pretty tight security.
Does the royal couple have a relationship with the cottage?
Ahead of the royal wedding, the Mirror reported that Prince Harry wanted to have a "carnival and festival-themed" wedding after-party that resembled his favorite posh nightclub at the Frogmore Cottage. The couple also had their engagement photo shoot on the property.
So, yes.
Why would they want to move there?
According to an announcement from Kensington Palace, "Windsor is a very special place for their royal highnesses and they are grateful that their official residence will be on the estate." (However, the Palace clarified that their "official office will continue to be based at Kensington Palace.")
But the main alleged reason is pretty obvious. The couple is expecting their first child in spring 2019, and privacy is a major appeal, royal commentators are saying.
Also, it's incredibly beautiful.