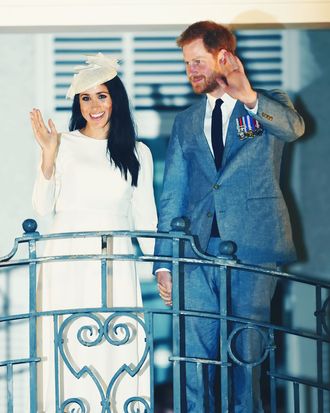 Bye.
Photo: Karwai Tang/WireImage/Getty Images
In the buildup to Meghan Markle and Prince Harry's six-month royal wedding anniversary earlier this week, tabloids claimed that palace aides are mad that the Duchess of Sussex works too hard (excuse me while I roll my eyes) — and that the newlyweds might be moving out of their Kensington Palace digs. Well, now the Sun has exclusively revealed that Prince Harry and Meghan are, in fact, moving out — and Kensington Palace confirmed the move in a new statement.
The Sun's Emily Andrews reports that Meghan and Prince Harry are moving out of the two-bedroom Nottingham Cottage at Kensington Palace — and into a bigger, better, and 20-ish minutes-away cottage (that kind of sounds like a mansion to me). Meghan's best friend Queen Elizabeth has given the parents-to-be Frogmore Cottage on the Windsor Castle grounds. As a refresher, Windsor Castle is where the two tied the knot on May 19, and their private reception was held at Frogmore House (right by this cottage).
Before this, the pair were (wrongly!) believed to be moving into Apartment 1 at Kensington Palace (next door to Prince William and Kate Middleton's place). This news falls in line with rumors that they are hoping to raise their royal baby in as "normal" a way as possible — namely, outside of the city.
So what's the deal with this house? Well, it needs some renovations because it is currently set up as five units for royal staff to live (I hope they get nicer units as an apology for this upheaval!), but by the time the Duke and Duchess of Sussex move in early next year, the house will boast 10 bedrooms, a nursery, and a gym and yoga studio.
But what about drama? Namely, is there any? Apparently: maybe. The move comes shortly after it was revealed that Prince Harry and Prince William will be splitting their courts — basically that means they will no longer have the same office and will work on separate projects, which makes sense to me as they are separate people with separate roles and separate interests. However, the royals said in a statement that Prince Harry and Meghan's offices will remain at Kensington Palace, despite the move. Per the Sun:
A royal source said: "The initial plan was for Harry and Meghan to move out of their cottage in the grounds of Kensington Palace and into one of the main apartments. But there has been a bit of tension between the brothers. Now Harry and Meghan don't want to live next to William and Kate and want to strike out on their own."



Fantastic. We can't wait to visit.