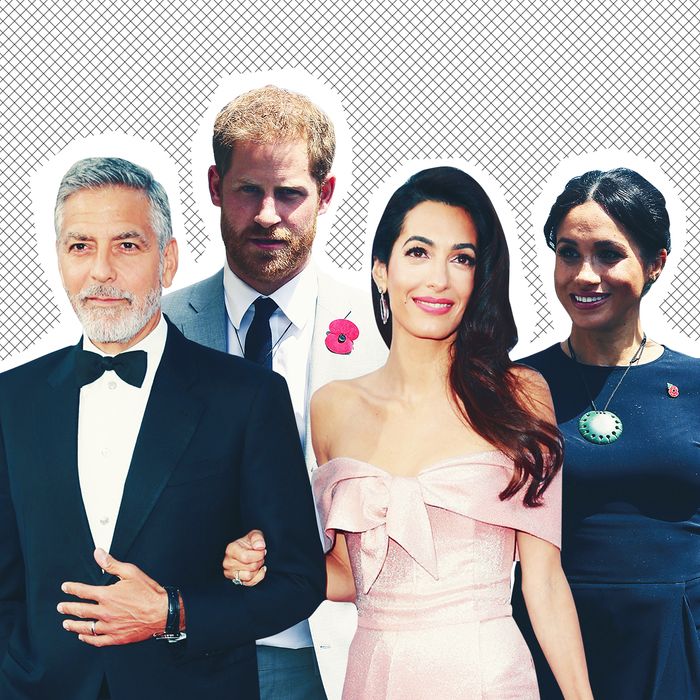 Meghan Markle and Prince Harry are set to become parents to their first baby in the spring, and if rumors are true, the new royal baby might have a pair of very famous godparents.
If we're to believe the Daily Mail, the Clooneys are "all but confirmed" to be godparents to the new royal baby, with Clooney "family insiders" telling the Mail that George considers himself to be a "shoo-in."
George's cousin, Ben Breslin, told Daily Mail that the actor and tequila brand mogul would make a "wonderful" godfather, because "he'd make a wonderful just about anything — he's a good guy."
It's important to note that the Daily Mail hasn't spoken to anyone at the palace about this possible godparenting situation, but it wouldn't be a surprise to see George and Amal taking up the reigns. For one thing, we already know that the Clooneys and the royal couple are friendly enough to be hanging out in Italy together in their spare time, and it's been reported that Meghan and Amal have become close since the duchess moved over to the U.K. Plus, let's not forget that George even served up his own Casamigos tequila at the royal wedding — that's intimacy that you just can't fake.
Moreover, royal babies tend to have more than one set of godparents. For context, Prince William and Kate Middleton gave Prince Louis six godparents, so it's possible that there's a slot for the Clooneys when it comes to Meghan and Harry's baby.
Given that Casamigos has now married into the royal family with Princess Eugenie's husband, Jack Brooksbank, as U.K. ambassador for the brand, it's only fitting that someone involved with the tequila also leads the royal baby's spiritual guidance.