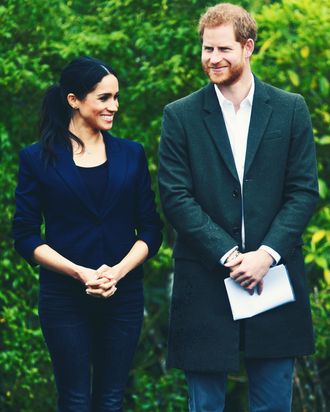 Meghan Markle and Prince Harry.
Photo: Pool/Samir Hussein/Getty Images
Meghan Markle and Prince Harry will become parents this spring, when they welcome their first baby. But despite the fact that Meghan and Prince Harry, a.k.a. the Duke and Duchess of Sussex, are royal and the baby will also be royal, the parents-to-be are reportedly planning on raising the child in as normal a way as possible.
In the new issue of Us Weekly, royal reporter Omid Scobie writes that Meghan, a woman who infamously closed her own car door that one time, hopes to "bring up children who know the values of normal things in life." This means the former Suits star is apparently hoping her royal baby will get to have a more "regular" childhood than their cousins, Prince George, Princess Charlotte, and the elusive Prince Louis.
It's already been reported that Meghan and Prince Harry have chosen to raise their royal offspring in the country, instead of London. By that we mean, they hope to set up shop in the $5.4 million home they've been renting in the Cotswolds, over two hours north of the city. The couple tends to spend weekends there, Us Weekly reported in October, and they hope to be able to live there with their royal baby as well.
Beyond that, to achieve normalcy, Meghan will do seemingly normal things when it comes to parenting her royal baby and/or its potential future royal siblings. "Meghan will take her kids on a subway. They'll have chores, and jobs one day. They won't be spoiled," Scobie explained.
We can only assume that a royal child's chores must involve polishing royal jewels — or at least making their royal bed — but we guess only time will tell.
Check out our official updates on the birth of Meghan Markle and Prince Harry's royal baby.