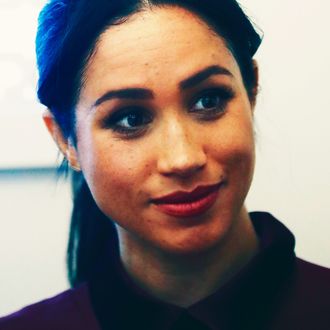 Meghan Markle.
Photo: Chris Jackson/Getty Images
Over the past few weeks, the British press has been publishing nonstop negative stories about Meghan Markle — from claims that she works too hard (how awful) and digs about her being "opinionated," to rumors of a feud with her sister-in-law, Kate Middleton. So, how is the Duchess of Sussex handling all of this drama? By ignoring it, apparently.
According to Vanity Fair's Katie Nicholl, Meghan is aware of all that's being said about her in the press — and her husband, Prince Harry, has a habit of reading the newspapers — but she's refusing to let it get to her. A source told Nicholl:
"Meghan is a believer in karma and she doesn't want to sit there reading negative online stories and comments about herself. She feels to a degree the British press is out to get her and while she's aware of the news and what's going on, she tries her best not to read all the stories about her."
It would make sense that Meghan might not have the warmest feelings about the British press. As you'll recall, right after her relationship with Prince Harry was revealed, the royal issued a statement calling the press out for subjecting his then-girlfriend to "abuse and harassment." But even after that, Meghan still routinely dealt with racist posts about her family and burns about being an American divorcee by the U.K. press. On top of that, her father, Thomas Markle Sr., and sister, Samantha, have given interviews about her to the British tabloids (and of course, also to TMZ in the U.S.).
Meghan had received some positive press since her royal wedding to Prince Harry — including during the couple's recent tour of Australia, New Zealand, Tonga, and Fiji, and with the news of their future royal baby — but now, the negativity appears to have resumed. We'll just have to wait and see if things let up before the holidays.