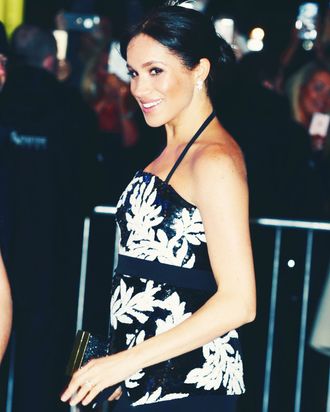 Meghan Markle.
Photo: Chris Jackson/Chris Jackson/Getty Images
Ah, May 19. It feels like just yesterday that American queen Meghan Markle married into the British royal family during her nuptials to Prince Harry. In reality, that event happened six months ago — how time flies! — and British tabloids (of course) are marking the anniversary of Royal Wedding 2.0 by drumming up drama for Meghan. But this time around, it's not about her messy family — the drama is largely focused on how she … works too hard? Huh.
A new report by the Daily Mail sheds light onto just how much royal aides are freaking out about the Duchess of Sussex. On the one hand, the tabloid reports that Queen Elizabeth "expressed surprise" that Meghan — a divorcée — wore white on her wedding day. Okay. Then, the report goes on to say that a "source" from a fashion team that visited Kensington Palace (who?) claims that the palace has told Meghan to stop dressing like a movie star. Sure. Then it goes on to shade the new duchess — dubbed "Hurricane Meghan" in the report — for doing a good job.
For starters, Meghan reportedly wakes up at 5 a.m. each day (ah, she's one of those people), eager to start working. Throughout the day, the duchess reportedly sends six (6) to seven (7) work-related text messages to palace aides, full of ideas and requests. Per the Daily Mail:
Well-meaning as she is, her particular brand of 'up and at 'em' West Coast energy is an uncomfortable fit with the more formal ethos of some palace staff.
So let me get this straight: A 37-year-old woman, who built a successful career on her own before marrying into a wealthy and powerful royal family and also devoted a lot of her own time and energy to humanitarian work beforehand, is working hard in her new job that allows her to focus on projects she's passionate about. The gall!
Anyway, here's a pic of her at the Royal Variety Performance charity event on Monday night (benefiting older or ill entertainers in need of assistance) in a sequin top and skirt by Safiyaa:
After her night out, we bet she'll still wake up early tomorrow morning to work! Good luck dealing with having to do your jobs as well, royal aides.