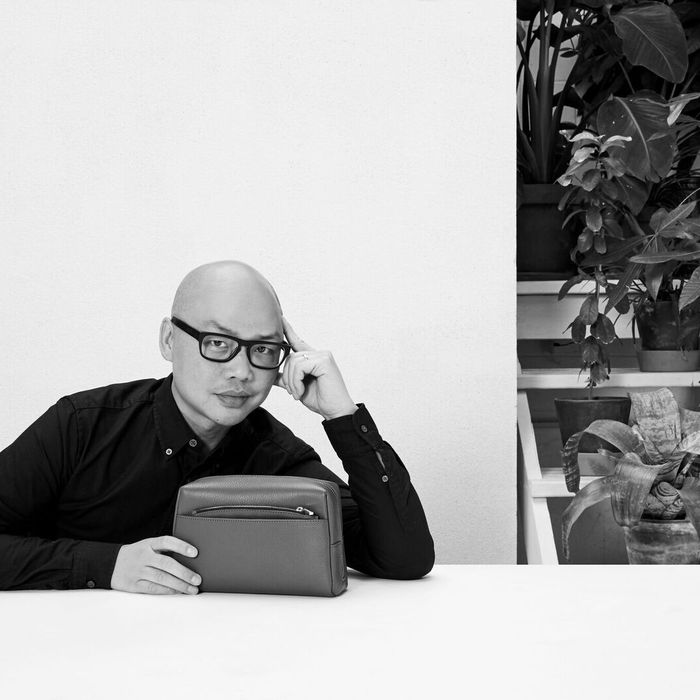 Daniel Martin and the Vanity Case.
Photo: Courtesy of Cuyana
Makeup bags are a pretty tricky thing to get right. They need to fit everything, but not be too big or too bulky. They should be stylish, but not compromise structure. Does a perfect makeup bag exist? Possibly. It might just be this new vanity case from Cuyana. They collaborated with celebrity makeup artist Daniel Martin to make a case that is actually functional.
Martin is the one who is responsible for the Duchess of Sussex's wedding-day makeup, so he's packed many a makeup case. He provided great insight into how to make a very cool one. The leather Vanity Case is actually two things in one: There's a large, flat-bottomed rectangular case that can hold bulkier items and bottles standing up, and a slim, wallet-esque case that can hold hair ties and tweezers. It comes in five colors, and can be monogrammed, too. The sapphire-colored case is really appealing, but there are also more subtle colors available like black and ecru.
Another nice thing about the Vanity Case is that Martin is donating all of his partnership proceeds to Cuyana's nonprofit partner, H.E.A.R.T., which helps provide support and resources to survivors of abuse and neglect. It's a pretty great case that also helps a good cause. Plus, all the cool kids are rocking Cuyana: Meghan Markle recently carried one of their purses on her royal tour.
Photo: Courtesy of Cuyana